Horse Racing Program - RMS Samaria - 1930s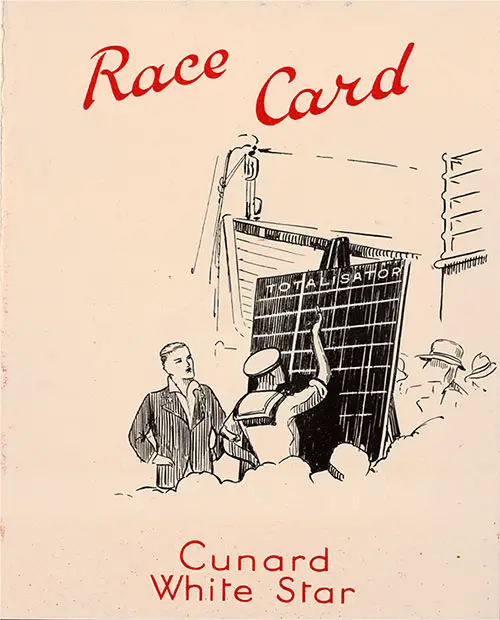 Front Cover, "Samaria" Jockey Club Horse Racing Program from the 1930s. GGA Image ID # 12ac73d25e
The ever-popular "Horse Racing" program from the 1930s, this one on the RMS Samaria of the Cunard White Star Line. Presented by the "Samaria Jockey Club, race entries included Headache by Cocktails out of Various, Slender by Diet out of Vanity, and many more.
"SAMARIA" JOCKEY CLUB
FIRST RACE
Punch by Planter out of Glass          
Headache by Cocktails out of Various         
Lost by Mother out of Sight    
Perfume by Profiteers out of Islands 
Slow by Last-Arrival out of Breath     
Bargain by Shopper out of Last-Chance ...
SECOND RACE
Slender by Diet out of Vanity  
Happy Days by Cruise out of Samaria        
Strain by Belt out of Meals     
Date by Forgotten out of Voyage      
Hurry by Passengers out of Tender  
Lotto by Number out of Bag   
THIRD RACE
Perspiration by 120 Degrees out of Tropics.
Expectation by Snow out of Clear Sky        
Bread by Flour out of Wheat  
Mischief by Girl out of Phosphorus   
Slowest by Daughter out of Errand   
Fun by Sports out of Gymkhana       
FOURTH RACE
Samaria by Arrival out of On-Time    
Mails by Hopeful out of U.S.A
Duty by Customs out of Forgotten    
Final by Word out of Father    
"Blotto" by Binge out of Bar              
Rather Risky by Holiday out of Town
FIFTH RACE
Cash by Extortion out of Husband    
Hot Stuff by Port out of Bung  
Iced Lager by Beer Bottle out of North Pole
Damson Tart by Choice out of Menu
Pennies by Diving Boys out of Sea Bottom
Sailing-Time by Ship out of Oh! Dear
BETTING. Betting will be conducted on the Pari Mutual System.
10% will be deducted for Seamen's Charities.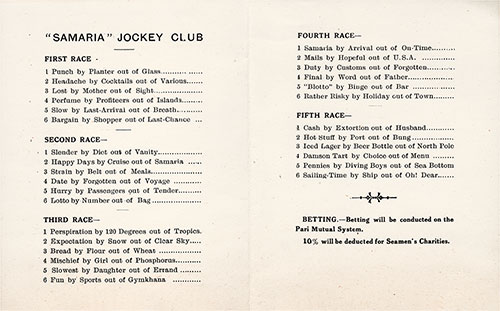 "Samaria" Jockey Club Horse Racing Program from the 1930s. GGA Image ID # 12ac77fe02