SS Hansa Archival Collection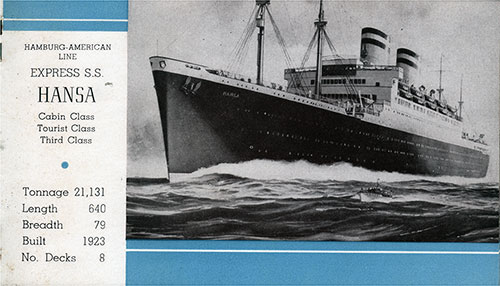 HAMBURG-AMERICAN LINE EXPRESS S.S. HANSA. Cabin Class, Tourist Class, Third Class. Tonnage 21,131. Length 640. Breadth 79. Built 1923. No. Decks 8. GGA Image ID # 1274722505
Hansa (1899) Hamburg-American Line
Built by "Vulkan", Stettin, Germany. Tonnage: 16,376. Dimensions: 660' x 67'. Twin-screw, 16 knots. Quadruple expansion engines. Two masts and two funnels. Passengers: 220 cabin, 664 third. Service: Hamburg-New York. Fate: Scrapped in 1925. Previously Named: Ex-Victoria Luise (1922), ex-Deutschland (1911).
Hansa (1923) Hamburg-American Line
Built by Blohm & Voss, Hamburg, Germany. Tonnage: 21,131. Dimensions: 645' x 72'. Twin-screw, 20 knots. Eight steam turbines. Four masts and two funnels. Fate: Sunk by a mine in the Baltic, March 6, 1945. Recovery: Raised by the Russians in 1949. Renamed: Sovetsky Sojus (1950). Previous Name: Ex- Albert Ballin (1935). Sister ship: Deutschland. Similar to: Hamburg and New York.
Brochures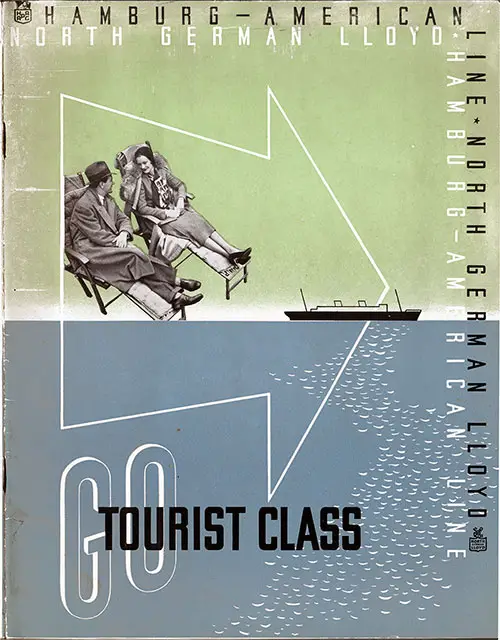 HAPAG-North German Lloyd - Go Tourist Class - 1936
26-Page Brochure "Go Tourist Class" is a joint production of HAPAG-NDL. Profusely Illustrated with interior photographs of Tourist Class accommodations and ships of both lines that carried passengers of that class. A superb brochure produced for American tourist of the Summer Olympic Games in Berlin, Germany. Featured Ships: Bremen, Europa, Columbus, Berlin, New York, Hamburg, Deutschland, Hansa, and St. Louis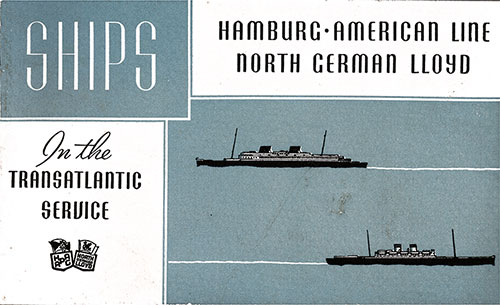 HAPAG-NDL Ships in the Transatlantic Service - 1937
14-page small format brochure produced jointly by HAPAG-LLOYD welcomes you to Germany in 1937 on their transatlantic ships Bremen, Europa, Columbus, New York, Hamburg, Hansa, Deutschland, St. Louis, and Berlin. Brief information along with a photograph of each ship is included in this booklet.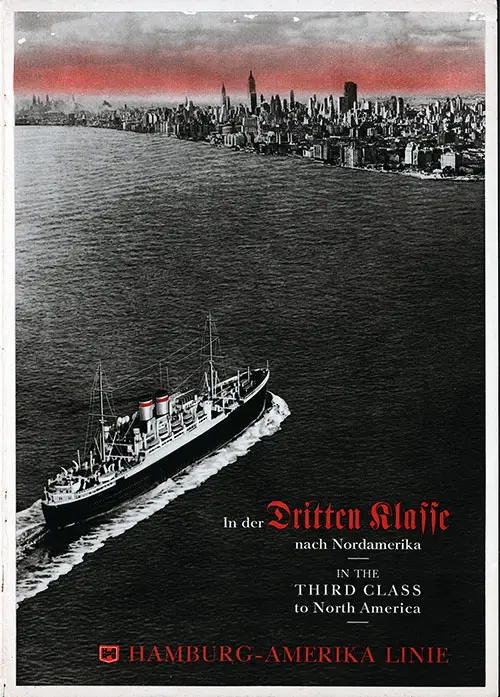 In der Dritten Klasse nach Nordamerika - 1938
Es handelt sich um eine gut erhaltene Broschüre veröffentlicht wurde, dass vor dem Beginn des europäischen Konflikt, der sich aus dem Zweiten Weltkrieg. Superb Fotografie macht dies ein Rekord excecptional der dritten Klasse Unterkünfte auf dem Dampfer Deutschland, New York, Hamburg und die Hanse.
In The Third Class to North America - 1938
This is a well-preserved brochure that was published before the beginning of the European conflict that became World War II. Superb photography makes this an exceptional record of the Third Class accommodations on the steamships Deutschland, New York, Hamburg, and the Hansa. Translated from the German Text.
Photographs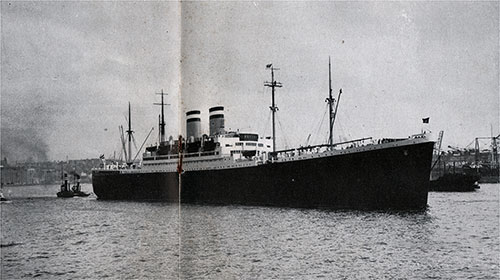 The SS Hamburg of the Hamburg America Line. GGA Image ID # 125fe7f8f1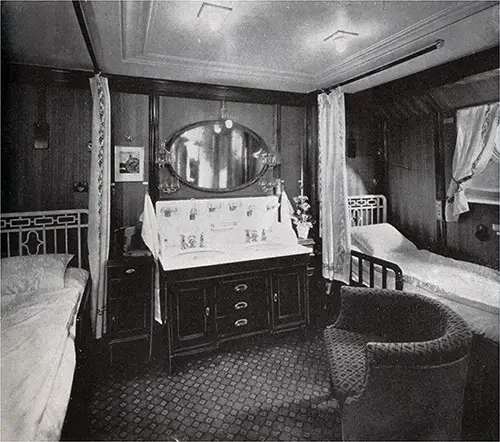 Tourist Class Two-Bed Stateroom on the SS Hansa. GGA Image ID # 12619185a9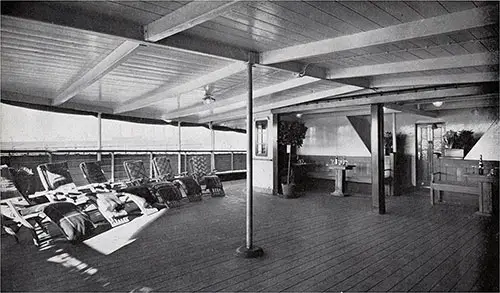 Tourist Class Enclosed Promenade Deck on the SS Hansa. GGA Image ID # 1261a91c9c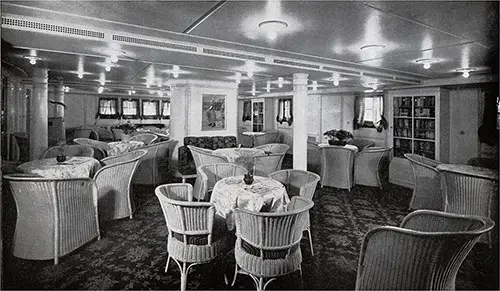 Tourist Class Social Hall on the SS Hansa. GGA Image ID # 1261b799e1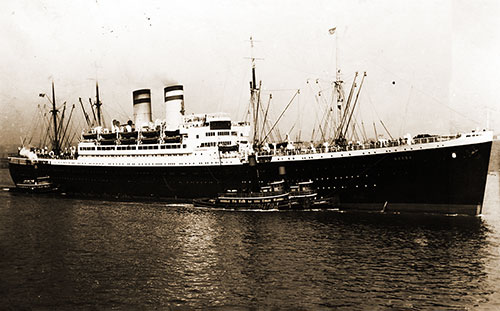 Postcard of the SS Hansa (1923) of the Hamburg-American Line. Postally Used with Deutsches Reich 15 Stamp Affixed. Front: GGA Image ID # 1dc8ab65ed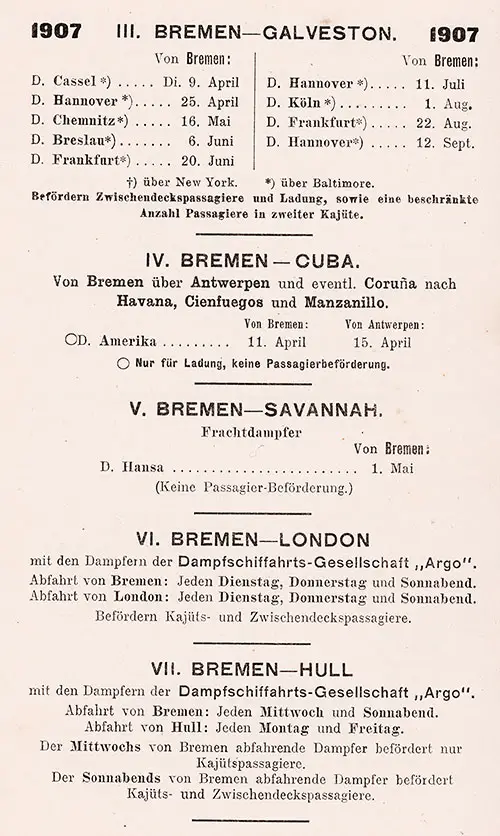 Sailing Schedule, Bremen-Galveston, Bremen-Cuba, Bremen-Savannah, Bremen-London, and Bremen-Hull, from 9 April 1907 to 12 September 1907. Ships Included the Amerika, Breslau, Cassel, Chemnitz, Frankfurt, Hannover, Hansa, and Köln. SS Chemnitz Passenger List, 6 April 1907. GGA Image ID # 1f766f1fa7