RMS Homeric Collection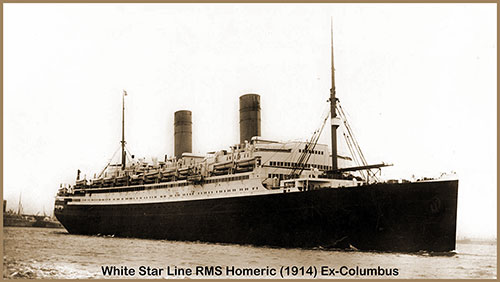 White Star Line RMS Homeric (1914) Shown Near Port ca 1922. Ex-Columbus of the Norddeutcher Lloyd. GGA Image ID # 1d7bd76d5b
Ephemera for the RMS Homeric are available at the GG Archives, including Passenger Lists, Landing Instructions for New York, and Photos.
RMS Homeric (1914) White Star Line
Built by F. Schichau, Danzig, Germany. Tonnage: 34,356. Dimensions: 751' x 83' (776' o.l.). Twin-screw, 20 knots. Triple expansion engines. Two masts and two funnels. Note: Launched as the Columbus for the North German Lloyd, December 17, 1913. Construction was held up during First World War. Completed in 1920 and turned over to the British. Acquired by White Star Line and renamed Homeric. Largest twin-screw liner built to date. Maiden voyage: Southampton-Cherbourg-New York, February 15, 1922. Passengers: 529 first, 488 second, 1,750 third. Later Service: Towards the end of her career was used as a cruise ship. Fate: Sold to British shipbreakers in February 1936. Ex-Columbus (1920).
The White Star Line RMS Homeric, 34,356 Tons. RMS Majestic Passenger List, 6 September 1922. GGA Image ID # 1dd083841d
A masterpiece of the Shipbuilders' art, a triumph of technical skill, the " HOMERIC " is one of the World's finest ships, and with her gross tonnage of 34,356, length of 775 feet, and breadth of 83 feet, is one of the largest also Sailing in CONJUNCTION with The RMS "Majestic," 56,551 Tons (The Largest Steamer in the World) and the RMS "Olympic," 46,439 Tons, MAINTAINING A Weekly Express Mail Service Between Southampton, Cherbourg and New York.
Sailing Schedules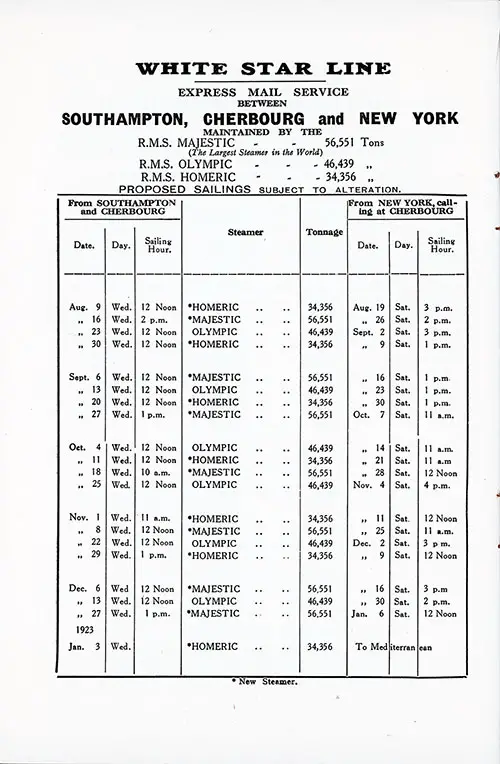 White Star Line Express Mail Service Between Soutampton, Cherbourg, and New York from 9 August 1922 to 3 January 1923. Service Maintained by the RMS Majestic, RMS Olympic, and RMS Homeric. RMS Majestic Passenger List, 6 September 1922. GGA Image ID # 1dd4b5c677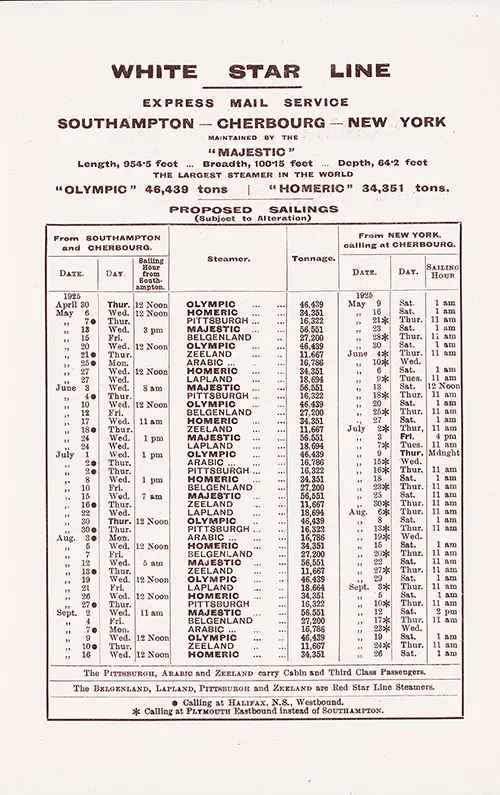 Sailing Schedule, White Star Line Express Mail Service, Southampton-Cherbourg-New York, from 30 April 1925 to 26 September 1925. Ships Included the Arabic, Belgenland, Homeric, Lapland, Majestic, Olympic, Pittsburgh, and Zeeland. RMS Celtic Passenger List, 30 May 1925. GGA Image ID # 1e5245b658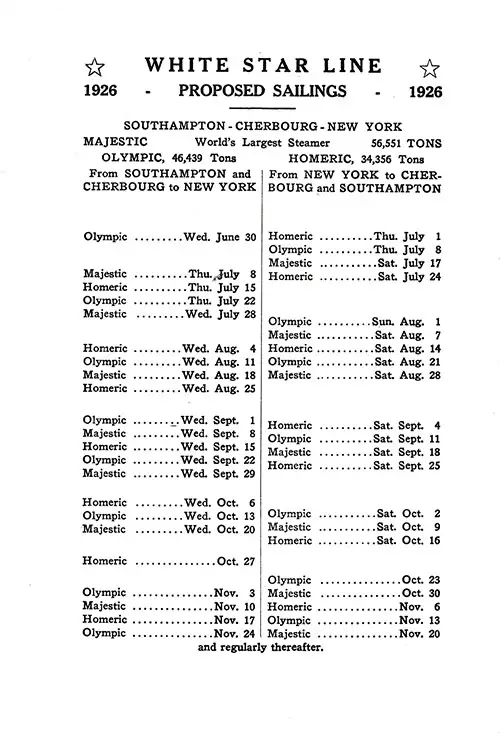 Proposed Sailings, White Star Line, Liverpool-Queenstown (Cobh)-New York, from 3 July 1926 to 27 November 1926. Ships Included the Homeric, Majestic, and Olympic. RMS Belgenland Passenger List, 26 June 1926. GGA Image ID # 1df234cffb
Landing Instructions - New York - 1924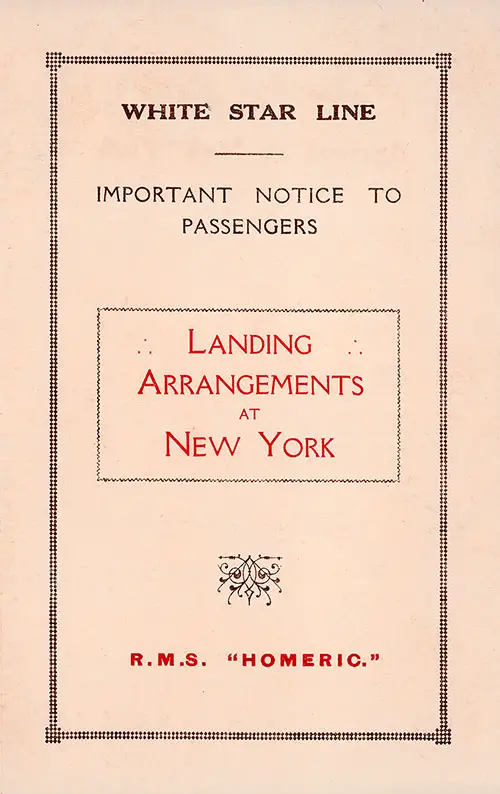 Front Cover, Landing Arrangements for New York on the RMS Homeric of the White Star Line, 1924. GGA Image ID # 1d6422acff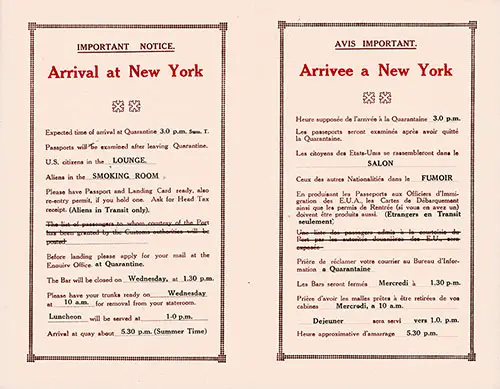 Landing Instuctions in English and French for the RMS Homeric, 1924. GGA Image ID # 1d643b401c