Picture History of the Queen Mary and Queen Elizabeth - 2004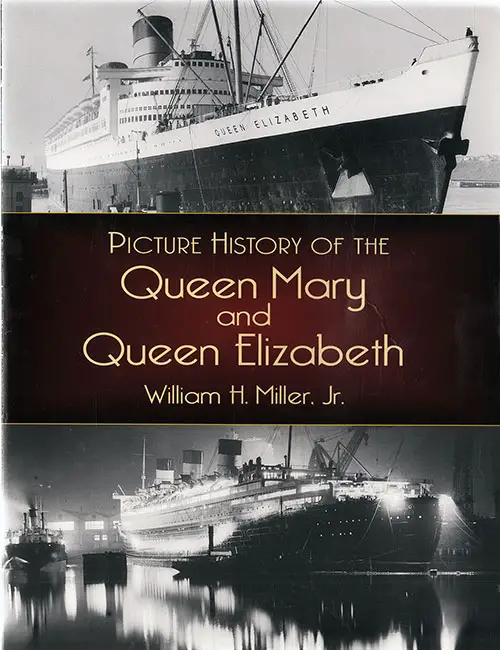 Front Cover, Picture History of the Queen Mary And Queen Elizabeth By William H. Miller, Jr., 2004. Book Design by Carol Belanger Grafton. Typesetting by Irene Kupferman. GGA Image ID # 201fbb514a
From the Publisher
Powerful and fast Atlantic liners of the 1930s, this volume is packed with high-quality vintage photographs of the RMS Queen Mary and RMS Queen Elizabeth, from construction to heyday to eventual decline and their successor ships bearing the same name. Maritime authority William H. Miller pays tribute to both sumptuous and elegant vessels and describes their launchings, amenities, maritime rivalry, and contributions during WWII.
Also covered are other splendid ships, and the vessels are captured in iconic locations at key points in the Twentieth Century.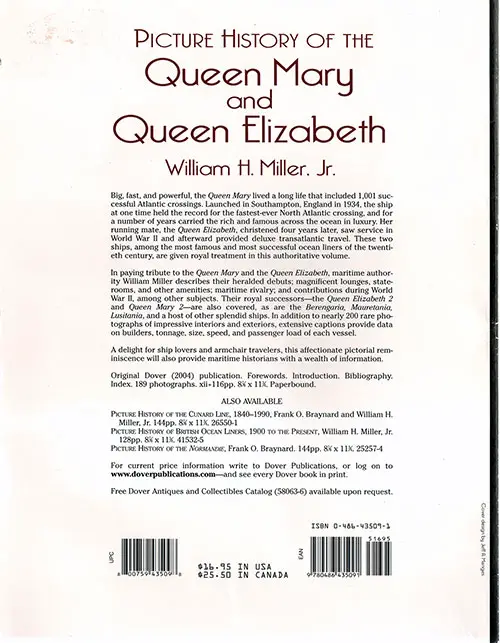 Back Cover, Picture History of the Queen Mary And Queen Elizabeth By William H. Miller, Jr., 2004. GGA Image ID # 201fe2e4d7
From the Back Cover
Big, fast, and powerful, the RMS Queen Mary lived a long life that included 1,001 successful Atlantic crossings. Launched in Southampton, England, in 1934, the ship at one time held the record for the fastest-ever North Atlantic crossing. For many years, it carried the rich and famous across the ocean in luxury.
Her running mate, the RMS Queen Elizabeth, christened four years later, saw service in World War II and provided deluxe transatlantic travel afterward. These two ships, among the twentieth century's most famous and successful ocean liners, are given royal treatment in this authoritative volume.
In paying tribute to the RMS Queen Mary and the RMS Queen Elizabeth, maritime authority William Miller describes their heralded debuts, magnificent lounges, staterooms, other amenities, maritime rivalry, and contributions during World War II, among other subjects. Their royal successors—the RMS Queen Elizabeth 2 and RMS Queen Mary 2—are also covered, as are the Berengaria, Mauretania, Lusitania, and a host of other splendid ships.
In addition to nearly 200 rare photographs of impressive interiors and exteriors, extensive captions provide data on each vessel's builders, tonnage, size, speed, and passenger load.
A delight for ship lovers and armchair travelers, this affectionate pictorial reminiscence will also provide maritime historians with a wealth of information.
Original Dover (2004) publication. Forewords. Introduction. Bibliography. Index. 189 photographs. xii+116pp. 8"x 11". Paperbound. ISBN 0-486-43509-1
CONTENTS
Chapter I Maritime Rivalry
Chapter II Royal Debut
Chapter III The Queens at War
Chapter IV Getting There Was Half the Fun
Chapter V Decline, Withdrawal, And A New Cunard
Chapter Vi Royal Successors: Queen Elizabeth 2 and Queen Mary 2
Bibliography
Index of Ships
Index of Ships
Many of the ships mentioned in this book have carried different names during their careers. With a few exceptions, only the name most relevant to the text is reflected in this index.
Alsatia
Aluania
America
Andania
Andria
Antonia
Aquitania
Ascania
Aurania
Ausonia
Bayern
Berengaria
Berlin
Bismarck
Bremen
Britannia
Britannic
Carmania
Caronia
Carinthia
Carpathia
Columbus
Constitution
Conte di Savoia
Crystal Serenity
Cunard Ambassador
Cunard Adventurer
Cunard Countess
Cunard Crown Dynasty
Cunard Crown Jewel
Cunard Crown Monarch
Cunard Princess
Curacoa
De Grasse
Empress of Britain
Empress of Scotland
Europa
Flandre
France
Franconia
Georgic
Homeric
Ile de France
Imperator
Independence
Ivemia
Laconia
Lancastria
Laurentic
Leonardo da Vinci
Liberté
Lucania
Lusitania
Majestic
Mauretania
Media
Millennium
Nieuw Amsterdam
Normandie
Olympic
Queen Elizabeth
Queen Elizabeth 2
Queen Mary
Queen Mary 2
Queen Victoria
Rafaello
Rex
Royal Princess
Royal Viking Sun
Sagafjord
Samaria
Saturnia
Saxonia
Scythia
Sea Goddess Twins
Sea Venture
Seaboum Pride
Sovereign of the Seas
Stockholm
Stratheden
Sylvania
Titanic
Tuscania
United States
Vaterland
Vistafjord
Voyager of the Seas
Vulcania
Library of Congress Cataloging-in-Publication Data
Title: Picture History of the Queen Mary and the Queen Elizabeth / William H. Miller
ISBN: 0-486-43509-1 (Pbk.)
ISBN 13:  

9780486435091

Author  William H. Miller, 1948-
Format  Paperback
No. of Pages  128
Publisher:  Dover Publications, Mineola, NY
Subjects: 1. Queen Mary (Steamship) -- History. 2. Queen Elizabeth (Ship) -- History. I. Title
LC classification (full): VM383.Q4M54 2004
Dewey class no.: 387.5'42--dc22
Notes: Includes Biographical references and index.
LCCN: 2004045548