The Fabulous Interiors of the Great Ocean Liners - 1984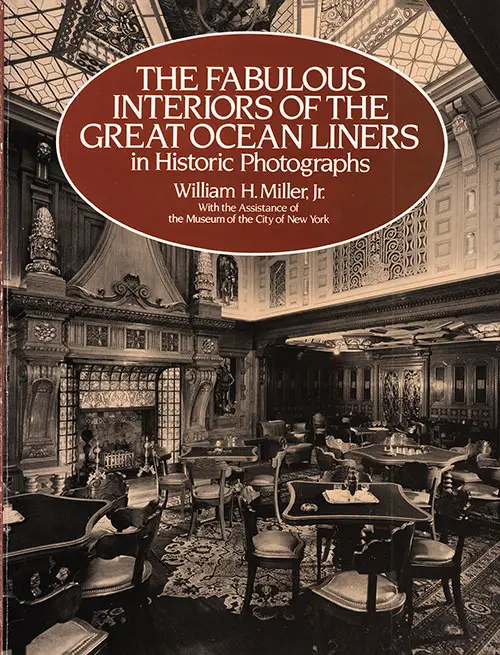 Front Cover, The Fabulous Interiors of the Great Ocean Liners, 1984. GGA Image ID # 1e859b7d38
Synopsis
The Fabulous Interiors of the Great Ocean Liners has 200 superb photographs—in long shots and close-ups—capturing exquisite interiors of the world's grand "floating palaces"—1890s to 1980s: Titanic, Île de France, Queen Elizabeth, United States, Europa, more. Informative captions provide key details.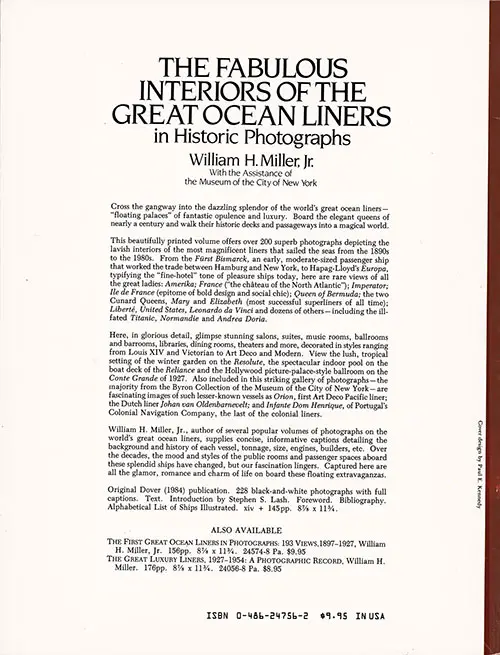 Back Cover, The Fabulous Interiors of the Great Ocean Liners, 1984. GGA Image ID # 1e859cf377
From the Back Cover
The Fabulous Interiors of the Great Ocean Liners
in Historic Photographs
William H. Miller. Jr
With the assistance of the Museum of the City of New York
Cross the gangway into the dazzling splendor of the world's great ocean liners -- ' Floating palaces" of fantastic opulence and luxury. Board the elegant queens of nearly a century and walk their historic decks and passageways into a magical world.
This beautifully printed volume offers over 200 superb photographs depicting the lavish interiors of the most magnificent liners that sailed the seas from the 1890s to the 1980s.
From the Fürst Bismarck, an early, moderate-sized passenger ship that worked the trade between Hamburg and New York, to Hapag Lloyd's Europa, typifying the "fine-hotel" tone of pleasure ships today, here are rare views of all the great ladies Amerika, France ("the château of the North Atlantic"); Imperator; Ile de France (the epitome of bold design and social chic); Queen of Bermuda, the two Cunard Queens, Mary, and Elizabeth (most successful superliners of all time); Liberté, United States, Leonardo da Vinci and dozens of others -- including the ill-fated Titanic, Normandie, and Andrea Doria.
Here, in glorious detail, glimpse stunning salons, suites, music rooms, ballrooms and barrooms, libraries, dining rooms, theaters, and more, decorated in styles ranging from Louis XIV and Victorian to Art Deco and Modern.
View the lush, tropical setting of the winter garden on the Resolute, the spectacular indoor pool on the boat deck of the Reliance, and the Hollywood picture-palace-style ballroom on the Comte Grande of 1927.
Also included in this striking gallery of photographs -- the majority from the Byron Collection of the Museum of the City of New York -- are fascinating images of such lesser-known vessels as Orion, the first Art Deco Pacific liner; the Dutch liner Johan van Oldenbarnevelt; and Infante Dom Henrique, of Portugal's Colonial Navigation Company, the last of the colonial liners.
William H. Miller, Jr., author of several popular volumes of photographs on the world's great ocean liners, supplies concise, informative captions detailing the background and history of each vessel, tonnage, size, engines, builders, etc.
Over the decades, the mood and styles of the public rooms and passenger spaces aboard these splendid ships have changed, but our fascination lingers. All life's glamor, romance, and charm are captured here on board these floating extravaganzas.
Original Dover (1984) publication. Two hundred twenty-eight black-and-white photographs with full captions. Text. Introduction by Stephen S. Lash. Foreword. Bibliography. Alphabetical List of Ships Illustrated. xiv + 145pp. 8 7/8 x 11 3/4.
Ships Featured in Fabulous Interiors
Andrea Doria
Canberra
Carthage
Conte Rosso
Empress of Japan
Europa (1930)
Europa (1981)
France (1912)
France (1962)
Império
Infante Dom Henrique
Johan van Oldenbarnevelt
La Provence
Leonardo da Vinci
Michelangelo
Norway
Oriana
Panama
Pilsudski
President Roosevelt (1922)
President Roosevelt (1962)
Queen Elizabeth 2
Queen of Bermuda
Raffaello
Rotterdam (1908)
Rotterdam (1959)
Royal Viking Sky
Royal Viking Star
Song of America
Southern Cross
Statendam (1929)
Statendam (1957)
Stratheden
Willem Ruys
Library of Congress Catalog Listing
Personal name: Miller, William H., 1948-
Main title: The fabulous interiors of the great ocean liners in historic photographs / William H. Miller, Jr.; with the assistance of the Museum of the City of New York.
Published/Created: New York : Dover Publications, 1985.
Description: xiii, 143 p. : ill.; 30 cm.
ISBN: 0486247562 (pbk.)
LC classification (full): VM382 .M55 1985
LC classification (partial): VM382
Related names: Museum of the City of New York.
Subjects: Ocean liners--Decoration. Interior decoration.
Notes: Includes index.
Bibliography: p. xi.
LCCN: 84006074
Dewey class no.: 387.2/432
Type of material: Book