SS Conte di Savoia - History and Ephemera Collection
Ephemera for the SS Conte di Savoia are available at the GG Archives, including Passenger Lists, Menus, Brochures, Event Programs, and more.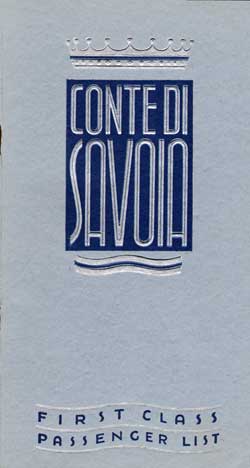 1937-03-06 SS Conte Di Savoia Passenger List
Steamship Line: Italian Line
Class of Passengers: First Class
Date of Departure: 6 March 1937
Route: New York to Gibraltar, Naples, Villefranche, and Genoa
Commander: Captain Antonio Lena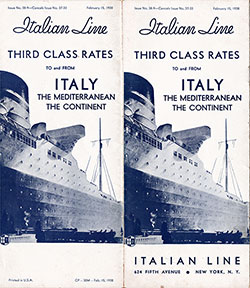 1938-02-15 Italian Line Third Class Rates
12- Page brochure from the Italian Line provides a lot of information for passengers, third-class passage rates, and immigration laws. Third-class Interiors and ship photographs complete this very informative brochure. Featured Ships: Rex, Roma, Saturnia, Vulcania, and Conte di Savoia.
Ephemera contained in the GG Archives collection represent the souvenirs provided to the passengers of each voyage. Many of these souvenir ephemeral items have disappeared over the years.
Our selection varies considerably by ship, and likely contains only a sampling of what was originally produced and printed by the steamship lines.
Bookmark pages you're researching and check back periodically for additions as we continue to digitize our extensive ephemera materials.