SS Conte di Savoia Collection
Ephemera for the SS Conte di Savoia are available at the GG Archives, including Passenger Lists, Menus, Brochures, Event Programs, and more.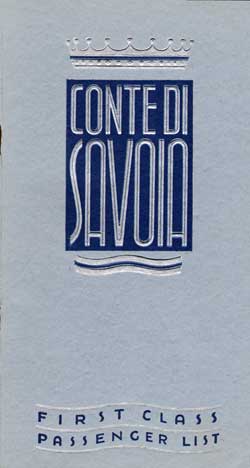 1937-03-06 SS Conte Di Savoia Passenger List
Steamship Line: Italian Line
Class of Passengers: First Class
Date of Departure: 6 March 1937
Route: New York to Gibraltar, Naples, Villefranche, and Genoa
Commander: Captain Antonio Lena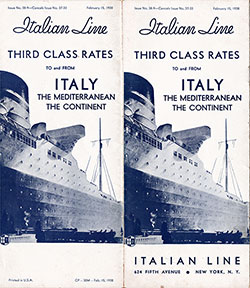 1938-02-15 Italian Line Third Class Rates
12- Page brochure from the Italian Line provides a lot of information for passengers, third-class passage rates, and immigration laws. Third-class Interiors and ship photographs complete this very informative brochure. Featured Ships: Rex, Roma, Saturnia, Vulcania, and Conte di Savoia.