SS City of New York Collection
City of New York (1888) Inman Line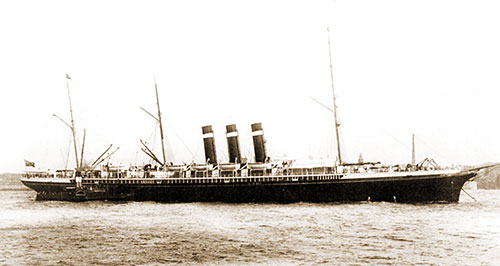 The SS City of New York of the Inman Line (1888). GGA Image ID # 1dcdd61926
Built by J. & G. Thomson, Ltd., Glasgow, Scotland. Tonnage: 10,499. Dimensions: 528' x 63' (560' o.l.). Twin-screw, 20 knots. Triple expansion engines. Three masts and three funnels. Launched: March 1888. Made 20.2 knots on her trials. One of the first steamships to be equipped with twin-screws. Note: The Notting Hill built in 1881 had twin-screws. Several of the early French Line steamers were converted from paddle-wheels to twin-screw prior to that date. Maiden voyage: Liverpool-New York, August 1, 1888. Renamed: (a) New York (1893), (b) Harvard (1898) United States Government, (c) New York (after Spanish-American War), (d) Plattsburg (1917) U. S. Govt., (e) New York (1920). Sold to Polish Navigation Company in 1921. Fate: Scrapped in Italy, 1923. Sister ship: City of Paris.
City of New York (1930) American-South African Line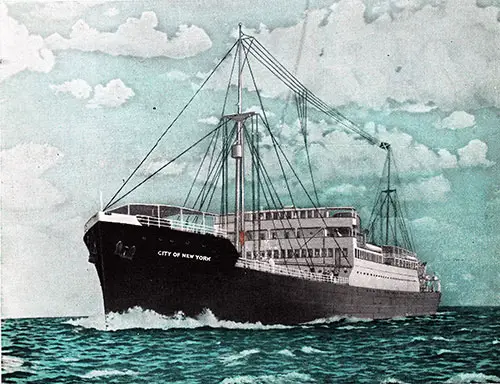 MS City of New York of the American-South African Line, 1937. GGA Image ID # 1dcf9e6d4c
Built by Sun Shipbuilding & Dry Dock Co., Chester, Pa. Tonnage: 8,272. Dimensions: 450' x 61' (470' o.l.). Twin- screw, 14 knots. Motorship. Two masts and one funnel. Fate: Torpedoed and sunk off the American coast in 1942. Note: A pioneer vessel in the New York-South African service, of an American shipping firm.
Menus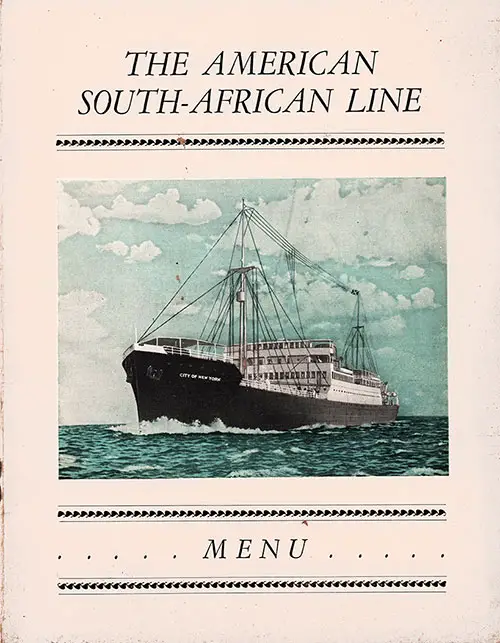 1937-09-01 MS City of New York Farewell Dinner Menu
Vintage Farewell Dinner Menu from Wednesday, 1 September 1937 on board the MS City of New York of the American South-African Line featured Filet Seventy Fours, Andaluse - Parisienne Potatoes, Frogs Legs Princesse, and Plum Pudding, Hard and Fruit Sauce for dessert.
Photographs
SS City of New York of the Inman Line Under Construction. Stern View, Showing Twin Screws. GGA Image ID # 1dcea6da60
Track Charts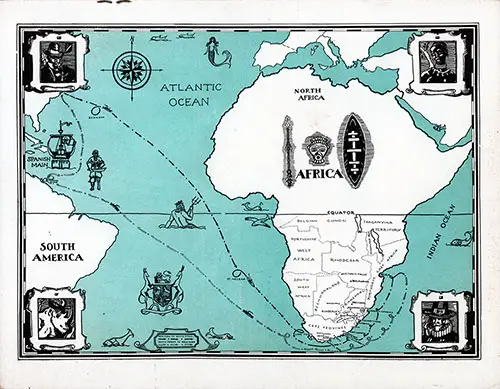 Track Chart, Farewell Dinner Menu, PLClass Class on the MS City of New York of the American South-African Line, Wednesday, 1 September 1937. GGA Image ID # 17148c9220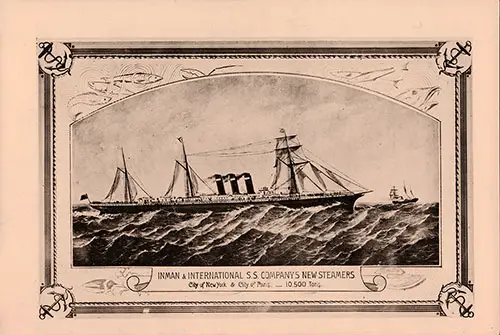 The Inman & International Steam Ship Company's New Steamers - City of New York & City of Paris, 10,500 Tons on the Back Cover, SS City of Berlin Passenger List, 11 September 1889. GGA Image ID # 15da5bf5bb