SS City of Brussels Archival Collection
City of Brussels (1869) Inman Line
Built by Tod & McGregor, Glasgow, Scotland. Tonnage: 3,081. Dimensions: 390' x 40'. Single-screw, 14 knots. Horizontal trunk type engines. Three masts and one funnel. Iron hull. Speed Record: Broke the trans-Atlantic speed record in December 1869. The first steamship to reduce the crossing to under 8 days. Modifications: Altered by having another deck added in 1872, increasing tonnage to 3,747. Compound engines in 1876. Fate: Her career was suddenly ended when in collision with the steamer Kirby Hall, January 7, 1887. She sunk off the mouth of the Mersey, with the loss of life listed as ten.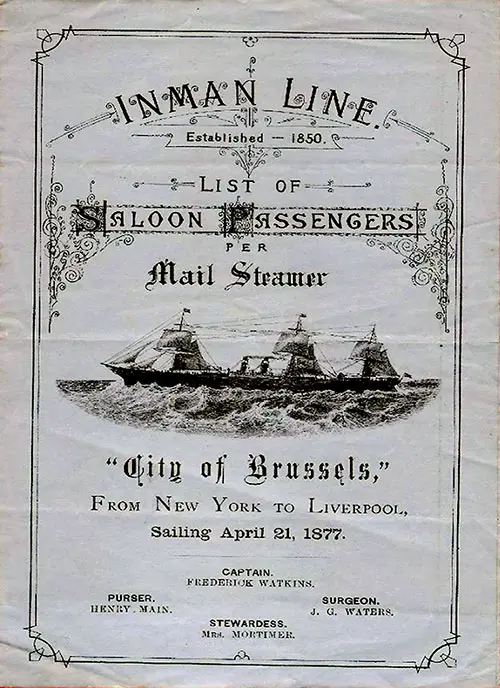 1877-04-21 SS City of Brussels Passenger List
Saloon Class Passenger List from the SS City of Brussels of the Inman Line, Departing 21 April 1877 from New York to Liverpool, Commanded by Captain Frederick Watkins.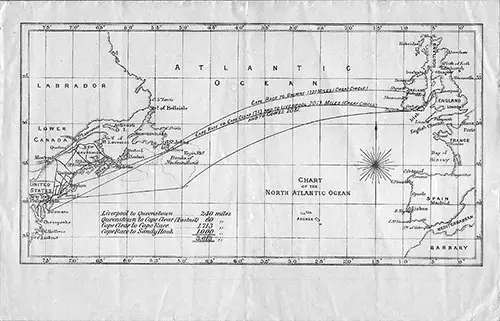 Track Chart of the North Atlantic Ocean for the Inman Line. SS City of Brussels Passenger List, 21 April 1877. GGA Image ID # 15b4bb168e
The City of Brussels, of 3081 tons, began her sailings in October 1869. She was the last of the Inman Line to be fitted with the long wooden deck-house which was a conspicuous feature of so many ocean-going steamers. Her average speed was between 14 and 15 knots, which was slightly increased when she was reengined in a few years' time. In December 1869 she made the voyage from New York to Queenstown in 7 days 20 hours 33 minutes, a record which remained unbeaten until September 1875, when the City of Berlin made the westward passage in 7 days 18 hours and 2 minutes, and the homeward run in 7 days 15 hours 48 minutes. The City of Brussels was the first vessel, apart from the Great Eastern, in the North Atlantic trade, in which McFarlane Gray's steam-steering gear was introduced.