SS Canopic - History, Accommodations, & Ephemera Collection
All Digitized Ephemera for the SS Canopic available at the GG Archives. Common items of ephemera in our maritime collection include passenger lists, brochures, event and entertainment programs, and other memorabilia produced for a voyage or ship.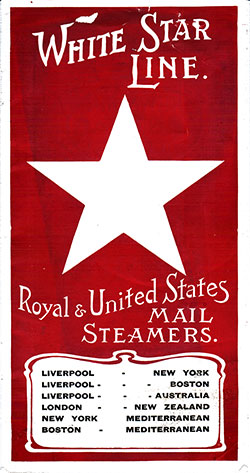 1907 - White Star Line Fleet, History, and Services
Excellent brochure from the White Star Line covering all three classes of services at the height of the transatlantic immigrant trade. Profusely illustrated with many photographs of the ships and accommodations. Featured Ships: Arabic, Athenic, Baltic, Canopic, Cedric, Celtic, Corinthic, Cretic, Cymric, Ionic, Majestic, Oceanic, Republic, Romanic, Runic, and Teutonic.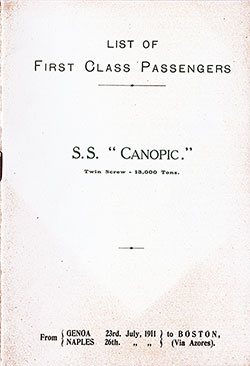 1911-07-23 SS Canopic Passenger List
Steamship Line: White Star Line
Class of Passengers: First Class
Date of Departure: 23 July 1911
Route: Genoa to Boston via Naples and Azores
Commander: Captain J. O. Carter
Ephemera contained in the GG Archives collection represent the souvenirs provided to the passengers of each voyage. Many of these souvenir ephemeral items have disappeared over the years.
Our selection varies considerably by ship, and likely contains only a sampling of what was originally produced and printed by the steamship lines.
Bookmark pages you're researching and check back periodically for additions as we continue to digitize our extensive ephemera materials.
Images of the SS Canopic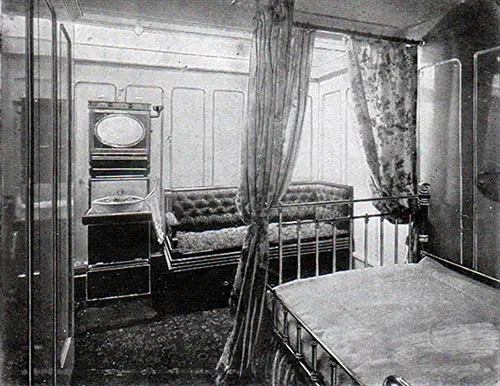 Promenade Deck Stateroom on the SS Romanic and SS Canopic. GGA Image ID # 144c745222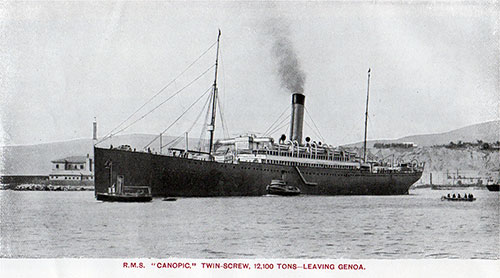 RMS Canopic, Twin-Screw, 12,000 Tons, Shown Leaving the Port of Genoa, Italy. GGA Image ID # 144de62858
Changes under the Morgan Combine
The long-continued rumors oí impending changes in the composite companies oí the Morgan Shipping Combine seem to resolve themselves into this, that the managers of the White Star Line have taken over the whole Dominion Line service, thus extending the sphere oí the White Star flag.
The service between Boston and the Mediterranean during the winter will be by the new s.s. Columbus, together with the Commonwealth and Sew England. These vessels, on transfer to the White Star Line, are re-named Republic, Canopic, and Romanic, respectively.
The Columbus (or Republic) is a twin-screw steamer oí 15.378 tons gross register, with engines capable oí maintaining a speed of 15 1/2 knots, and with passenger accommodation for 280 first class, 250 second class, besides a large number of third, class.
The Canopic and Romanic are on similar lines, oí slightly less tonnage, with the same speed, and arranged to accommodate nearly the same number oí passengers.
The Liverpool and Boston service will be maintained during the winter by the Cymric, hitherto engaged in the White Star Liverpool and New York Friday service, and the Mayflower, which has been renamed the Crelic. The Cymric and the Cretic are both twin-screw steamers of over 13,000 tons gross register, with a speed of about 15 knots per hour.