SS City Of Berlin Collection
Ephemera for the SS City Of Berlin are available at the GG Archives, including Passenger Lists, Menus, Brochures, Event Programs, and more.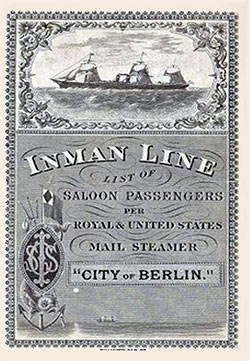 Steamship Line: Inman Line
Class of Passengers: Saloon
Date of Departure: 8 June 1884
Route: Liverpool to New York
Commander: Captain Arthur W. Lewis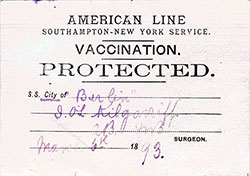 1893-03-06 Vaccination - ID Card
Card given to passengers to provide evidence of that passengers' vaccination for smallpox issued in 1893 by the American Line SS City of Berlin.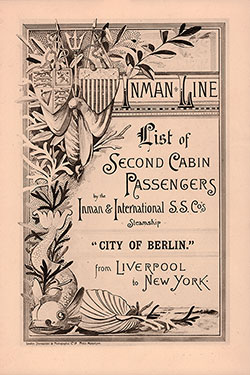 The Inman Liner City of Berlin broke the record for transatlantic passage in 1875, taking 7 days, 14 hours. It was also the first Atlantic liner fitted with electric light, the plant being installed in 1879.