RMS Cephalonia Archival Collection
Cephalonia (1882) Cunard Line
Built by Laird Bros., Birkenhead, England. Tonnage: 5,517. Dimensions: 430' x 46' (440' o.l.). Single-screw, 14 knots. Compound engines. Three masts and one funnel. Iron hull. Launched: May 1882. Maiden voyage: Liverpool-Boston, August 23, 1882. Passengers: 200 cabin, 1,500 third. Renamed: Hailor (1900). Chinese Eastern Railway (Russian). Fate: Sunk as a blockship at Port Arthur in 1904. Sister ship: Pavonia.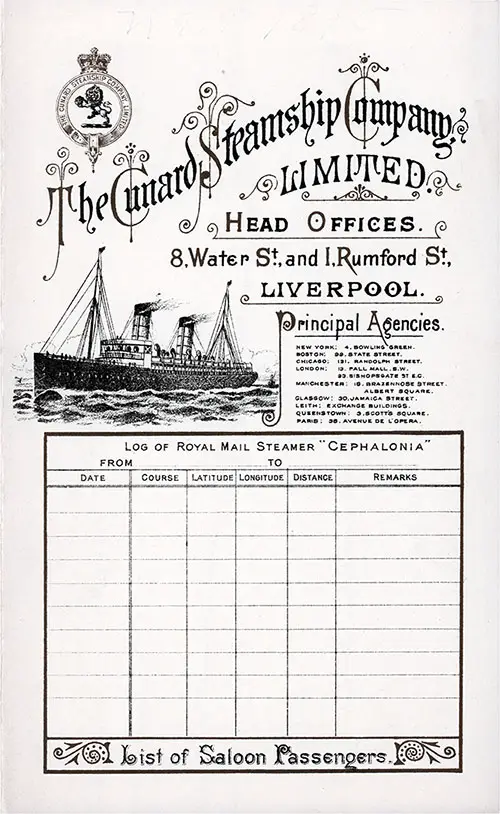 1895-08-22 RMS Cephalonia Passenger List
Saloon Passenger List for the RMS Cephalonia of the Cunard Line, Departing Thursday, 22 August 1895 from Liverpool to Boston, Commanded by Captain Seccombe. Notable Passengers: George Fiske, Gertrude Mary Hirst, George Fred Williams.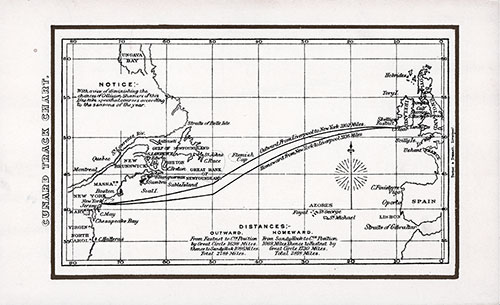 Cunard Atlantic Ocean Track Chart, 1895. Included Outward and Homeward Distances, and a Notice: With a View of Diminishing the Chances of Collision, Steamers of This Line Take Specified Courses According to the Seasons of the Year. Back Cover of a Saloon Class Passenger List for the RMS Cephalonia Dated 22 August 1895. GGA Image ID # 15a3eee44d