SS Castel Felice Archival Collection
Content Links
Castel Felice (1930) "Sitmar" Line (Italian)
Built by Alexander Stephen & Sons, Ltd., Glasgow, Scotland. Shipping Line: Sitmar Line (Società Italiana Transporti Marittima) Tonnage: 12,150. Dimensions: 471' x 64' (493' o.l.). Twin-screw, 16 knots. Steam turbines. Single mast and one funnel. Type: Tourist class passenger ship with accommodation for 1,891 passengers and 448,000 cubic feet of general cargo and 13,800 cubic feet of refrigerated cargo. First voyage: Bremen-Quebec, July 13,1954. Services: (a) North Atlantic, (b) I taly-Brazil-Argentina, (c) Europe-Australia. Ex-Karen (1952), ex-Kenya (1951), ex-Fairstone (1950), Kenya (1949), ex-Karen (1949), ex-Kenya (1949). World War II Service: Armed landing ship. Post War Service: Refitted for the Australian migrant trade in 1951 and made 101 voyages between 1952 and 1970, carrying over 100,000 immigrants to Australia and New Zealand. Fate: In 1971, Sent to shipbreakers in Kaohsiung, Taiwan.
Return to Content Links
Postcards
Color Postcard of the SS Castel Felice, Sitmar Line, Genoa, nd, c1931. GGA Image ID # 1f4270c6c7
Return to Content Links
Passage Contracts, Tickets, and Receipts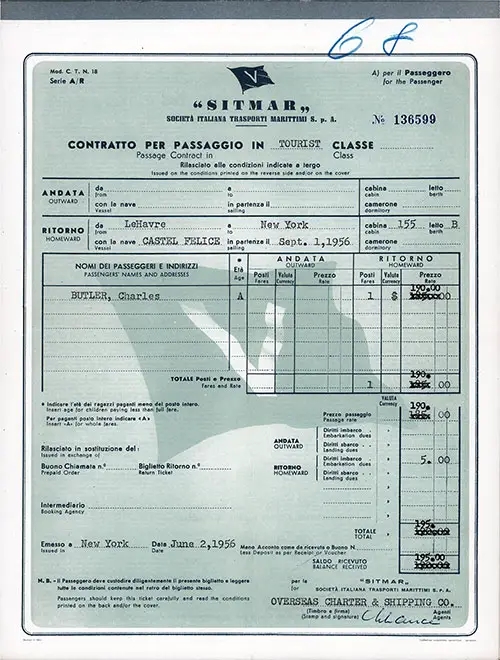 1956-09-01 Passage Contract -- Le Havre to New York -- SS Castel Felice
Tourist Class contract for passage on the SS Castel Felice departing from Le Havre for New York on 1 September 1956 for one adult male passenger. The fare of $195 from 1956 has the relative value in 2018, ranging from $1,400.00 to $8,930.00.
Return to Content Links
Photographs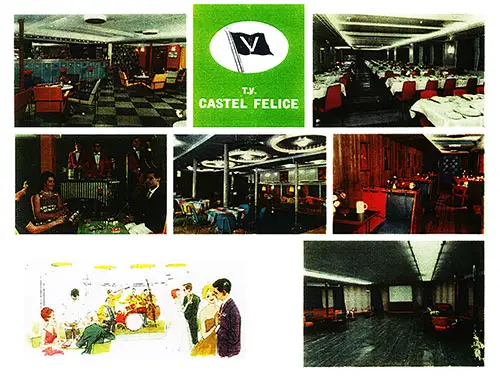 Public Rooms on the SS Castel Felice, 1960s. GGA Image ID # 1f8c0d93ad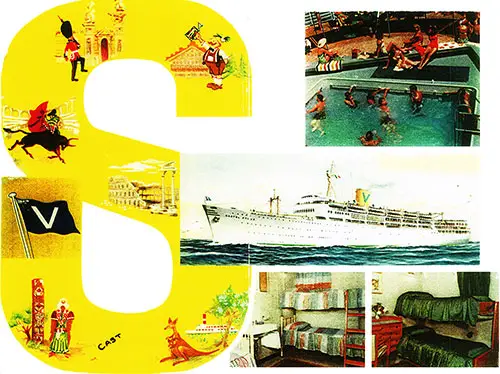 Photographs of the Castel Felice, Swimming Pool and Two-Berth Bedrooms on the SS Castel Felice, 1960s. GGA Image ID # 1f8c0dad87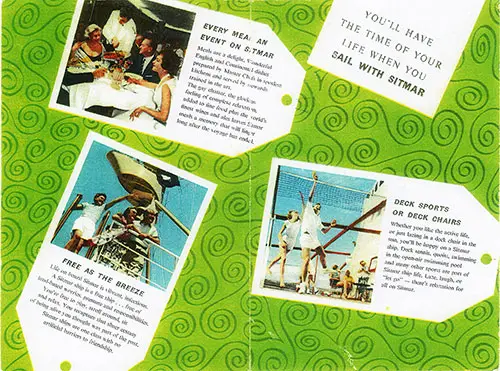 Clockwise, from the top left: Every Meal an Event on SITMAR. Meals are a delight. Superb English and Continental Dishes Prepared by Master Chefs in Spotless Kitchens and Served by Steward Trained in the Art. The Gay Chatter and the Glorious Feeling of Complete Relaxation, Added to Fine Foot Plus the World's Finest Wines and Ales, Leaves SITMAR Meals a Memory that will Linger Long After the Voyage has Ended. Deck Sports or Deck Chairs. Whether You Like the Active Life or Just Lazing in a Deck Chair in the Sun, You'll be Happy on a SITMAR Ship. Deck Tennis, Quoits, Swimming in the Open-Air Swimming Pool, and Many Other Sports are Part of SITMAR Ship Life. Laze, Laugh, or "Let Go" -- There's Relaxation for All on SITMAR. Free as the Breeze. Life on Board SITMAR is Vibrant and infectious. A SITMAR Ship is a Free Ship. Free of Land-Based Worries, Pressure, and Responsibilities. You're Free to Play, Stroll Around, Sit and Relax. You Recapture that Sheer Ecstasy of Being Alive that You Thought Was Part of the Past. SITMAR Ships are One Class with No Artificial Barriers to Friendship. SS Castel Felice Deck Plans, 1960s. GGA Image ID # 1f8c121a3f
Return to Content Links
Deck Plans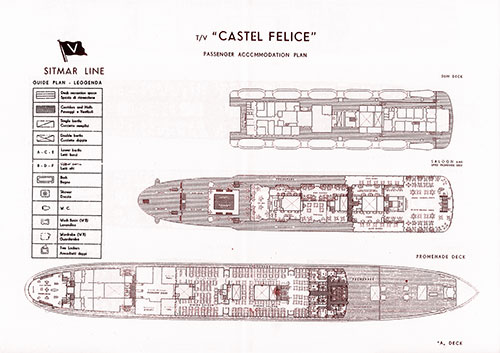 Top: Sun Deck, Middle: Saloon and Upper Promenade Deck, Bottom: Promenade Deck. SS Castel Felice Deck Plans, 1960s. GGA Image ID # 1f8cf0ecdf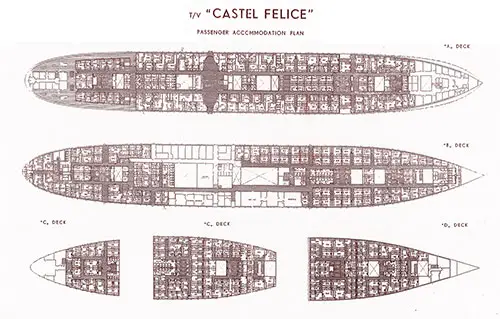 Decks A, B, C, and D on the SS Castel Felice, 1960s. GGA Image ID # 1f8cf637a5