RMMV Capetown Castle - History and Ephemera Collection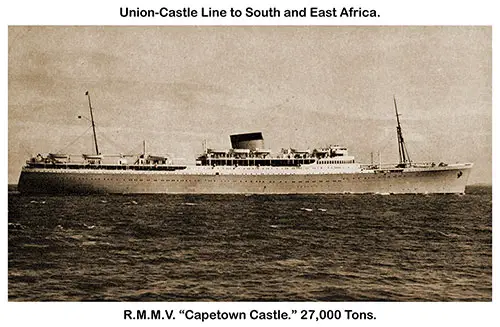 Postcard of the RMMV Capetown Castle (1938) of the Union-Castle Line. The Ship Serviced the Southampton-South Africa Route. GGA Image ID # 1d803a1617
Capetown Castle (1938) Union-Castle Line
Built by Harland & Wolff, Ltd., Belfast, Ireland. Tonnage: 27,002. Dimensions: 702' x 82' (734' o.l.). Twin-screw, 20 knots. Motorship. Two masts and one funnel. Launched: September 1937. Note: The longest motorship in the world. Service: Southampton-South Africa. Passengers: 243 first, 553 tourist. WW2 Service: After the outbreak of World War II, in January 1940, the government introduced the Liner Requisition Scheme, and Capetown Castle was taken up for conversion into a troop ship. In 1943 she took part in Operation Bolero, the build-up of troops in preparation for D-Day. She was eventually returned to her owners in 1946, having sailed 484,000 miles and carried over 164,000 troops. Post War Service: The ship was refurbished at Belfast and returned to commercial service on 9 January 1947. Fate: She was sold for scrap and left Southampton on 19 September 1967 for La Spezia, arriving on 26 September 1967 for breaking up by Terrestre Marittima.
Ephemera for the RMMV Capetown Castle available at the GG Archives includes a passenger list, postcard, and history of the ship.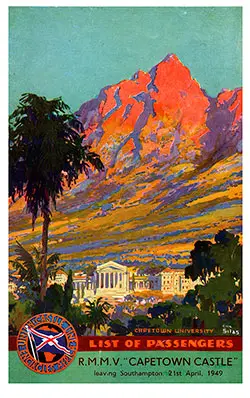 1949-04-21 R.M.M.V. Capetown Castle Passenger List
Steamship Line: Union-Castle Line
Class of Passengers: First and Cabin Class
Date of Departure: 21 April 1949
Route: Southampton for Capetown, Port Elizabeth, East London, and Durban via Madeira
Commander: Captain W. D. Roach
Ephemera contained in the GG Archives collection represent the souvenirs provided to the passengers of each voyage. Many of these souvenir ephemeral items have disappeared over the years.
Our selection varies considerably by ship, and likely contains only a sampling of what was originally produced and printed by the steamship lines.
Bookmark pages you're researching and check back periodically for additions as we continue to digitize our extensive ephemera materials.