SS Canada Collection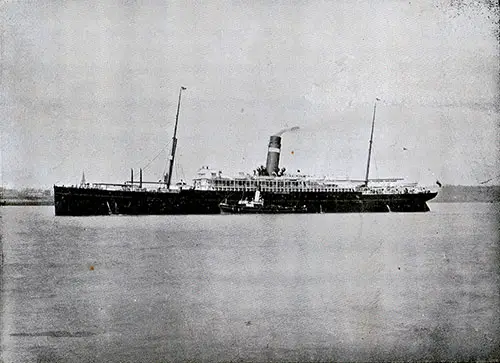 SS Canada, Twin-Screw Steamship of the Dominion Line. GGA Image ID # 121b46c9a1
Propulsion: Twin-screw
Tonnage: 9000
Length: 515 Feet
Breadth: 58 Feet
Canada (1896) Dominion Line
Built by Harland & Wolff, Ltd., Belfast, Ireland. Tonnage: 9,415. Dimensions: 500' x 58' (514' o.l.). Twin-screw, 15 knots. Two masts and one funnel. First twin-screw steamship built for the Canadian service. Maiden voyage: Liverpool-Quebec-Montreal, November 1, 1896. Tonnage was originally listed as 8,806. Other Service: Made a number of sailings to Boston. Fate: Scrapped in Italy, 1926.
Canada (1911) Fabre Line
Built by Forges & Chantiers de la Mediterranee, La Seyne, France. Tonnage: 9,684. Dimensions: 476' x 56'. Twin- screw, 15 1/2 knots. Triple expansion engines. Two masts and two funnels. Launched: August 12, 1911. Fate: Sold to British shipbreakers in August 1952. Sister ship: Sant Anna.
Ephemera for the SS Canada are available at the GG Archives, including Passenger Lists, Menus, Brochures, Event Programs, and more.
Passenger Lists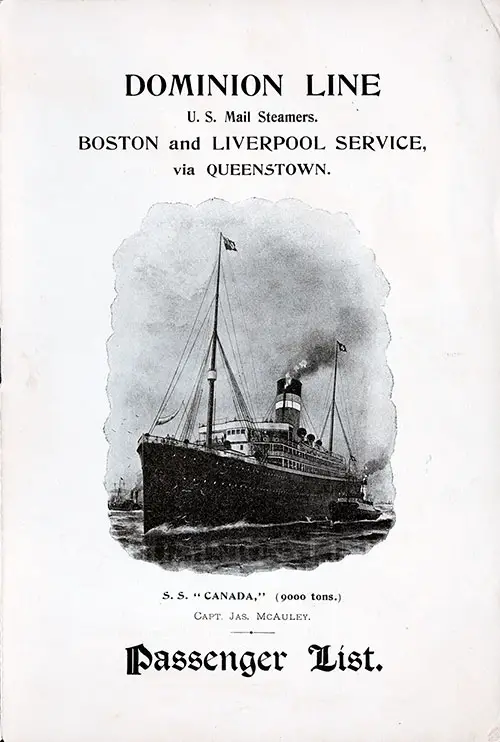 1898-01-15 SS Canada Passenger List
Saloon Passenger List for the SS Canada of the Dominion Line, Departing 15 January 1898 from Boston to Liverpool via Queenstown (Cobh), Commanded by Captain Jas. McAuley.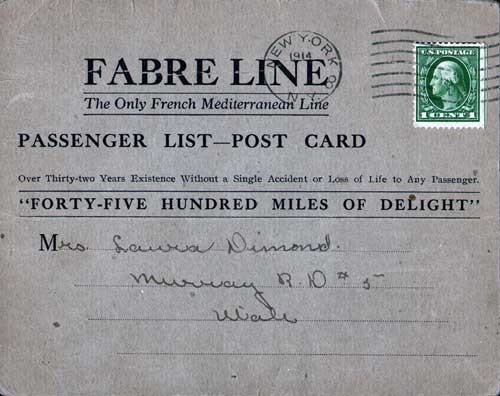 1914-04-16 TSS Canada Passenger List
First Class Passenger List for the TSS Canada of the Fabre Line on a Special Winter Voyage Departing 16 April 1914 from New York to the Mediterranean calling at Algiers, Naples, Villefranche and Marseilles, Commanded by Captain Victor Bouleuc.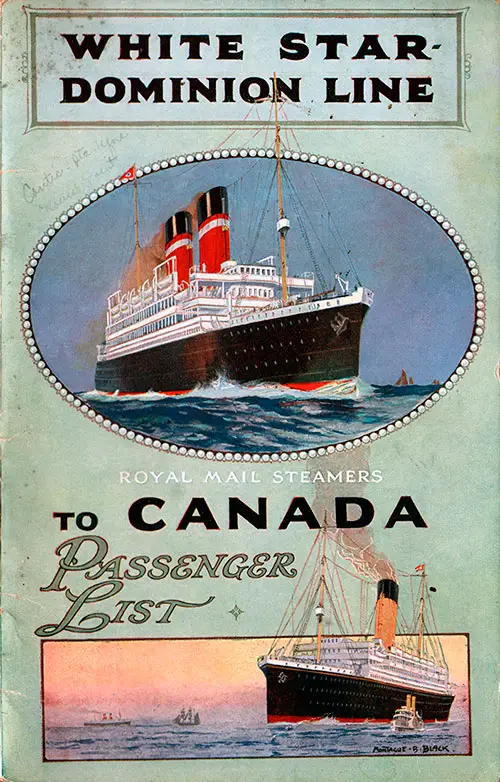 1925-09-18 SS Canada Passenger List
Cabin Passenger List for the SS Canada of the White Star-Dominion Line, Departing 18 September 1925 from Liverpool to Quebec and Montreal via Queenstown (Cobh), Commanded by Captain T. Jones.
Brochures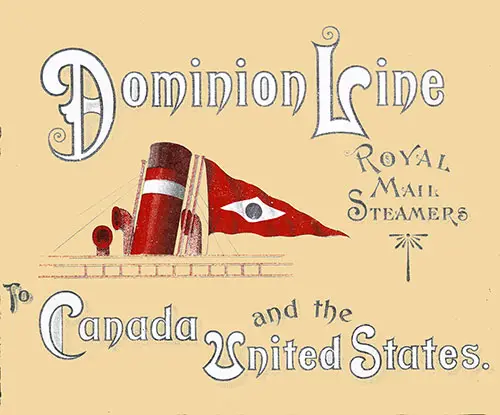 Dominion Line Book of Views - 1900
Excellent brochure from the Dominion Line circa 1900 that provided several views of their fleet of steamships, facts about their fleet, and views of their first, second, and third-class accommodations. Ships Featured: New England, Canada, Dominion, Scotsman, Vancouver, and Labrador.
Immigrant Documents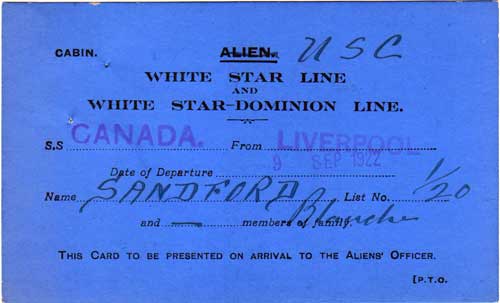 1922-09-09 Canadian Alien Card, SS Canada of the White Star Dominion Line
The Canadian Alien Card was issued to each non-Canadian passenger indicating the number of sheet and line on sheet their name was listed on. The Card was to be presented on arrival, to the Canadian Aliens' Officer.
Track Charts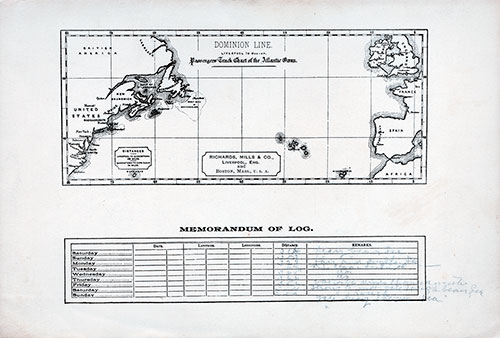 Track Chart and Memorandum of Log stating nautical miles traveled and weather conditions for the 15 January 1898 voyage of the SS Canada.
Proposed Sailings (Include IMM Lines)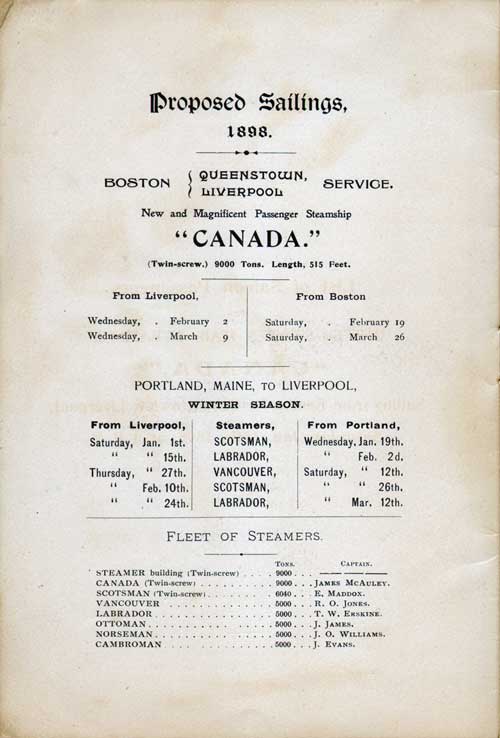 Proposed Sailings, February and March, 1898 for the Dominion Line. Ships Include the SS Canada, SS Scotsman, SS Labrador, and the SS Vancouver. Page also included Dominion Line's Fleet of Steamers with Tonage and Assigned Captain. GGA Image ID # 1db419442b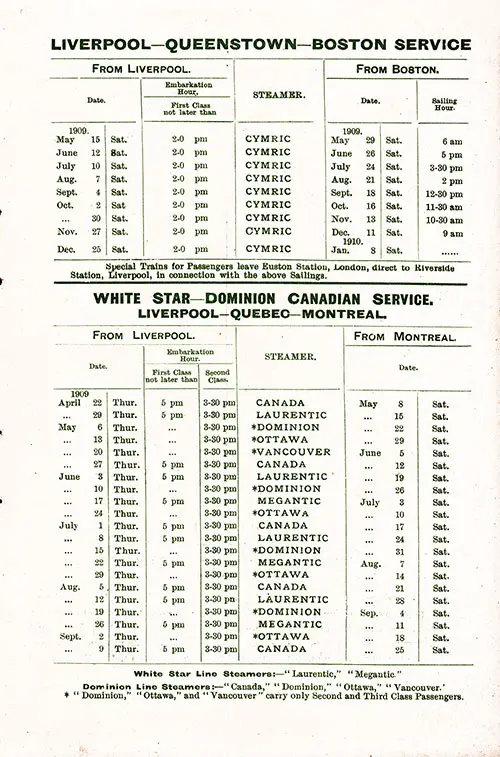 Sailing Schedule, Liverpool-Queenstown (Cobh)-Boston Service and White Star-Dominion Canadian Service, from 22 April 1909 to 8 January 1910. Ships Included the Canada, Cymric, Dominion, Laurentic, Megantic, Ottawa, and Vancouver. RMS Arabic Passenger List, 11 June 1909. GGA Image ID # 1e4b15ece5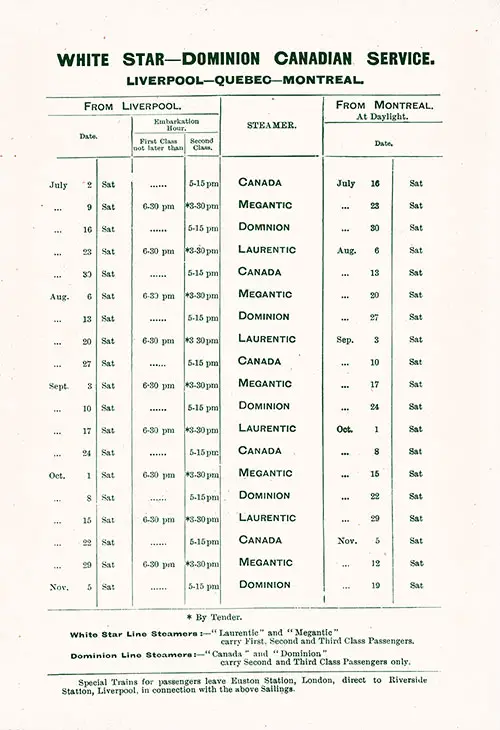 Sailing Schedule, White Star-Dominion Line Canadian Service, Liverpool-Quebec-Montreal, from 2 July 1910 to 19 November 1910. Ships Included the Canada, Dominion, Laurentic, and Megantic. RMS Cymric Passenger List, 26 July 1910. GGA Image ID # 1e56277011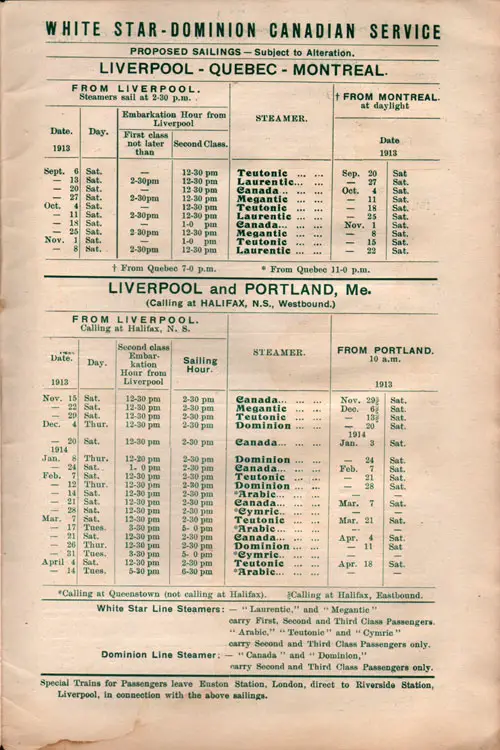 Sailing Schedule, Liverpool-Quebec-Montreal and Liverpool-Portland, ME, from 6 September 1913 to 18 April 1914. Ships Included the Arabic, Canada, Cymric, Dominion, Laurentic, Megantic, and Teutonic. SS Cretic Passenger List, 22 November 1913. GGA Image ID # 1e57a61bc5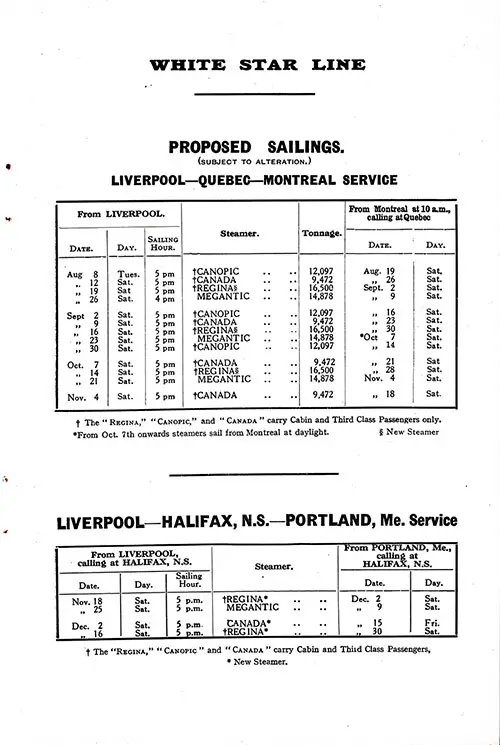 White Star Line Proposed Sailings, Liverpool-Québec-Montréal Service; and Liverpool-Halifax-Portland, ME Service, from 8 August 1922 to 30 December 1922. Ships Include the Canada, Canopic, Megantic, and Regina. RMS Majestic Passenger List, 6 September 1922. GGA Image ID # 1dd5148dae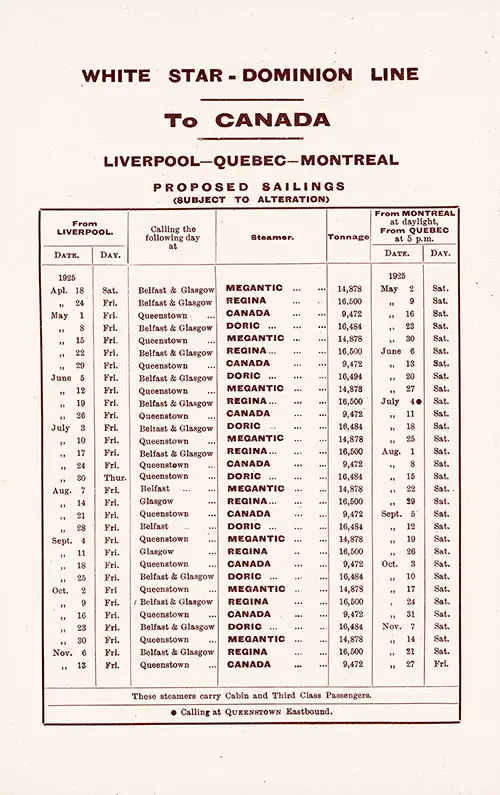 Sailing Schedule, White Star-Dominion Line, Liverpool-Québec-Montréal, from 18 April 1925 to 27 November 1925. Ships Included the Canada, Doric, Megantic, and Regina. RMS Celtic Passenger List, 30 May 1925. GGA Image ID # 1e52957de8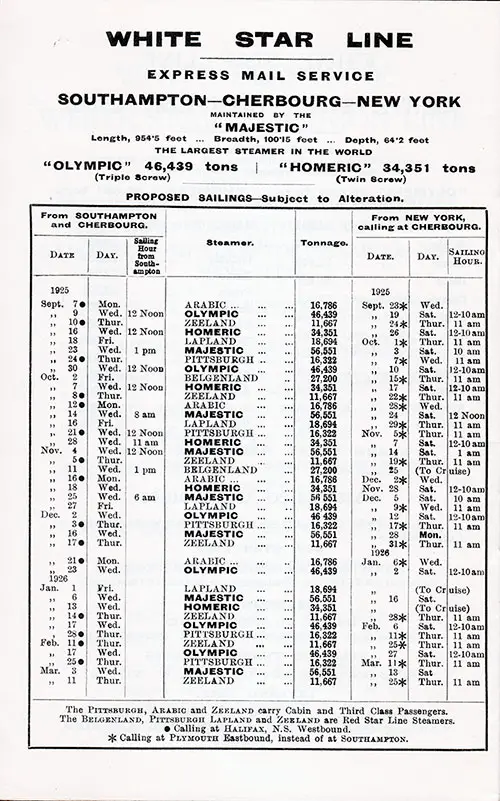 White Star Line Express Mail Service Proposed Sailings, 7 September 1925 - 25 March 1926. Ships Include Arabic, Olympic, Zeeland, Lapland, Majestic, Pittsburgh, Belgenland, and Homeric. The Pittsburgh, Arabic and Zeeland carry Cabin and Third Class Passengers. The Belgenland, Pittsburgh, Lapland, and Zeeland are Red Star Line Steamers. GGA Image ID # 1db478a4fa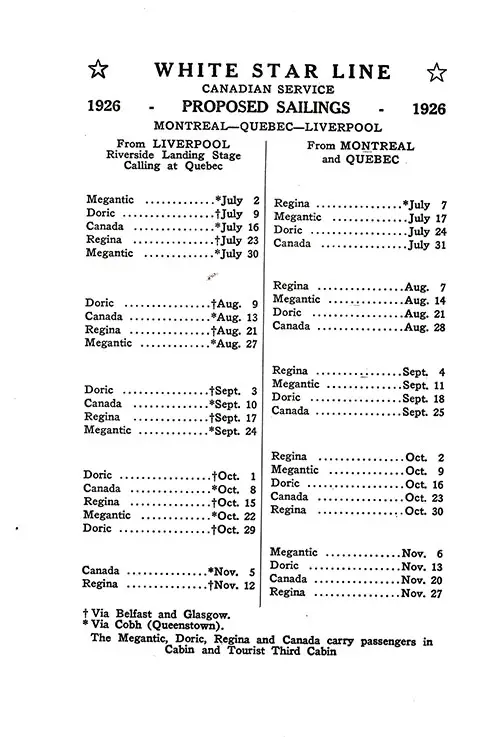 Proposed Sailings, White Star Line Canadian Service, Montréal-Québec-Liverpool, from 2 July 1926 to 27 November 1926. Ships Included the Canada, Doric, Megantic, and Regina. RMS Belgenland Passenger List, 26 June 1926. GGA Image ID # 1df2d57133
White Star Line, Liverpool -- New York via Queenstown (Cobh) Proposed Sailings from 5 September 1945 to 20 March 1925. Ships Include the Cedric, Baltic, Celtic, Adriatic, Doric, and Megantic. The Megantic and Doric carry Cabin and Third Class Passengers. GGA Image ID # 1db4931002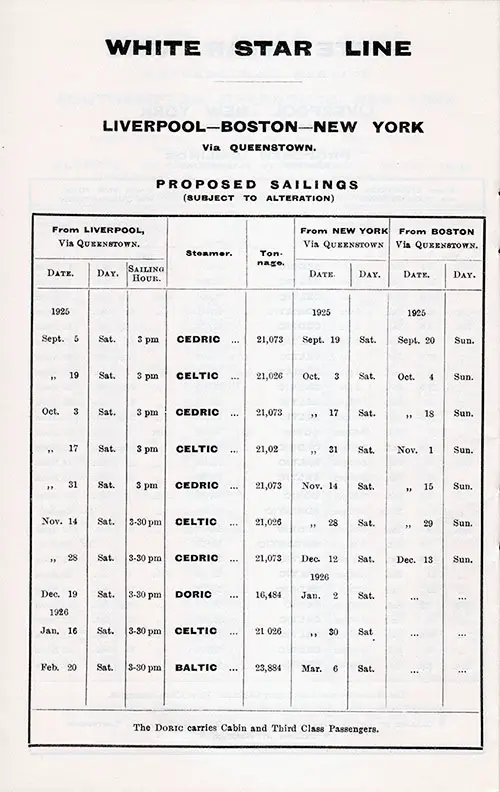 White Star Line Liverpool-Boston-New York via Queenstown (Cobh) Proposed Sailings from 5 September 1925 to 6 March 1926. Ships include the Cedric, Celtic, Doric, and Baltic. The Doric Carries Cabin and Third Class Passengers. GGA Image ID # 1db4ae1380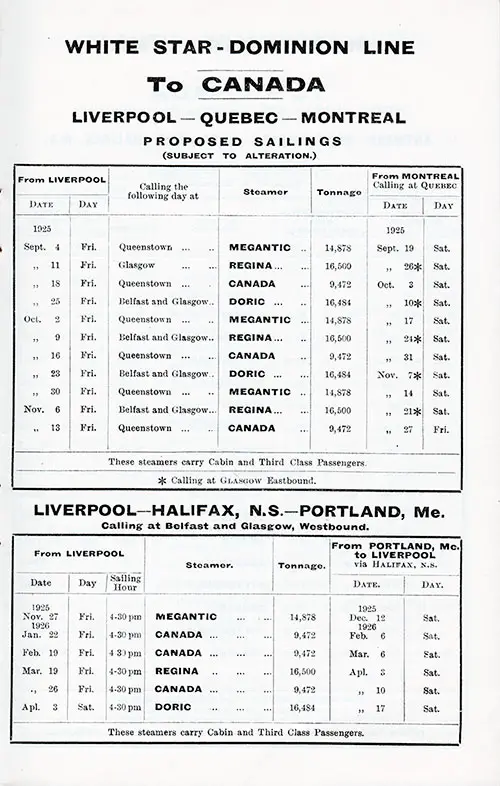 White Star-Dominion Line To Canada -- Liverpool-Québec-Montréal and Liverpool-Halifax-Portland, ME via Belfast and Glasgow (Westbound) Proposed Sailings from 4 September 1925 to 17 April 1926. Ships included the Megantic, Regina, Canada, Doric, and Megantic. These Steamers Carry Cabin and Third Class Passengers. GGA Image ID # 1db4ca9007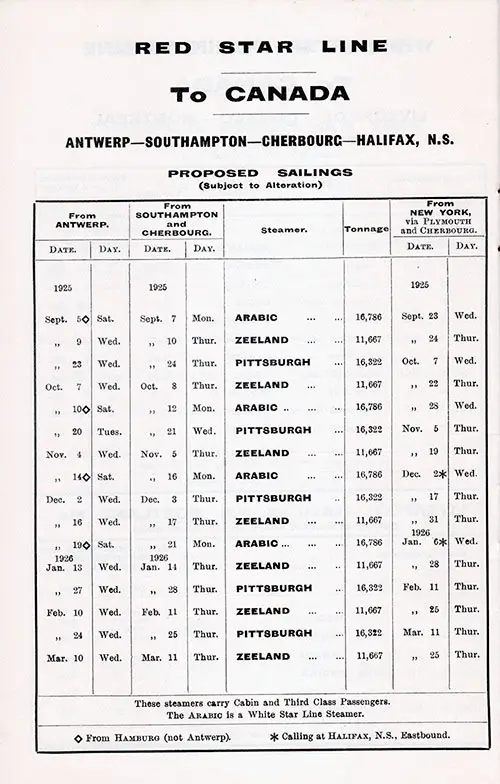 Red Star Line To Canada: Antwerp-Southampton-Cherbourg-Halifax Proposed Sailings from 5 September 1925 to 25 March 1926. Ships included the Arabic, Zeeland, and Pittsburgh. These Steamers Carry Cabin and Third Class Passengers. The SS Arabic is a White Star Line Steamer. GGA Image ID # 1db4f5c87a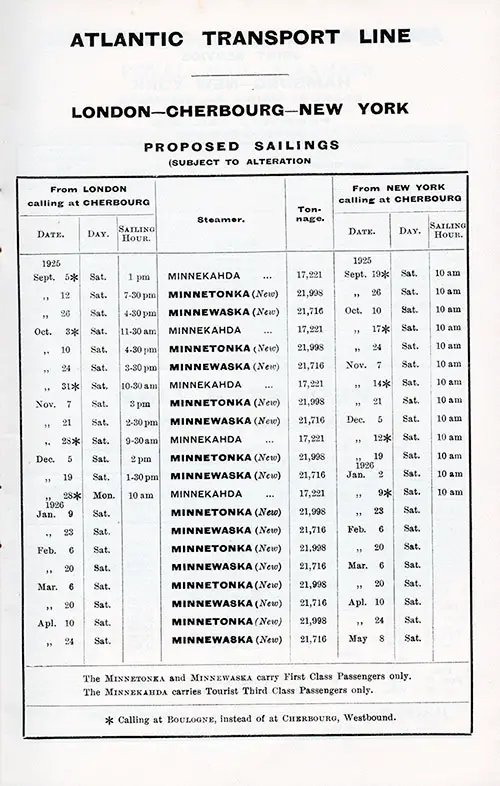 Atlantic Transport Line London-Cherbourg-New York Proposed Sailings from 5 September 1925 to 8 May 1926. Ships included the Minnekahda, Minnetonka, and Minnewaska. The Minnetonka and Minnewaska Carry First Class Passengers Only. The Minnekahda Carries Toursit Third Class Passengers Only. GGA Image ID # 1db50ec9b5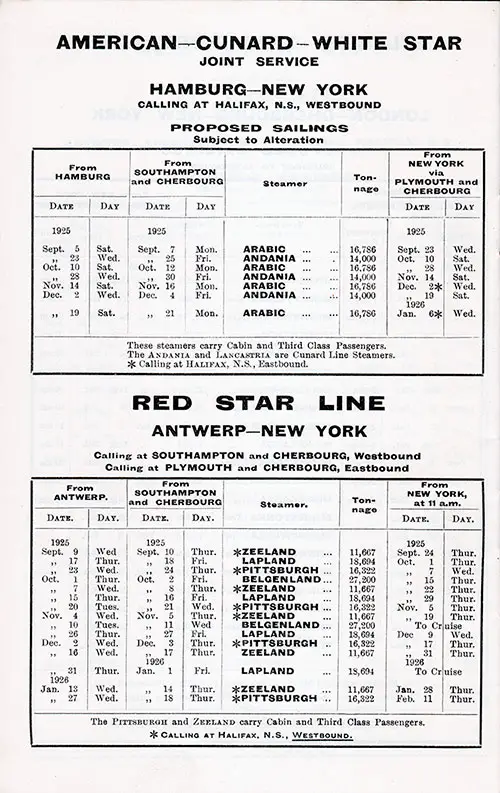 American -- Cunard -- White Star Joint Service, Hamburg-New York Calling at Halifax (Westbound) and Red Star Line Antwerp-New York via Southampton and Cherbourg (Westbound) and Plymouth and Cherbourg (Eastbound). Proposed Sailings from 5 September 1925 to 11 February 1926. Joint Service Ships Included the Arabic and Adania. These Steamers Carry Cabin and Third Class Passengers. The Andania and Lancastria are Cunard Line Steamers. Red Star Line Ships Included the Zeeland, Lapland, Pittsburgh, and Belgenland. The Pittsburgh and Zeeland Carry Cabin and Third Class Passengers. GGA Image ID # 1db51d14f1