MV Carnarvon Castle Archival Collection
Carnarvon Castle (1926) Union-Castle Line
Built by Harland & Wolff, Ltd., Belfast, Ireland. Tonnage: 20,063. Dimensions: 630' x 73'. Twin-screw, 18 knots. Motorship. Two masts and two funnels. First Union-Castle Line motorship. Modifications: Lengthened to 661 feet (686' o.l.) in 1938. New engines installed and speed increased to 20 knots. Record Run: She made a record run of 12 days, 13 hours, 38 minutes from Nab Tower to Cape Town in September 1938. Service: Southampton-Capetown. Passengers: 134 first and 450 tourist. World War II Service: Auxiliary cruiser by the Royal Navy. Fate: Scrapped in 1963.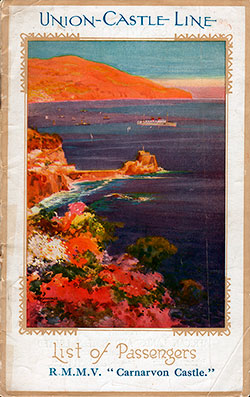 1927-11-04 R.M.M.V. Carnarvon Castle Passenger List
Steamship Line: Union-Castle Line
Class of Passengers: First and Second Class
Date of Departure: 4 November 1927
Route: Southampton for Capetown via Madeira, Algoa Bay, East London, and Natal
Commander: Captain W. F. Stanley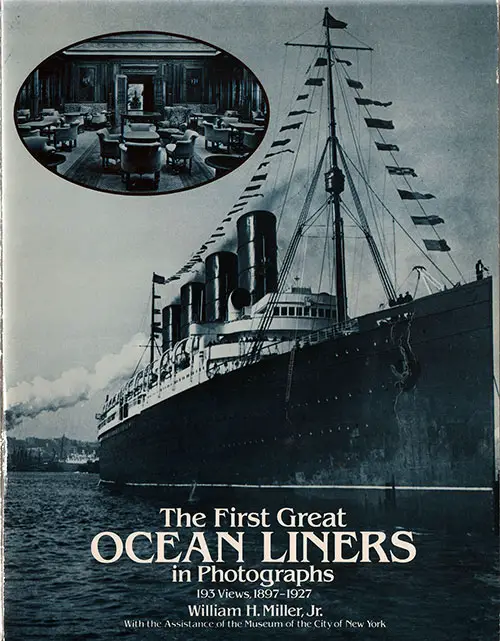 The First Great Ocean Liners in Photographs - 1983
Sumptuous volume recalls the glorious early years of elegant transatlantic travel. Over 190 historic photographs depict exterior and interior views of 101 great ocean liners, including the Virginian, Imperator, Vaterland, Bismarck, Lusitania, Mauretania, Balmoral Castle, Titanic, Olympic, Aquitania and dozens more. Full captions.