RMS Corsican Collection
Corsican (1907) Allan Line
Built by Barclay, Curie & Co., Ltd., Glasgow, Scotland. Tonnage: 11,419. Dimensions: 499' x 500'. Twin-screw, 16 knots. Triple expansion engines. Two masts and one funnel. Passengers: 208 first, 250 second, 1,000 third. Maiden voyage: Liverpool-St. John, New Brunswick, November 1907. Ownership Change: Vessel was acquired by Canadian Pacific Line in 1917. Renamed: Marvale (1922). Similar ships: Grampian and Hesperian. Note: The Corsican was built to replace the Bavarian, which had been wrecked.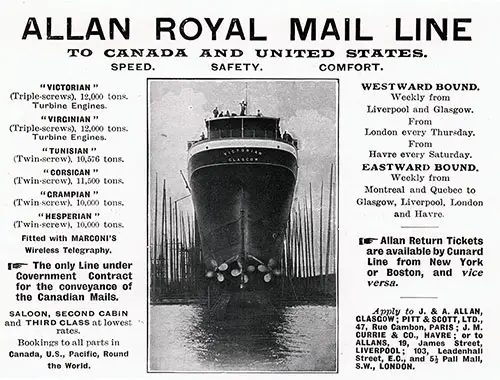 Advertisement, Allan Royal Mail Line. Ships Include the Victorian, Virginian, Tunisian, Corsican, Grampian, and Hesperian. Cunard Daily Bulletin, Ivernia Edition for 22 July 1908. GGA Image ID # 131f1a86b9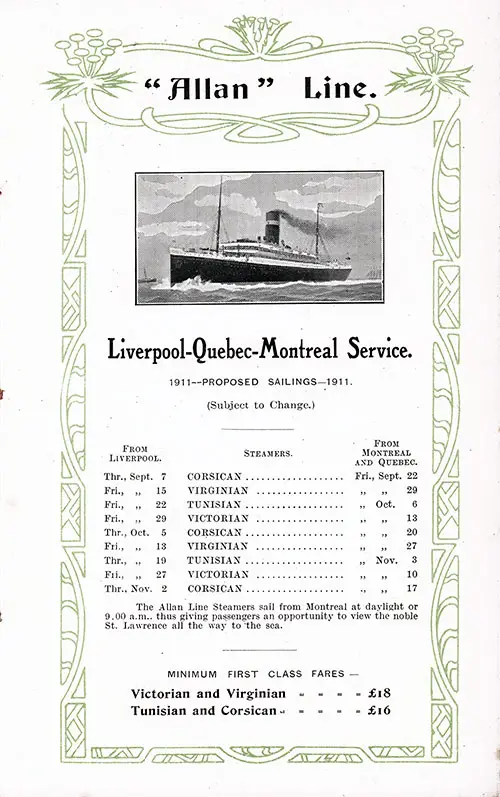 Proposed Sailings, Liverpool-Quebec-Montreal Service from 7 September 1911 to 17 November 1911. Ships Included the Corsican, Tunisian, Victorian, and Virginian. The Allan Line Steamers Sail from Montreal at Daylight or 9.00 A.M. Thus Giving Passengers an Opportunity to View the Noble St. Lawrence All the Way to the Sea. TSS Tunisian Passenger List, 22 September 1911. GGA Image ID # 1e0d11aed2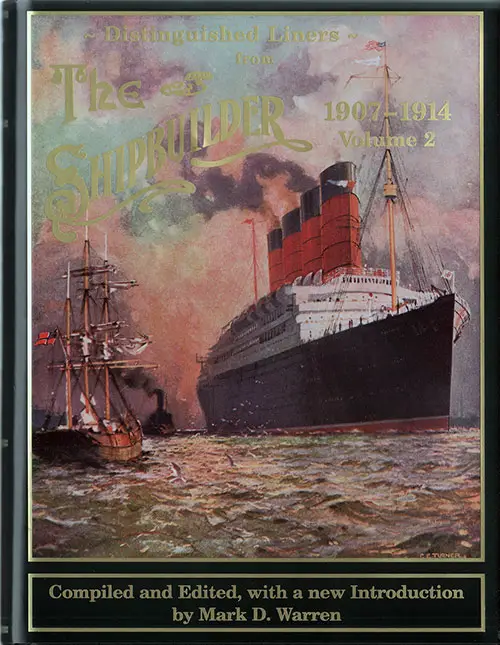 The Shipbuilder - Distinguished Liners 1907 - 1914 v2
Reprinted from The Shipbuilder Magazine, the Distinguised Liners Covered in This Volume Include: Principessa Jolanda, Corsican, Heliopolis, Asturias, City of Paris, Grampian, President Grant, Oceania, Hesperian, Martha Washington, Afrique, Waratah, Morea, Vasari, Orsova, Otway, Osterley, Otranto, Orvieto, Franconia, Laconia, Kaiser Franz Josef I, Vandyck, Medina, Orama, Arlanza, Vestris, Vauban, Pastores, Appam, Niagara, Kristianiafjord, Bergensfjord, Congress, Gablonz, Marienbad, Empress Ekaterina II, Gelria, Tubantia, Columbus, Alsatian, Britannic, Calgarian, Cap Polonio, William O'Swaldt, City of Exeter, Aquitania, Imperator, Vaterland, Alcantara, Statendam, Cap Trafalgar, Bismarck.