SS Cameronia - History and Ephemera Collection
Ephemera for the SS Cameronia are available at the GG Archives, including Passenger Lists, Menus, Brochures, Event Programs, and more.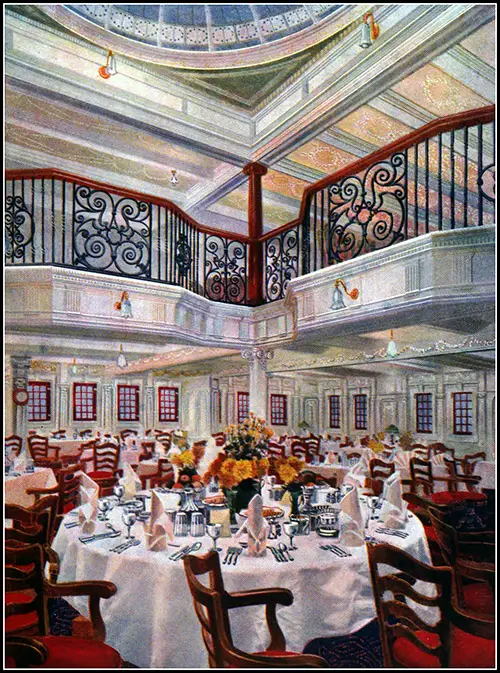 First Class Dining Saloon and Music Room on the SS Cameronia (1910) of the Anchor Steamship Line. History of the Anchor Line, 1911. GGA Image ID # 1d2742ed5a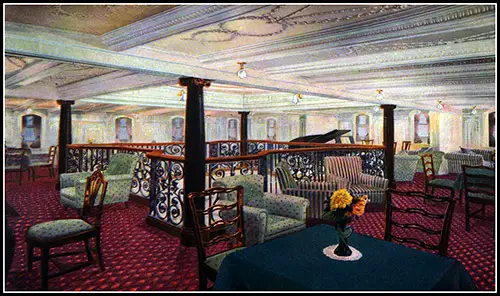 SS Cameronia (1910) First Class Music Room. History of the Anchor Line, 1911. GGA Image ID # 1d27af930f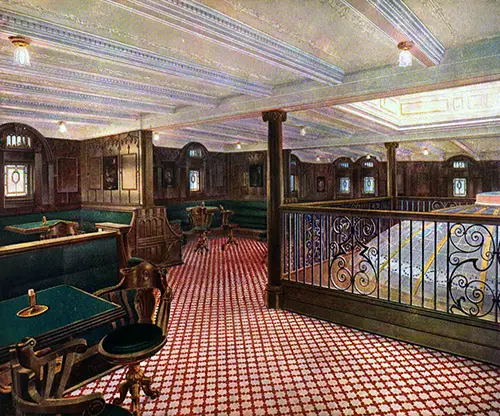 SS Cameronia (1910) First Class Smoking Room. History of the Anchor Line, 1911. GGA Image ID # 1d27be32ac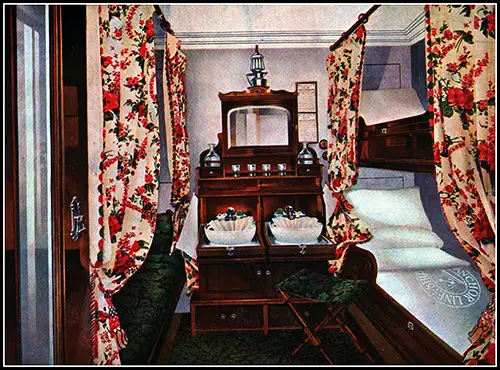 SS Cameronia (1910) First Class Stateroom. History of the Anchor Line, 1911. GGA Image ID # 1d28343cad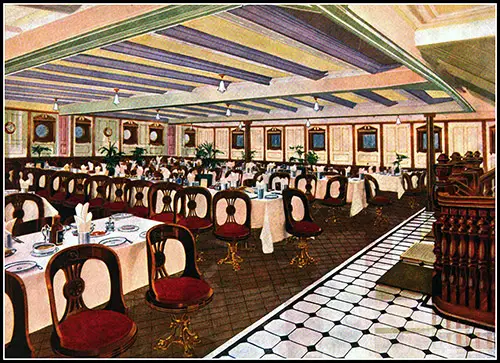 SS Cameronia (1910) Second Class Dining Saloon. History of the Anchor Line, 1911. GGA Image ID # 1d285d75a2
Ephemera contained in the GG Archives collection represent the souvenirs provided to the passengers of each voyage. Many of these souvenir ephemeral items have disappeared over the years.
Our selection varies considerably by ship, and likely contains only a sampling of what was originally produced and printed by the steamship lines.
Bookmark pages you're researching and check back periodically for additions as we continue to digitize our extensive ephemera materials.
The Anchor Liner Cameronia
The first of a fleet of five new steamers arrives in New York.
THE new Anchor Line oil-burner Cameronia, with a large list of passengers, arrived in New York last week on her maiden voyage from Liverpool via Queenstown and Halifax. After this trip to New York, she will sail on the regular Anchor Line service between New York and Glasgow via Londonderry.
The Cameronia is the first of a fleet of five new Anchor liners, the others now rapidly nearly completion being the Caledonia, California, Tuscania and Transylvania. Each of the quintet will be of 16,700 tons and will be oil-burners.
Owing to the compact manner in which oil fuel can be carried and the fact that but one funnel will protrude through the decks, these steamers will be equal in size—as far as accommodations are concerned—to coal burning ships of from 20,000 to 25,000 tons.
The Anchor Line lost seven steamers through enemy action during the war. The new fleet will more than replace the tonnage lost.
The Cameronia was launched from the yard of Messrs. Wm. Beardmore and Company, Limited, Dalmuir, Scotland, on the 23rd of December, 1919, and, as a fitting tribute to the gallant vessels which were lost during the war, her name has been passed on to her in memory of the Cameronia which was launched on the 27th of May, 1911, the christening ceremony on each occasion being performed by Lady Hermoine Cameron of Lochiel.
In external appearance the Cameronia is a striking vessel, with a straight stem and cruiser stern. She has two steel pole masts and a well-proportioned funnel, elliptical in shape and with Admiralty top. Her paintwork is the well-known color combination of the Anchor Line—black hull and funnel and white superstructure.
Her principal dimensions are: 571 feet 6 inches in length overall, 70 feet molded breadth, and 42 feet 9 inches molded depth. Her gross tonnage is 16,700 tons, and when fully loaded her displacement is 23.500 tons. She will comfortably carry about 1,800 passengers.
Her engines are of two sets of Brown-Curtiss double reduction geared turbines, a method of driving that simplifies a most important problem for the engineers, as it permits the operation of both turbines and propellers at their respective natural and economic speeds; for the passenger it means that vibration is reduced to a minimum.
Steam for the turbines is generated by three double ended and three single ended boilers working at a pressure of 220 pounds per square inch. At the time of her launching the Cameronia was the first oil-burning steamer designed to enter the Glasgow and New York route.
For the auxiliary machinery on deck new methods have been adopted, all winches, windlasses, and capstans being operated by electricity instead of steam, while the steam steering gear is controlled by telemotor and fitted with a liquid-controlling brake to avoid jarring and straining.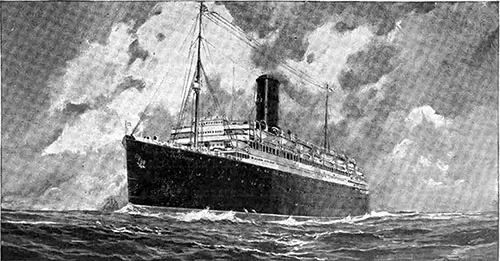 The new Anchor liner Cameronia arrived in New York last week. She is a striking looking ship, with a straight stem and cruiser stern. She is the first of five sister ships building for the Anchor line, and is 571 feet long, 70 feet beam and 16,700 gross tons. GGA Image ID # 1421e17301
The passenger accommodation is thoroughly modern and is distributed over no fewer than six decks, these being "A" (bridge deck), "B" (shelter deck), "C" (upper deck), "D" (main deck), "E" (lower deck), and "F" (orlop deck); while above all is the boat deck. First and second class passenger accommodation is located amidships, most of the staterooms being on "B" and "C" decks, and arranged for one, two or three passengers in each.
The first-class dining saloon is situated on "D" deck, while the other public rooms for first class passengers are all situated on "A" deck, and include writing room, lounge, gymnasium, smoking room, and verandah cafe.
The second class accommodation is to a large extent arranged separately on the same decks as the first class, the staterooms being designed for two and four occupants each, with a few large cabins for families; the public rooms provided being a dining saloon, music room, and smoke room.
The steamers of the Anchor Line have always been favorites with third class passengers, and on the Cameronia special attention has been given by the Company to their requirements. On "C", "D", and "E" decks, accommodation has been provided for 1,100 passengers in this class in rooms containing two, four, and not more than six passengers each. The dining saloons on "D" deck are designed to seat 500 passengers, while on "C" deck are found the smoking room and general room.
The various kitchens are airy and large and fitted with every modern appliance, while the cold storage chambers are so designed that fish, vegetables, fruit, and meat are separately stored, the refrigerating machinery not only keeping these compartments at the required temperature, but in addition providing the large quantities of ice which are daily required throughout the voyage.
As in all modern liners, the Cameronia is fitted with a complete installation of long distance wireless telegraphy which is at the disposal of passengers by day and night.
"The Anchor Liner Cameronia," in Shipping, Marine Transportation, Construction, EWquipment, and Supplies, New York: Shipping Publishing Company, Inc., Vol. XIII, No,. 10, 25 May 1921, p. 15.