SS Cameronia Passenger Lists 1913-1932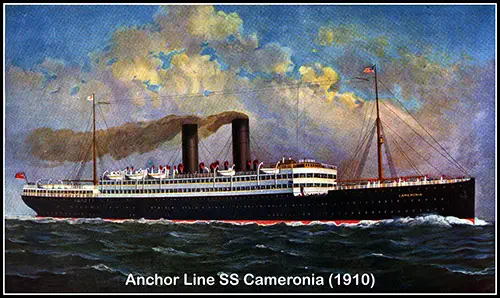 SS Cameronia (1910) of the Anchor Steamship Line. History of the Anchor Line, 1911. GGA Image ID # 1d26fbbdbb
Cameronia (1910) Anchor Line.
Built by D. & W. Henderson & Co., Glasgow, Scotland. Tonnage: 10,963. Dimensions: 515' x 62' (532' o.l.). Twin- screw, 17 knots. Triple expansion engines. Two masts and two funnels. Passengers: 250 first, 450 second, 1,000 third. Maiden voyage: Glasgow-New York, September 9, 1911. Note: Converted to troopship in 1917. Fate: Torpedoed and sunk without warning 150 miles from Malta, April 15, 1917, with the loss of a number of lives. Running mates: Caledonia, California and Columbia. Note: None were identical.
All Digitized Passenger Lists For the SS Cameronia Available at the GG Archives. Listing Includes Date Voyage Began, Steamship Line, Vessel, Passenger Class and Route.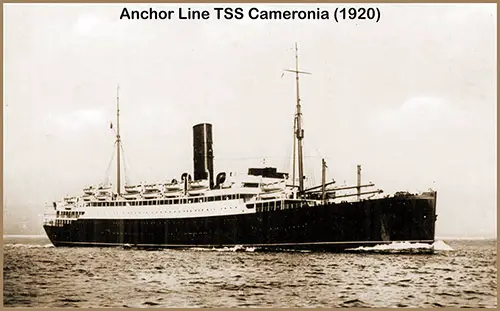 TSS Cameronia (1920) of the Anchor Steamship Line. GGA Image ID # 1d27483c18
Cameronia (1920) Anchor Line.
Built by Wm. Beardmore & Co., Glasgow, Scotland. Tonnage: 16,297. Dimensions: 552' x 70' (575' o.l.). Twin-screw, 15 knots. Steam turbines. Two masts and one funnel. Launched, December 23, 1919. Maiden voyage from Liverpool to New York in May 1921. Notes: Similar in appearance to Lancastria of Cunard Line. Carried a total of 186,770 passengers from December 1919 - the time of her maiden voyage to August 1939. Served as a troopship in World War II. Torpedoed by aircraft in December 1942, but was able to make port. Reconditioned for the Australian immigrant service in 1948. Renamed: Empire Clyde (1953). Broken up by British shipbreakers in 1958.
Passenger Lists contained in the GG Archives collection represent the souvenir list provided to the passengers of each cabin class (and other classes). Many of these souvenir passenger lists have disappeared over the years. Our collection contains a sampling of what was originally produced and printed by the steamship lines.