SS Cassandra Archival Collection
Cassandra (1906) Anchor-Donaldson Line
Built by Scott's Shipbuilding & Engineering Co., Greenock, Scotland. Tonnage: 8,135. Dimensions: 455' x 53'. Twin- screw, 14 knots. Triple expansion engines. Two masts and one funnel. Passengers: 200 second and 1,000 third. Tonnage originally 7,396. Maiden voyage: Glasgow-Quebec- Montreal, September 22, 1906. World War I Service: The Cassandra served as a troop ship. Other Service: From 1922 to 1924, the Cassandra was chartered to the Cunard Line. Modifications: In 1925, Donaldson converted the Cassandra to carry freight and renamed her to S.S. Carmia. Sale: Sold the Carmia to Arnold Bernstein of Hamburg, who converted her to carry cattle, and renamed her to S.S. Drachenstein. Renamed: (a) Carmia (b) Drachtenstein (Bernstein Line). Fate: Scrapped in Kiel, Germany in 1934.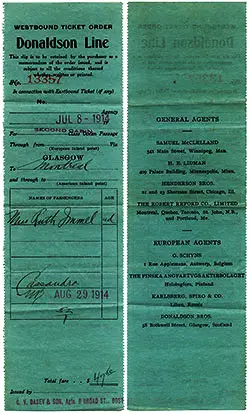 1914-07-08 Westbound Ticket Order - Second Cabin
Westbound Ticket Order dated 8 July 1914 from the Donaldson Line for Second Cabin Passenger Miss Ruth Immel, departing on the SS Cassandra from Glasgow to Montreal, Issued by C.V. Dasey & Son, Boston.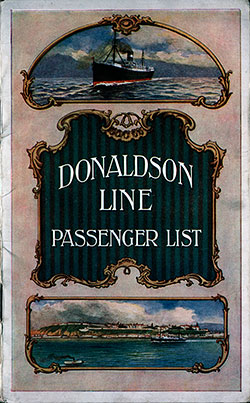 1914-08-29 TSS Cassandra Passenger List
Steamship Line: Donaldson Line
Class of Passengers: Cabin
Date of Departure: 29 August 1914
Route: Glasgow to Quebec and Montreal
Commander: Captain Robert C. Brown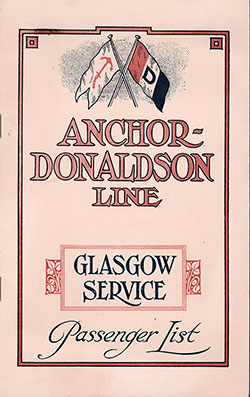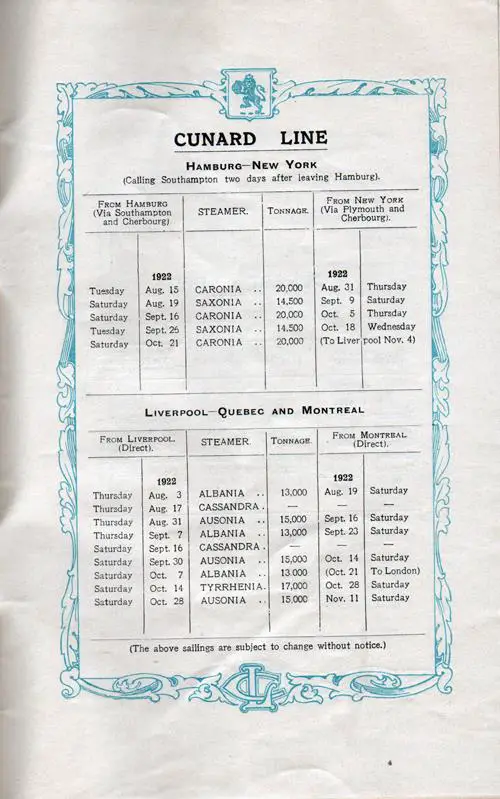 Sailing Schedule, Hamburg-Southampton-New York, and Liverpool-Québec and Montréal, from 3 August 1922 to 11 November 1922. Ships Included the Albania, Ausonia, Cassandra, Caronia, Saxonia, and Tyrrhenia. RMS Laconia Passenger List, 24 August 1922. GGA Image ID # 1e9b52e7a7