SS City of Havre Collection
City of Havre (1918) Baltimore Mail Line
Built by Bethlehem Shipbuilding Corp., Alameda, California. Tonnage: 8,378. Dimensions: 486' x 56'. Single-screw, 16 knots. Steam turbines. Two masts and one funnel. Renamed: (a) City of Los Angeles, (b) George F. Elliott (United States Govt.). Fate: Sunk by Japanese aircraft off Guadalcanal, August 8, 1942. Previously Named: Ex-Victorious.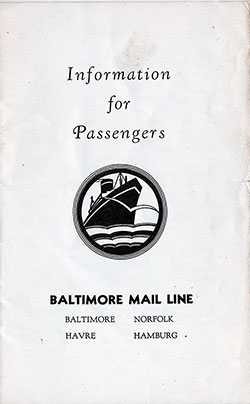 Baltimore Mail Line Passenger Information - 1932
Rare Passenger Booklet from Baltimore Mail Line covers everything that their patrons would need to know about their voyage. Unlike many of the passenger steamship lines, the Baltimore Mail Line printed the Information for Passengers separate from the Passenger Lists.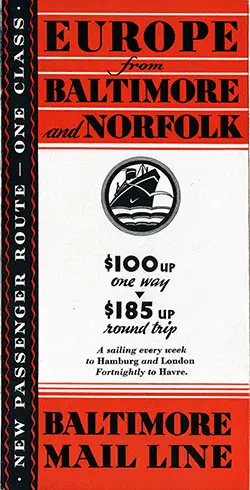 Baltimore Mail Line to Europe - 1936
Baltimore Mail Line utilizes one-class liners. You can go anywhere onboard without worrying about class restrictions. Decks, lounges, dining saloon— there is no class distinction. Passenger accommodations throughout are of a single high standard.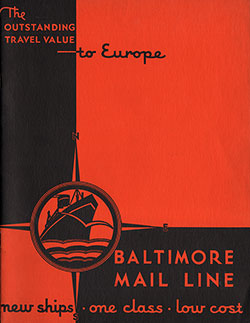 Baltimore Mail Line Outstanding Travel Value - 1930s
1930s Brochure offers extraordinary interior and exterior views (including passengers) of their transatlantic steamships of the Baltimore Mail Line with routes between Baltimore, Norfolk, Havre and Hamburg. Ships Featured: City of Baltimore, City of Hamburg, City of Havre, City of Newport News, and City of Norfolk.