SS Chemnitz Collection
Chemnitz (1901) North German Lloyd
Built by J. C. Tecklenborg, Geestemunde, Germany. Tonnage: 7,543. Dimensions: 428' x 54'. Twin-screw, 13 knots. Triple expansion engines. Two masts and one funnel. Service: Mainly in Europe-Baltimore. Sale: Acquired by Ellerman Wilson Line after World War I. Fate: Sold to Dutch shipbreakers in November 1923. Sister ships: Cassel, Brandenburg and Breslau.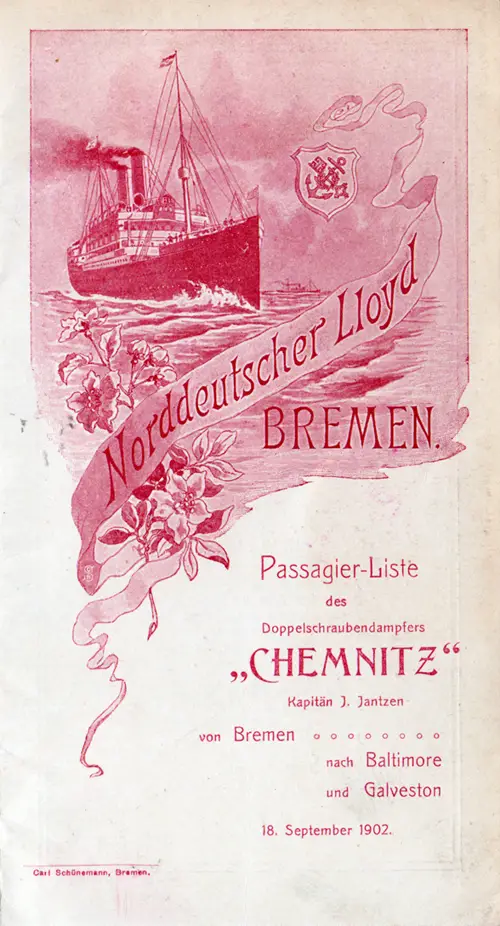 1902-09-18 SS Chemnitz Passenger List
Cabin Passenger List for the SS Chemnitz of the North German Lloyd, Departing 18 September 1902 from Bremen to Baltimore and Galveston, Commanded by Captain J. Jantzen.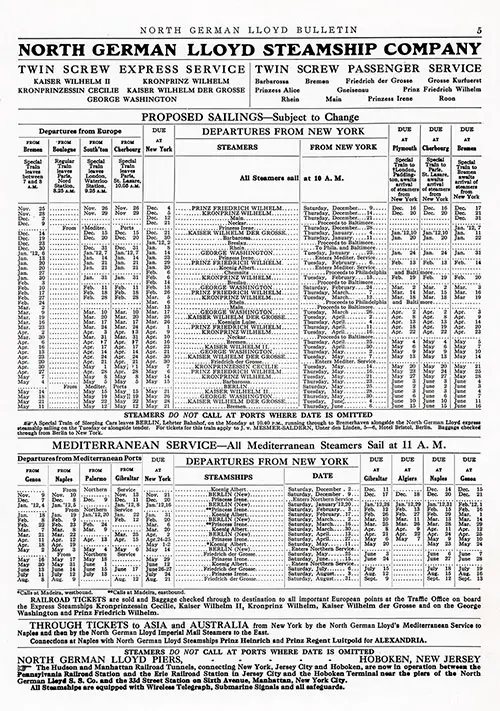 Proposed Sailings, Bremen-New York and New York-Mediterranean Services, from 10 November 1911 to 13 September 1912. Ships Included the Baarbarossa, Berlin, Bremen, Breslau, Chemnitz, George Washington, Kaiser Wilhelm der Grosse, Kaiser Wilhelm II, Koenig Albert, Koenigin Luise, Kronprinz Wilhelm, Main, Neckar, Prinz Friedrich Wilhelm, Prinzess Irene, and Rhein. North German Lloyd Bulletin, December 1911. GGA Image ID # 1e304c62cd. Click to View Larger Image.