SS Chemnitz Passenger List - 18 September 1902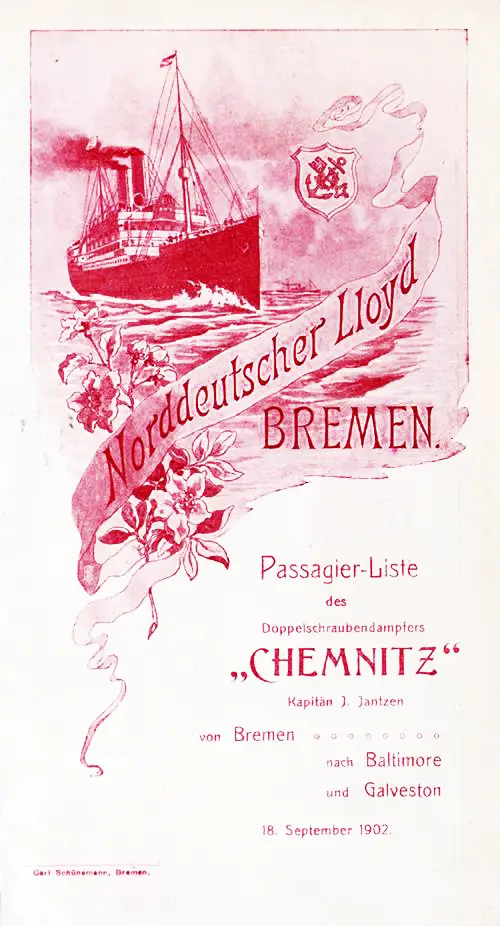 Front Cover of a Cabin Passenger List for the SS Chemnitz of the North German Lloyd, Departing 18 September 1902 from Bremen to Baltimore and Galveston, Commanded by Captain J. Jantzen. GGA Image ID # 17da64fd4b
Senior Officers and Staff
Commander: Captain J. Jantzen
First Officer: Fr. Sembill
Second Officer: A. Barghorn
Third Officer: G. Hahn
Fourth Officer: C. Kühlken
First Engineer: H. Hentig
Second Engineer: E. Blanke
Third Engineer: H. Stockfisch
Fourth Engineer: P. Schock
Physician: Dr. H. Wolff, M.D.
Physician: Dr. H. Blare, M.D.
Purser: R. Hesse
Chief Steward: H. Fritzsche
Chief Cook: C. Hempel
Second Cook: A. Grossmann
Cabin Passengers
To Baltimore:
Miss Bernhardine Brenke
Miss Minnie Brenke
Mr. Robert Bornefeld
Mr. C. E. Becker
Miss Caroline Burkhart
Miss H. Bonsack
Mr. M. Bonitz
Mrs. M. Bonitz
Mr. Theo. Brinkmann
Miss Auguste Dehms
Mr. J. T. Dennis
Mrs. J. T. Dennis
Miss LtIonie Delarne
Mrs. Marie Ewert
Miss Elisabeth Eymann
Mr. Lee C. Hollander
Mrs. Therese Hoffmann
Mr. L. G. Haeussermann
Dr. Wilh. Kurrelmeyer
Mrs. Wilh. Kurrelmeyer
Mr. Fred. Knoche
Mr. Bernh. zu Klampen
Dr. Warren H. Lewis
Mr. Alvin Lange
Mr. H. Müller
Miss Antoinette Margot
Mr. Lajos Nagy
Mr. Richard Netzband
Mr. E. von Paris
Mr. Ino F. Pagel
Mr. Friedr. Stave
Miss Kate Speer
Miss Florence R. Sabin
Mr. George F. Steenken
Mr. Ferd Steenken
Mr. Jean Ph. Schütz
Mrs. Jean Ph Schütz
Miss Christine Schütz
Franz Schütz
Mr. Arthur Säuberlich
Miss Elisabeth Schmidt
Mrs. Marie Schönfeld
Josef Schönfeld
Berni Schönfeld
Miss Katie Schnepf
Miss Mina Steurer
Miss Emilie Thomas
Miss Julie Thomas
Miss Wilhelmine Wiedmeier
To Galveston :
Miss Eva Bohny
Mrs. Auguste Bursche
Mrs. Helene Busch
Miss Adele Brunsteiner
Mrs. Laura von Carlowitz
Miss Lina von Carlowitz
Adolf von Carlowitz
Hans von Carlowitz
Mrs. Jedda Daves
Emma P. Drescher
Mrs. Elise Eickholt
Mr. Georg Friedrichs
Mrs. Marie Gramcko
Miss Hattie Grothe
Mr. S Heidenheimer
Miss Marie Hansen
Mrs. Ad. Huber
Mrs. Martha Ibanez
Mr. V. Köhler
Miss Anna Knoll
Miss Ellen von Linstow
Mrs. Auguste Mirus
Rev. Karl Müller
Mrs. Karl Müller
Käthe Müller
Edith Müller
Mr. Chas. Plume
Mrs. Auguste Pfadenhauer
Olga Pfadenhauer
Miss Julie Runge
Pastor Carl Roth
Mrs. Carl Roth
Theophil Roth
Carl Roth
Mrs. Josephine Reuel
Mrs. Alwine Reuel
Alwine Reuel
Else Reuel
Mr. G. Terwey
Mrs. G. Terwey
Cover by Carl Schanernann, Brenton.
General-Agenten des Norddentsehen Lloyd:
In Baltimore: A. Schumacher & Co., 5 South-Gay Street. In Galveston, Tex.: W. W. Wilson.
In New York: 0 elric hs & C o., 5 Broadway.
In Chicago, H. CI auss e n i us & Co.,
95 Dearborn Street.
In San Francisco, Cal.: Robert Cap elle,
140 Montgomery Street