SS Königin Luise - History and Ephemera Collection
Ephemera for the SS Königin Luise are available at the GG Archives, including Passenger Lists, Menus, Brochures, Event Programs, and more.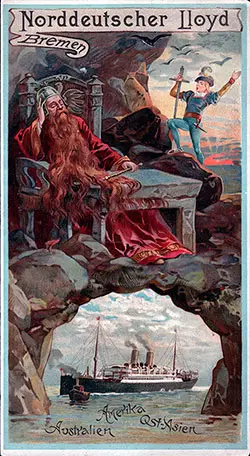 1901-07-27 SS Konigin Luise Passenger List
Steamship Line: Norddeutscher Lloyd (North German Lloyd)
Class of Passengers: Cabin
Date of Departure: 27 July 1901
Route: Bremen to New York via Southampton
Commander: Captain O. Volger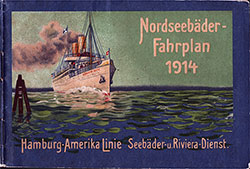 1914 - Hamburg-Amerika Linie Nordseebäder-Fahrplan
Viele Fotos der Schiffe, Innenansichten und Bilder der Wahrzeichen von Hamburg, Deutschland, machen diese Broschüre zu einer ungewöhnlich guten Broschüre der Hamburg- Amerika Linie von 1914. Zwei farbige Karten enthalten die Nordsee und die Umgebung.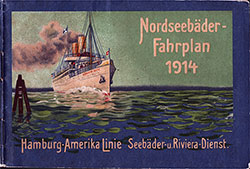 1914 - Hamburg America Line North Sea Resorts Timetable
Many photographs of the ships, interior views, and images of Hamburg, Germany landmarks help to make this an unusually good brochure from the Hamburg America Line in 1914. Two color maps are included of the North Sea and Vicinity. Ships Featured: Königin Luise, Kaiser, Imperator
Ephemera contained in the GG Archives collection represent the souvenirs provided to the passengers of each voyage. Many of these souvenir ephemeral items have disappeared over the years.
Our selection varies considerably by ship, and likely contains only a sampling of what was originally produced and printed by the steamship lines.
Bookmark pages you're researching and check back periodically for additions as we continue to digitize our extensive ephemera materials.