SS Kronprinz Wilhelm Collection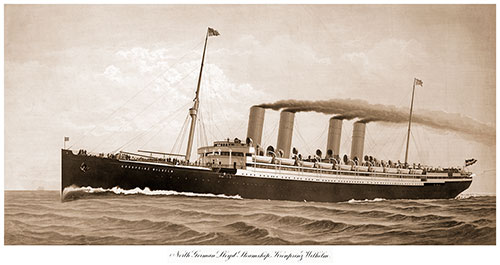 North German Lloyd Steamship SS Kronprinz Wilhelm Under Steam at Sea, 23 June 1902. Photo by West & Son. Engraved by John A. Lowell & Company, Boston. Library of Congress LC # 2016649822. GGA Image ID # 1d6f69f6b9
Ephemera for the SS Kronprinz Wilhelm are available at the GG Archives, including Passenger Lists, Menus, Brochures, Event Programs, and more.
Kronprinz Wilhelm (1901) North German Lloyd
Built by "Vulkan", Stettin, Germany. Tonnage: 14,908. Dimensions: 637' x 66' (663' o.l.). Twin-screw, 23 knots. Quadruple expansion engines. Two masts and four funnels. Displacement of 21,300 tons. Averaged 23.34 knots on her trials; 36,000 I.H.P. Passengers: 593 first, 362 second, 696 third. Maiden voyage: Bremen-Southampton-New York, September 17, 1901. Speed Records: Broke the trans-Atlantic speed record. Note: If any liner ever had a story book career, the Kronprinz Wilhelm should rank very high for such an honor. Her remarkable exploits as an armed commerce raider during World War I were crammed with excitement and adventure. Her final service in the role of an American troopship, under the name Von Steuben. Fate: Scrapped in 1923. Running mates: Kaiser Wilhelm II, Kronprinzessin Cecilie and Kaiser Wilhelm der Grosse.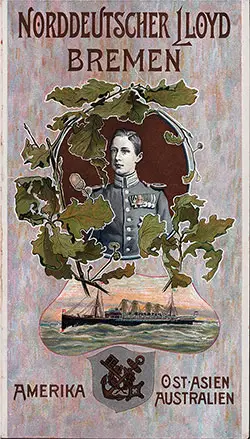 1901-12-16 SS Kronprinz Wilhelm Passenger List
Steamship Line: Norddeutscher Lloyd (North German Lloyd)
Class of Passengers: Cabin
Date of Departure: 16 December 1901
Route: Bremen to New York via Southampton
Commander: Captain L. Störmer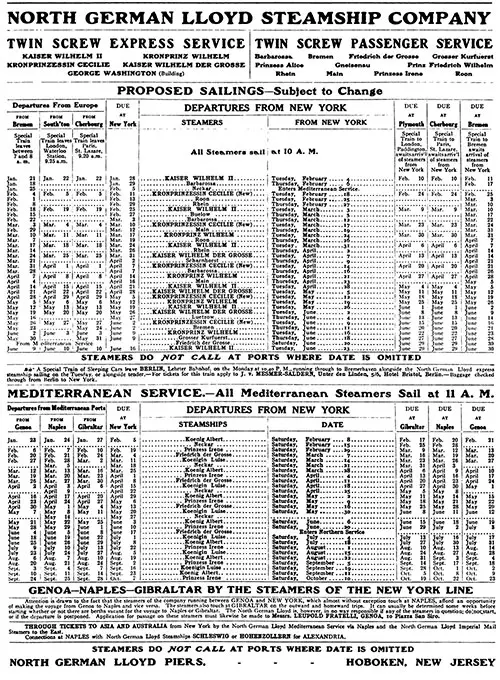 Proposed Sailings, Europe-New York, from 21 January 1908 to 23 June 1908, and Mediterranean Sailings from 23 January to 10 October 1908. Ships Included the Barbarossa, Bremen, Buelow, Friedrich der Gross, Grosser Kurfürst, Kaiser Wilhelm der Gross, Kaiser Wilhelm II, Knoenig Albert, Koenigin Luise, Kronprinz Wilhelm, Kronprinzessin Cecilie, Luetzow, Main, Necktar, Prinzess Irene, Rhein, Roon, and Scharnhorst. North German Lloyd Bulletin, February 1908. GGA Image ID # 1dde6667a4. Click to View Larger Image.
Attention is drawn to the fact that the steamers of the company running between GENOA and NEW YORK, which almost without exception touch at NAPLES, afford an opportunity of making the voyage from Genoa to Naples and vice versa. The steamers also touch at GIBRALTAR on the outward and homeward trips. Some weeks before starting, it can be determined whether there are berths vacant for the voyage to Naples or Gibraltar. The North German Lloyd is. However, in no way responsible if any of the steamers in question: do not start or if the departure is postponed. Potential passengers must likewise apply for passage on these steamers to Messrs. LEUPOLD FRATELLI, GENOA, 10 Piazza San Siro.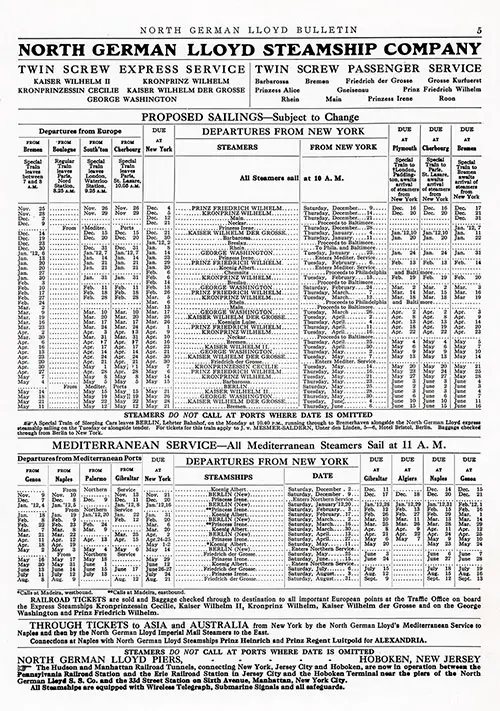 Proposed Sailings, Bremen-New York and New York-Mediterranean Services, from 10 November 1911 to 13 September 1912. Ships Included the Baarbarossa, Berlin, Bremen, Breslau, Chemnitz, George Washington, Kaiser Wilhelm der Grosse, Kaiser Wilhelm II, Koenig Albert, Koenigin Luise, Kronprinz Wilhelm, Main, Neckar, Prinz Friedrich Wilhelm, Prinzess Irene, and Rhein. North German Lloyd Bulletin, December 1911. GGA Image ID # 1e304c62cd. Click to View Larger Image.