SS Karlsruhe Archival Collection
Karlsruhe (1900) North German Lloyd
Built by "Vulkan", Stettin, Germany. Tonnage: 10,826. Dimensions: 523' x 60'. Twin-screw, 15 1/2 knots. Quadruple expansion engines. Two masts and two funnels. Service: Bremen-New York. Fate: Scrapped in Germany, 1932. Previous Names: Ex- Bremen (1928), ex-Pocahontas (1922), ex-Prinzess Irene (1917).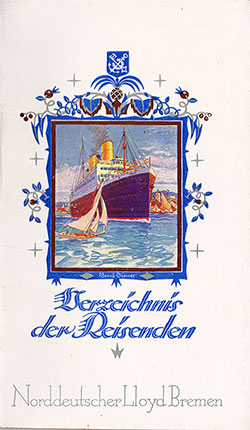 1928-07-26 SS Karlsruhe Passenger List
Steamship Line: North German Lloyd
Class of Passengers: Cabin Class
Date of Departure: 26 July 1928
Route: Bremen to New York via Boulogne-sur-Mer and Southampton
Commander: Captain H. Filzinger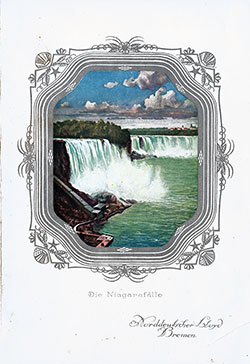 1928-07-29 SS Karlsruhe Dinner Menu
Vintage Dinner Bill of Fare from Sunday, 29 July 1928 on board the SS Karlsruhe of the North German Lloyd featured Fried English Sole, Potato Salad with Mayonnaise, Glazed Saddle of Veal, and Rice Pudding, Strawberry Sauce for dessert. Printed in German and English, the Bill of Fare included a Music Program and an announcement of a Moving Picture show later that evening.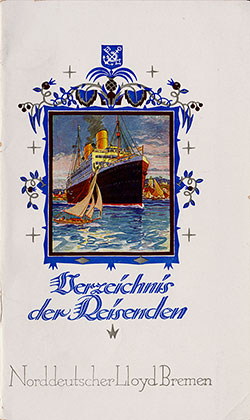 1928-08-23 SS Karlsruhe Passenger List
Steamship Line: North German Lloyd
Class of Passengers: Cabin Class
Date of Departure: 23 August 1928
Route: Bremen to New York via Boulogne-sur-Mer and Queenstown (Cobh)
Commander: Captain H. Filzinger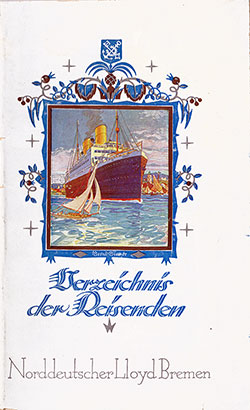 1929-08-30 SS Karlsruhe Passenger List
Steamship Line: North German Lloyd (Norddeutscher Lloyd)
Class of Passengers: Cabin Class
Date of Departure: 30 August 1929
Route: Bremen to Boston and New York via Galway
Commander: Captain H. Filzinger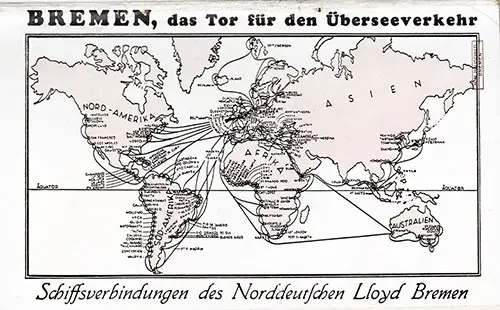 Global Route Map on the Back Cover of the North German Lloyd SS Karlsruhe Cabin Class Passenger List - 26 July 1928. GGA Image ID # 15e452abe2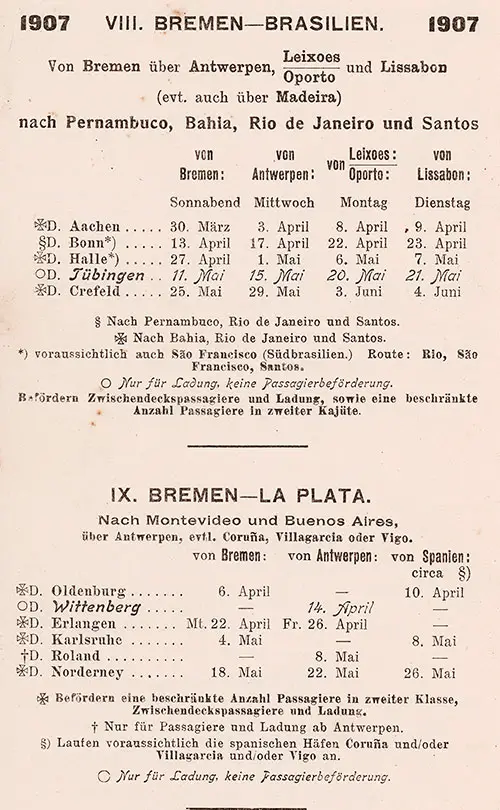 Sailing Schedule, Bremen-Brazil and Bremen-La Plata, from 30 March 1907 to 4 June 1907. Ships Included the Aachen, Bonn, Crefeld, Erlangen, Halle, Karlsruhe, Norderney, Oldenburg, Roland, Tübingen, and Wittenberg. SS Chemnitz Passenger List, 6 April 1907. GGA Image ID # 1f768fc82f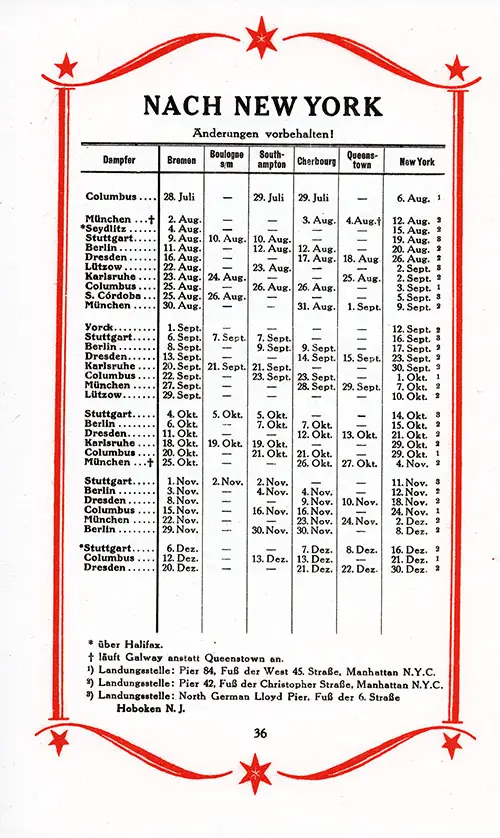 Sailing Schedule, Bremen-New York via Boulogne-sur-Mer, Southampton, Cherbourg, and Queenstown (Cobh), from 28 July 1928 to 30 December 1928. Ships Included the Berlin, Columbus, Dresden, Karlsruhe, Lützow, München, Seyditz, Sierra Cordoba, Stuttgart, and Yorck. SS Columbus Passenger List, 28 July 1928. GGA Image ID # 1e609f3c10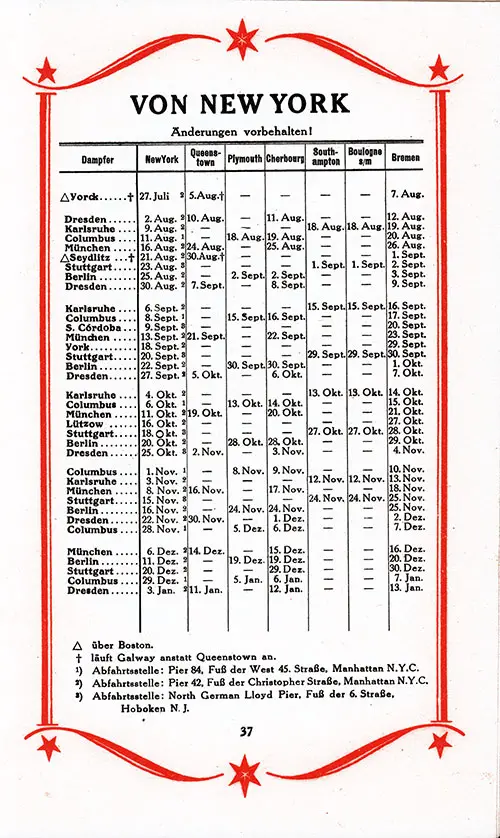 Sailing Schedule, New York to Bremen via Queenstown (Cobh), Plymouth, Cherbourg, Southampton, and Bologne-sur-Mer, from 27 July 1928 to 13 January 1929. Ships Included the Berlin, Columbus, Dresden, Karlsruhe, Lützow, München, Seyditz, Sierra Cordoba, Stuttgart, and Yorck. SS Columbus Passenger List, 28 July 1928. GGA Image ID # 1e60c12f58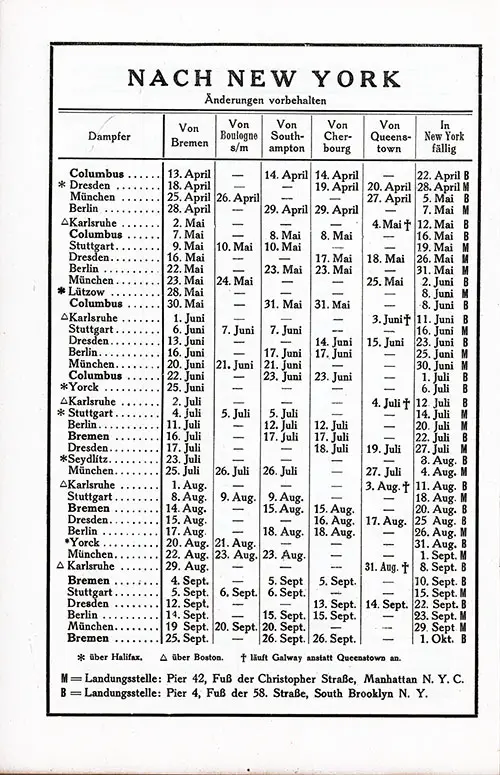 Sailing Schedule, Bremen to New York, from 13 April 1929 to 26 September 1929. Ships Included the Berlin, Bremen, Columbus, Dresden, Karlsruhe, München, Seydlitz, Stuttgart, and Yorck. SS Columbus Passenger List, 13 April 1929. GGA Image ID # 1e63b9221a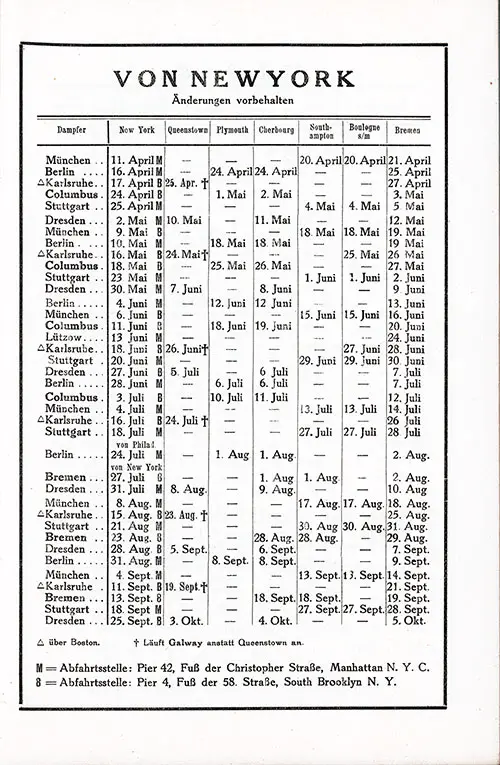 Sailing Schedule, Bremen to New York, from 11 April 1929 to 5 October 1929. Ships Included the Berlin, Bremen, Columbus, Dresden, Karlsruhe, München, Seydlitz, Stuttgart, and Yorck. SS Columbus Passenger List, 13 April 1929. GGA Image ID # 1e640b97ed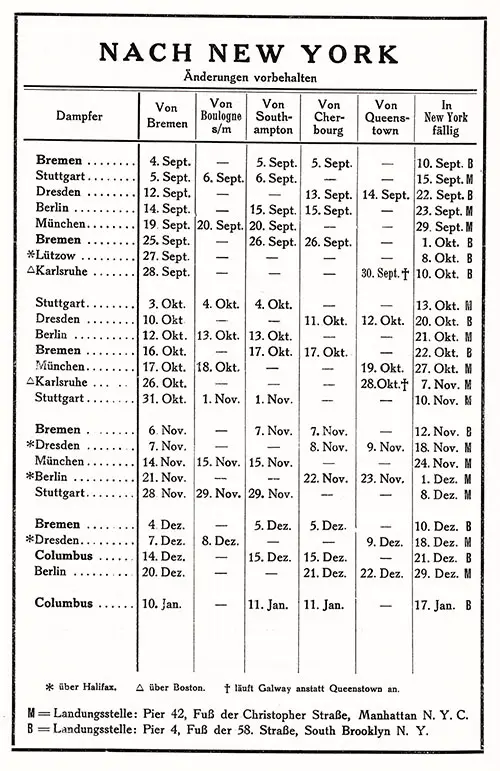 Sailing Schedule, Bremen-Boulogne-Southampton-Cherbourg-Queenstown (Cobh)-New York, from 4 September 1929 to 17 January 1930. Ships Included the Berlin, Bremen, Columbus, Dresden, Karlsruhe, Lützow, München, and Stuttgart. SS Bremen Passenger List, 4 September 1929. GGA Image ID # 1f875bc19a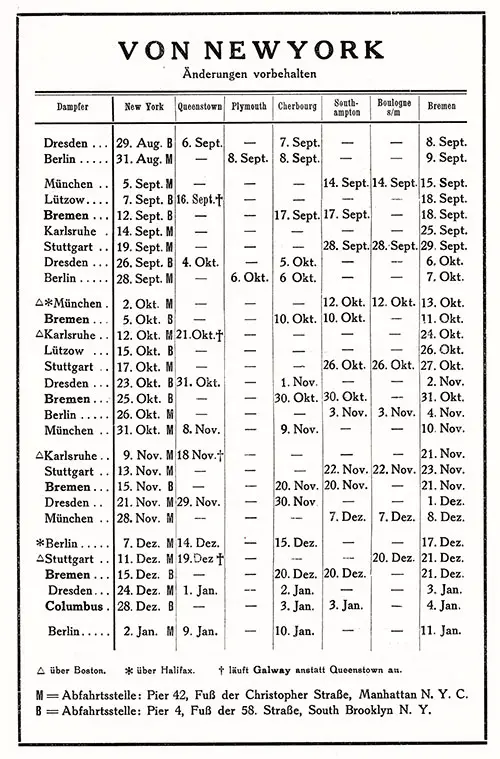 Sailing Schedule, New York-Queenstown (Cobh)-Plymouth-Cherbourg-Southampton-Boulogne-Bremen, from 29 August 1929 to 11 January 1930. Ships Included the Berlin, Bremen, Columbus, Dresden, Karlsruhe, Lützow, München, and Stuttgart. SS Bremen Passenger List, 4 September 1929. GGA Image ID #