SS Kaiserin Maria Theresia Archival Collection
Kaiserin Maria Theresia (1890) North German Lloyd
Built by "Vulkan", Stettin, Germany. Tonnage: 7,840. Dimensions: 528' x 51' (545' o.l.). Twin-screw, 20 knots. Triple expansion engines. Two masts and three funnels. Note: As originally built this liner had three masts and two funnels; also was of single-screw. In 1899 lengthened from 463 feet to 528 feet, which raised her tonnage to 7,840. Maiden Voyage: Made her first voyage as Kaiserin Maria Theresa, March 11, 1900. Renamed: Ural (1904) Russian. Fate: Sunk during the Russo-Japanese War at Battle of Tsushima, May 27, 1905. Ex-Spree (1899). Ship Alternate Spelling: Kaiserin Maria Theresa.
1902-09-30 SS Kaiserin Maria Theresia Passenger List
Cabin Passenger List for the SS Kaiserin Maria Theresia of the North German Lloyd, Departing Tuesday, 30 September 1902 from Bremen to New York via Southampton, Commanded by Captain P. Wettin.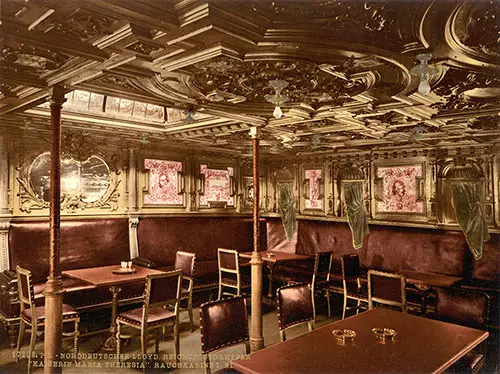 First Class Smoking Room on the Kaiserin Maria Theresia of the Norddeutscher Lloyd Bremen (North German Lloyd) ca 1900. Detroit Publishing Company Photochrome. Library of Congress LC # 2002720835. GGA Image ID # 1d6fb22b7b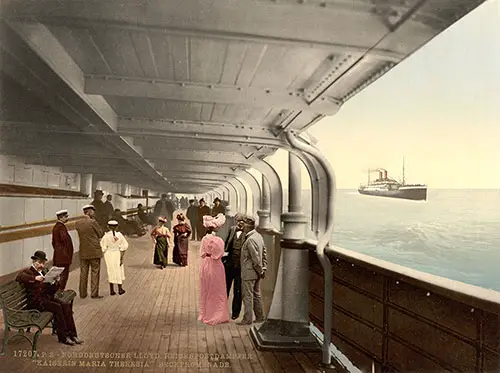 First Class Promenade Deck of the Kaiserin Maria Theresia of the Norddeutscher Lloyd Bremen, ca 1900. Detroit Publishing Company Photochrome. Library of Congress LC # 2002720834. GGA Image ID # 1d71600b12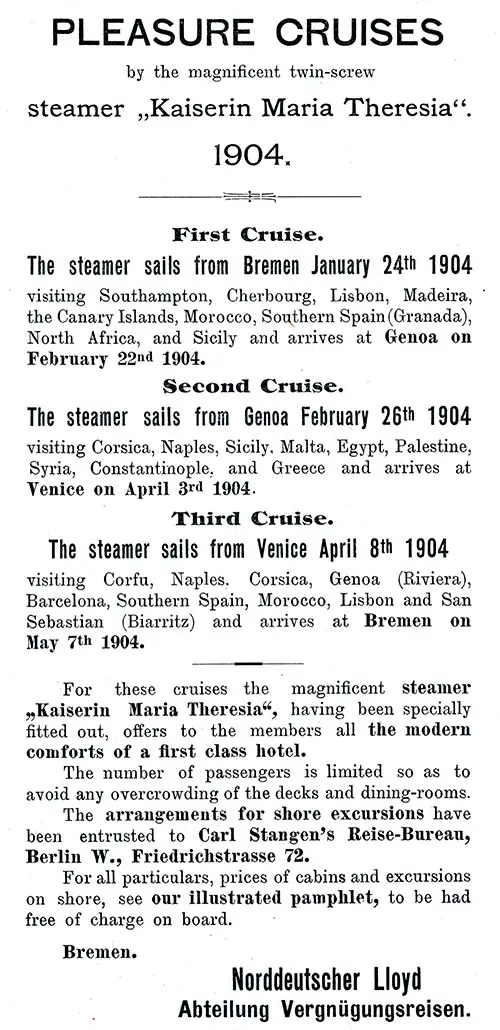 Pleasure Cruises by the Magnificent Twin-Screw Steamer SS Kaiserin Maria Theresia, 1904. SS Kaiser Wilhelm II Passenger List, 6 October 1903. GGA Image ID # 1ebc3920df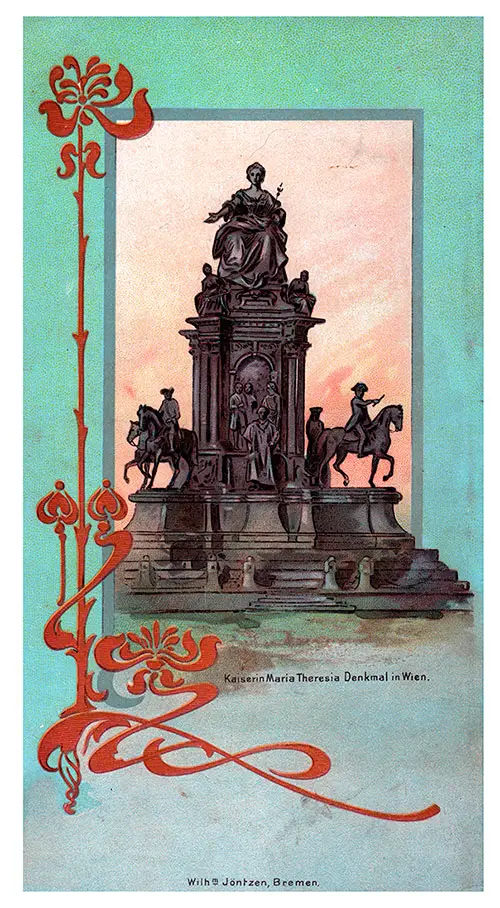 Back Cover, SS Kaiserin Maria Theresia Passenger List, 30 September 1902. GGA Image ID # 1ebdb39c68