SS Kaiser Collection
Ephemera for the SS Kaiser are available at the GG Archives, including Passenger Lists, Menus, Brochures, Event Programs, and more.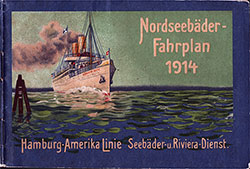 Hamburg-Amerika Linie Nordseebäder-Fahrplan - 1914
Viele Fotos der Schiffe, Innenansichten und Bilder der Wahrzeichen von Hamburg, Deutschland, machen diese Broschüre zu einer ungewöhnlich guten Broschüre der Hamburg- Amerika Linie von 1914. Zwei farbige Karten enthalten die Nordsee und die Umgebung.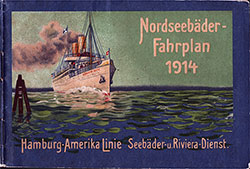 Hamburg America Line North Sea Resorts Timetable - 1914
Many photographs of the ships, interior views, and images of Hamburg, Germany landmarks help to make this an unusually good brochure from the Hamburg America Line in 1914. Two color maps are included of the North Sea and Vicinity. Ships Featured: Königin Luise, Kaiser, Imperator