SS Kensington Archival Collection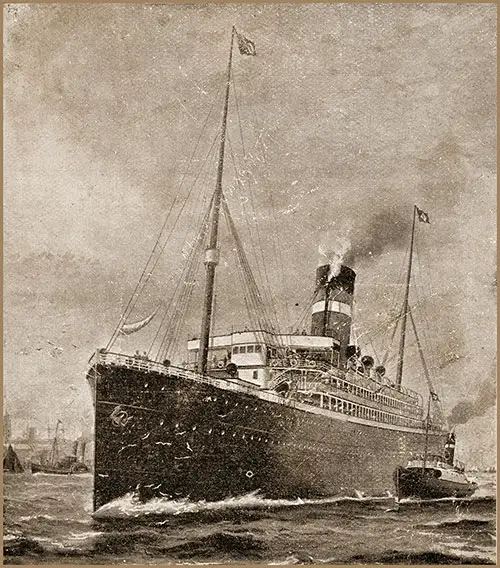 The SS Kensington (1894) of the American Line -- International Navigation Company Vessel. GGA Image ID # 1d56c5c950
Kensington (1894) American Line.
Built by J. & G. Thomson, Ltd., Glasgow, Scotland. Tonnage: 8,669. Dimensions: 480' x 57'. Twin-screw, 15 knots. Quadruple expansion engines. Four masts and one funnel. Note: Named after a Philadelphia suburb. Maiden voyage: Liverpool-Philadelphia, June 27, 1894. Passengers: 60 first and 1,000 third. Other Services: Ran for a time in Antwerp-New York service, Red Star Line. Also used in Dominion Line service for a period. Fate: Scrapped in Italy, 1910. Sister ship: Southwark.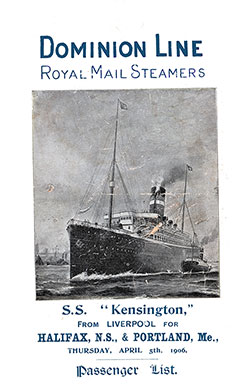 1906-04-05 SS Kensington Passenger List
Steamship Line: Dominion Line
Class of Passengers: Cabin
Date of Departure: 5 April 1906
Route: Liverpool to Halifax, NS and Portland, ME
Commander: Captain William Roberts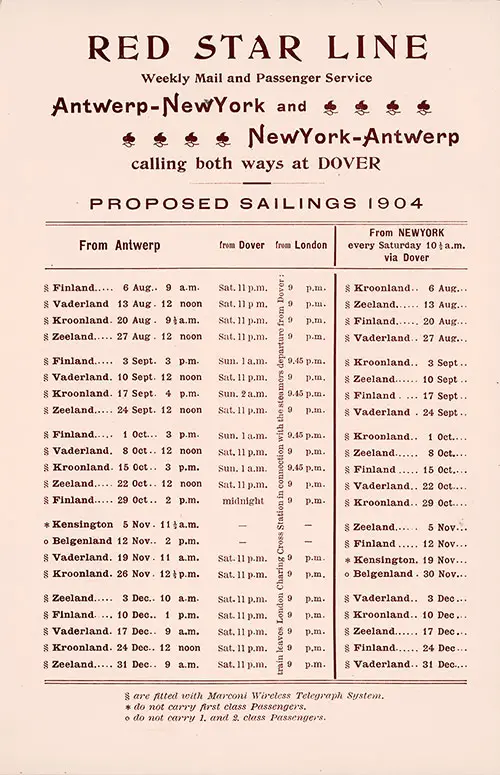 Proposed Sailings Antwerp-Dover-New York from 6 August 1904 to 31 December 1904. Ships Include the Belgenland, Finland, Kensington, Kroonland, Vaderland, and Zeeland. SS Vaderland Passenger List, 13 August 1904. GGA Image ID # 1df144fda2
The International Navigation Company has recently built two very large screw steamships on the Clyde, exclusively for freight and steerage passengers, between Liverpool and Philadelphia. They are named the Kensington, 8669 tons gross, and Southwark, 8607 tons gross, and are said to be capable of carrying 7000 tons of cargo, 300 second, and 1200 third-class passengers each, and to run the distance in about eight days.