SS Frankfurt Collection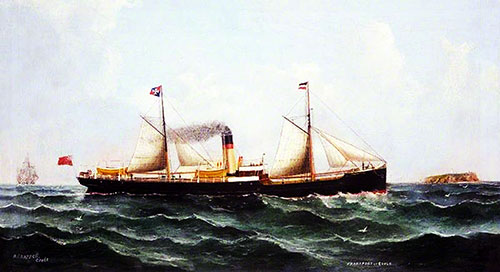 SS Frankfurt (1899) of the Norddeutscher Lloyd, Bremen. GGA Image ID # 1dde95606f
Frankfurt (1899) North German Lloyd
Sailed as the SS Frankfurt from 1900 to 1914
Built by Tecklenborg, Geestemunde, Germany. Tonnage: 7,431. Dimensions: 429' x 54'. Twin-screw, 13 knots. Triple expansion engines. Two masts and one funnel. Launched: 17 December 1899. Maiden Voyage: Bremen to Baltimore, 31 March 1900. Service: Mainly in Bremen-Baltimore service. Post War Service: Ceded to Great Britain in 1919, and placed under management of White Star Line. Sold to the Oriental Navigation Company in 1922. Renamed: Sarvistan. Scrapped in Japan, 1931. Sister ships: Hannover and Köln. Note: The SS Frankfurt was one of the first ships to respond to the distress signals from the RMS Titanic.
The Frankfurt was launched for Norddeutscher Lloyd on 17 December 1899. She sailed between Bremen and Baltimore assisting immigrants from Germany and Austria. 
In 1919, White Star Line acquired the Frankfurt after the ship was surrendered to the United Kingdom after World War I.
Passenger Lists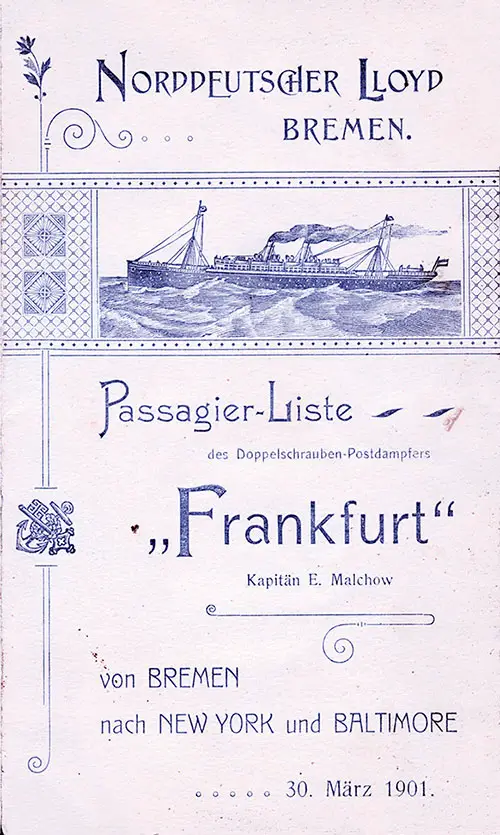 1901-03-30 SS Frankfurt Passenger List
Cabin Passenger List for the SS Frankfurt of the North German Lloyd, Departing Saturday, 30 March 1901 from Bremen to New York and Baltimore, Commanded by Captain E. Malchow.
Sailing Schedules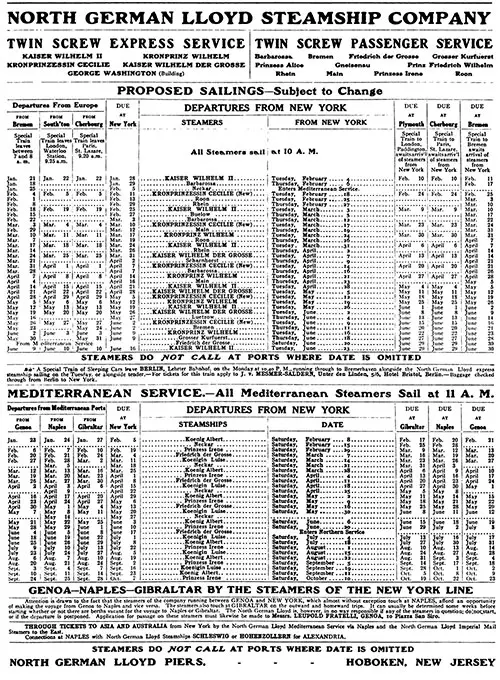 Proposed Sailings, Europe-New York, from 21 January 1908 to 23 June 1908, and Mediterranean Sailings from 23 January to 10 October 1908. Ships Included the Barbarossa, Bremen, Buelow, Friedrich der Gross, Grosser Kurfürst, Kaiser Wilhelm der Gross, Kaiser Wilhelm II, Knoenig Albert, Koenigin Luise, Kronprinz Wilhelm, Kronprinzessin Cecilie, Luetzow, Main, Necktar, Prinzess Irene, Rhein, Roon, and Scharnhorst. North German Lloyd Bulletin, February 1908. GGA Image ID # 1dde6667a4. Click to View Larger Image.
Attention is drawn to the fact that the steamers of the company running between GENOA and NEW YORK, which almost without exception touch at NAPLES, afford an opportunity of making the voyage from Genoa to Naples and vice versa. The steamers also touch at GIBRALTAR on the outward and homeward trips. Some weeks before starting, it can be determined whether there are berths vacant for the voyage to Naples or Gibraltar. The North German Lloyd is. However, in no way responsible if any of the steamers in question: do not start or if the departure is postponed. Potential passengers must likewise apply for passage on these steamers to Messrs. LEUPOLD FRATELLI, GENOA, 10 Piazza San Siro.