SS Bremen Passenger List - 19 October 1937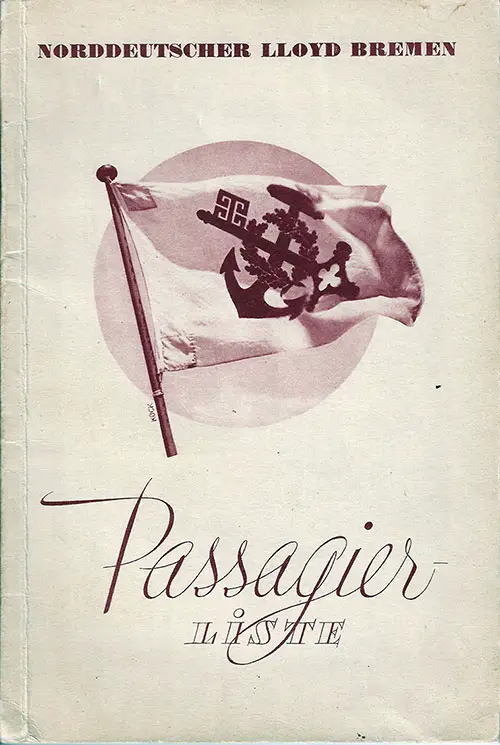 Front Cover of a Tourist and Third Class Passenger List from the SS Bremen of the North German Lloyd, Departing Tuesday, 19 October 1937 from Bremen to New York via Southampton and Cherbourg, Commanded by Captain A. Ahrens. GGA Image ID # 17d9e3e307
Senior Officers and Staff
Commander: Captain A. Ahrens
Ltdr. First Officer: E. Warning
Ltdr. Engineer: A. Segclken
Chief Purser: F. Baum
Cabin Passengers' Purser: H, Kettler
Tourist Passengers' Purser: Zelle
Third Class Passengers' Purser: J. Rohde
First Physician: Dr. E. Pfeiffer
Second Physician: Dr. P. Basigkow
State Certified Nurse: Nurse Hanna
First Traffic Officer: M. Stiegele
Traveler Special Services: Miss Dr. Ferber
Ltdr. Chief Steward: B. Junghans
Chief Steward Dining Room: F. Schedelmann
Chief Steward Restaurant: G. Zeidler
Chief Steward Tourist Class: J. Büscher
Chief Steward III. Class: H. Wardenburg
Ltdr. Chief Cook: K. Unger
First Radio Officer: K. Gerstung
First Baggage Master: A. Daueisberg
Tourist Passengers
Miss Abouhamra
Miss Adele Affeld
Mr. Akira Akao
Miss Louise Albrecht
Mr. Alkemade
Mr. Ezic Altenheim
Mr. Otto Amling
Miss Annemarie Amram
Mr. Anderson
Mr. Andrews
Mrs. Andrews
Mr. Ashbaugh
Mrs. Ashbaugh
Miss Elvira Auer
Mr. Benjamin Baer
Mr. J. Bandorz
Mrs. Bandorz
Mr. Jos. Bandorz
Mr. Martin Baumann
Mrs. Baumann
Mr. Dr. Albert Beck
Miss Elizabeth Beck
Mr. Günther Beck
Mr. Gustav Behnke
Mr. Karl Beisbart
Mrs. Mina Beisbart
Mr. Frank Benbow
Mr. Albert Benitz
Mrs. Elfriede Benitz
Christine Benitz
Mrs. Augusta Bennet-Fechtner
Richard Bennet-Fechner
Mr. Dr. Clement De Bere
Mrs. Gertrud Berger
Mr. Spencer Berglund
Mrs. Berglund
Mr. Bethke
Mrs. Bethke
Mr. Ralph Bishof
Mr. Gerhard Blank
Mr. Joseph Bococh
Mr. Herbert Boesch
Mrs. Celia Boesch
Mr. Jacob Bollinger
Mrs. Ida Borer
Miss Elfriede Borgstedt
Mr. Alphons Bosch
Mr. William Boss
Mrs. Hazel Boss
Miss Merce Boyer
Mr. Willem Brand
Mrs. Ilowa Braue
Mrs. Braunspahn
Mr. E. Brenegar Sr.
Mr. E. Brenegar Jr.
Mrs. Anna Brenner
Mr. Brinkerhoff
Mrs. Brinkerhoff
Mr. Ferdinand Bruck
Mrs. Elise Bühler
Miss Hedwig Bunk
Mr. C. Bunnell
Mr. Burington
Mrs. Burington
Mrs. Emmett Burns
Mrs. Dr. Emmett Burns
Mrs. Godwin Carroll
Mr. José Chamut
Mrs. Rose Chamut
Mr. Claus Claussen
Mrs. Anna Claussen
Mr. C. Contis
Mr. Vizekonsul Cowan
Mr. John Crabtree
Mrs. Emilie Crabtree
Mr. Wilhelm Dannhauser
Mr. Oliver Delany
Mr. Dr. Francis De La Riva
Mrs. De La Riva
Mrs. Catalina Perez De La Riva
Miss Catalina Perez De La Riva
Mrs. Dora Denker
Miss Paula Bettling
Mr. Dr. Henry Dolan
Mrs. Dolan
Mr. Joseph Donahue
Mrs. Anita Donahue
Mr. Addison Dorr
Mrs. Anna Dorr
Mr. w. Draper
Mrs. Draper
Mr. Walter Dreyfuss
Mrs. Erna Dreyfuss
Mrs. Anna Duncker
Mr. Harold Dyke
Mrs. Dyke
Mr. Dr. Earel
Mrs. Earel
Mr. Newton Edwards
Mrs. Edwards
Mr. Dr. Robert Edwards
Mr. Ernest Eggers
Mrs. Eggers
Mr. James Egon
Mrs. Egon
Miss Eliot
Mr. Walter Ellermann
Miss Elizabeth Emerson
Miss Edith Erlenmeyer
Mr. C. Everett
Mrs. Everett
Mr. Julius Fabricius
Mrs. Karoline Fabricius
Mr. Fred Farr
Mr. Leo Felsenthal
Mr. Paul Fischedick
Mrs. Fischedick
Mr. Siegmund Flatow
Mrs. Bertha Flatow
Mrs. Hedwig Flatow
Heinz Flatow
Miss Hilde Flehinger
Mr. Michel Foertsch
Mr. Frank Ford
Mr. Ronald Ford
Mrs. Else Frank
Mr. John Fratini
Mrs. Marion Führ
Miss Alexandra Führ
Mr. Fukagawa
Mr. Adolph Gager
Miss Johanna Gauman-Deneen
Mr. Professor Henry Gerstenberger
Mrs. Rosa Geymer
Mr. Hubert Giesen
Mr. Harvey Gindele
Miss Hilda Goeckel
Mrs. Gorra
Mrs. Rose Göttel
Miss Edith Gottfeld
Mr. Samuel Greenwold
Mr. Charles Haag
Mr. Robert Hass
Mr. George Halstead
Mrs. Rosemary Halstead
Mr. Dr. Jas. Hamilton
Mrs. Emma Hapatzky
Mr. Harry Harlan
Mrs. Harlan
Mrs. Eugenia Harris
Miss Theresia Harris
Miss Mary Harting
Mr. Werner Haubold
Mrs. Lotte Haubold
Reimer Haubold
Detlef Haubold
Niels Haubold
Mrs. Hertha Hauhart
Mr. Karl Hauser
Mrs. Elisabeth Hawser
Mrs. Julie Heilbronner
Mr. Otto Heinrich
Mrs. Gertrud Heiasheimer
Mr. A. Helgarsan
Mrs. Helgarsan
Miss Elisabeth Heller
Mr. Haas Hellfritz
Mr. Herbert Hennes
Mr. Frank Hepps
Mrs. Frieda Heyn
Miss Katharina Hillebrandt
Miss Lina Hoch
Miss Rosa Hoch
Miss Tina Hodel
Herr. J. Hoegen
Mrs. Hoegen
Mrs. Catherine Hoffacker
Mr. William Hoppe
Mrs. Mary Hoppe
Miss Elsa Maria Horbach
Miss Alma Howard
Mr. Howland
Mrs. Howland
Miss Emma Hoyer
Mr. William Hubner
Mrs. Hubner
Mr. Edgard Huengers
Mr. Dr. Walter Huether
Mrs. Huether
Mr. Alexander Hyman
Mr. Kiyoshi Imai
Mr. Henry Intemann
Mrs. Elizabeth Intemann
Mr. Gordon Irvine
Mrs. Irvine
Mr. Dr. Jackson
Mrs. Jackson
Mr. Professor Dr. Martin Jacobi
Mrs. Margarete Jacobi
Mr. Vilho Järvinen
Mrs. Joinik Järvinen
Raila Järvinen
Mrs. Mabel Jenkins
Mrs. Eileen Johannson
Mr. Fred Jolleth
Mrs. Jolleth
Mr. Fichel Kaezka
Mr. Karsten Kahrs
Sister Katalin Kalies
Mr. Thomas Kastantas
Mr. Friedrich Keller
Mrs. Paula Keller
Mrs. Lina Keller
Mr. Fredrick Kinkel
Mr. William Kleine
Mrs. Anna Kleine
Mr. Moritz Kleinhauser
Mrs. Betty Klemperer
Mr. Hermann Klünder
Miss Kath. Knaus
Erna Knaus
Emma Knerr
Elisabeth Kniel
Karl-Hans Kniel
Karolina Kniel
Miss Elsie Knobel
Mr. Erzabt Koch
Miss Marion Koegel
Mrs. Therese Koller
Mr. Don Komsa
Mrs. Mary Komsa
Mr. Hugo Königer
Mrs. Mary Königer
Mr. Konztianis
Mr. Joseph Koretz
Mrs. Katrina Koretz
Mrs. Ottilie Koster
Mrs. Irmgard Krauser
Mrs. Franziska Krekel
Mrs. Emma Kruse
Mr. John Kruse
Sister Therese Kucsera
Mr. Robert Kupfer
Mrs. Martha Langer
Mr. Robert Larson
Mrs. Larson
Miss Marie Lauper
Mr. Dr. Hiram Laws Jr.
Mrs. Laws
Mr. Capt. Lawson
Mr. Frank Lee
Mrs. Maud Lee
Mrs. Annette Lefortier
Mrs. Emilie Lehfeldt
Mr. Ernst Leuckert
Mrs. Maria Linnemann
Mr. Johann Lorenz
Mrs. Annetta Lorenz
Mr. Philip Lucas
Louise Lucas
Mrs. Antonie Lücke
Miss A. Lund
Mr. Macky
Mrs. Macky
Mr. Alex Maekelae
Mrs. Marthe Mailliart
Mrs. Mary Malion
Mr. Rudolf Mangold
Mrs. Einily Marsliall
Mr. Henry Martens
Mrs. Helen Martensen
Mr. Hubert Marx
Mrs. Kaetlie Marx
Ursula Marx
Mr. Albert Maskew
Mr. Sydney Matcham
Krau Elizubeth Matcham
Mr. Harry Matliews
Mrs. Matthews
Miss Marion McKenzie
Mr. Albert McLain
Mrs. McLain
Miss Margaret McMahon
Mr. Ulrich Meinel
Mrs. Martha Meinel
Hans Meinel
Ilse Meinel
Mr. Georg Meinig
Miss Florence Mellowes
Miss Paula Merz
Miss Edith Meyer
Mrs. Elsa Miersch
Mrs. Ann Miersch
Walther Miersch
Elsie Miersch
Mr. Taneo Mihara
Mr. William Milim
Mr. Fritz Miller
Mrs. Nina Molzahn
Brigitta Molzahn
Nina Molzahn
Klaus Molzahn
Mr. Donald Morrill
Mrs. Mabel Morrill
Mrs. Harriet Morse
Mrs. Mathilde Moser
Mr. Bruno Motz
Mr. Arnold Motz
Mr. Moubarak
Mrs. Moubarak
Mrs. Sigrid von Mueller
Mr. Joseph Muessle
Mrs. Hilda Müller
Loretta Müller
Betty Müller
Mrs. Münter
Mrs. Takaho Muramatso
Mrs. Rose Myers
Mr. Nagata
Mrs. Julia Nagy
Mr. Stewart Nase
Mrs. Nase
Mr. Carl Neidhardt
Mrs. Blanche Neidhardt
Mr. Richard Neubauer
Mrs. Pauline New
Mr. Paul Nielsen
Mr. Edgar Niemann
Mr. Adolf Niggl
Mr. Johan Nilsson
Mr. Goete Norling
Mr. Norbert Nuernberg
Miss Anna Ognar
Mr. Leonard Ollendorf
Mr. Dr. C. Olewiller
Mrs. Ollendorf
Mr. Eugen Oppenheimer
Mr. Orcutt
Mrs. Orcutt
Miss Maria Pape
Mrs. Julie Paris
Mr. Bertram Paris
Mrs. Eleanore Paris
Beatrice Paris
Patrick Paris
Mr. Joseph Patterson
Mrs. Patterson
Mr. Joseph Personeni
Mrs. Angela Personeni
Mrs. Elisabeth Peters
Mr. E. Ping
Mr. Franz Planer
Mrs. Wera Planer
Mr. William Pohlmann
Mr. Martin Pollack
Mrs. Ingeborg Pollack
Mrs. Katharine Prabel
Mr. Jack Prell
Mrs. Marie Prell
Mrs. Cecile Probst
Mrs. Anna Probst
Mr. Nicolaus Puente-Duany
Mrs. Ofelia Puente-Duany
Mr. Leslie Putnam
Mrs. Leona Putnam
Miss Evelyn Raffe
Mr. Eugene Raney
Mrs. Raney
Mr. Howard Rand
Mr. Raphael
Mr. Raphael
Miss Lois Reichert
Mr. Carl Reichert
Mr. Christian Reihs
Mr. J olin Reilly
Miss Helene Reineck
Mrs. Friedei Reis
Miss Elinor Reis
Mr. Dr. Roland Rembe
Mrs. Gertrud Rembe
Miss Elise Rephun
Miss Katherine Rhoads
Mr. Adalbert Ritter
Mr. Richard Robens
Mr. Stanley Robinson
Mr. Walter Robinson
Miss Elisabeth Roder
Mr. John Rodgers
Mrs. Rebecca Rodgers
Mr. Irwing Rolfe
Mrs. Hayward Rolfe
Mr. A. Roemelmayer
Mrs. Roemelmayer
Mr. Rudolf Roubitschek
Mrs. Gisela Roiibitscliek
Rev. Leo Ruggle
Rev. Philipp Ruggle
Miss Maria Rujakova
Mr. William Rust
Mrs. Minna Rust
Miss Elizabeth Sandman
Miss Lillian Sandman
Mr. Henry Sandvoss
Mrs. Sandvoss
Miss Vera Scott
Mr. Henry Seekamp
Mrs. Anni Seekamp
Mr. Carl Heinz Seitz
Mr. Julius Sender
Miss Irma Sender
Prinz Jehan Sessodia
Prinzessin Sessodia
Miss Luise Siebei
Mr. Hinrich Siemer
Mrs. Olga Smith
Mr. Glenn Snythe
Miss Lena Solger
Mr. Oskar Sonderegger
Mrs. Florenee Spandow
Mr. Sngiyama
Mr. William Sulin
Mrs. Esztera Szakal
Mr. Paul Schaapliaus
Mrs. Miliy Schaaphaus
Mr. Christian Schauer
Mr. Otto Schembs
Mrs. Luise Schembs
Otto Sehembs
Miss Gertrade Schleyen
Mr. Joseph Schmidt
Mr. Joseph Schmidt [sic]
Mr. Philippine Schmitt
Miss Josephine Schnabel
Miss Katarina Schneider
Mr. Wilhelm Schneider
Mrs. Herta Schneider
Miss Margarethe Sehneilmann
Mr. L. Scholl
Mr. R. Schoiilcin
Mr. Dr. Hermann Schreibler
Mr. Frederico Schröder
Mr. Friedr. Wilhelm Schröter
Mrs. Lili Schröter
Miss Anna Schucht
Miss Emma Schwarz
Miss Anna Steffen
Miss Rosa Stegmaier
Mr. Jakob Stein
Mrs. Antoinette Stein
Mrs. Katharina Steinberg
Mr. Lorenz Steiner
Mrs. Marie Stewart
Mr. John Stiehl
Mrs. Wilhelmine Stiehl
Alice Stiehl
Miss Doris Stiehl
Miss Margaret Stiehl
Mrs. Mary Strauch
Mr. Victor Strauch
Mrs. Strauch
Rev. Strittmacher
Mrs. Käthe Taigel
Mr. Karl Taigel
Miss Gertrud Theiler
Mr. Curvin Thompson
Thompson
Mr. Bernhard Timmerman
Mrs. Timmerman
Mr. Dr. Ronald Tolford
Mrs. Tolford
Mr. Christian Valaer
Mr. Walter Verbeke
Mrs. Doris Vockrodt
Mrs. Luise Walterstein
Mrs. Jane Ward
Mrs. Minnie Weber
Mrs. Anny Weck
Mr. Berthold Weisflog
Mr. Courad Weiss
Mrs. Josefine Weiss
Miss Rose Wengert
Mr. White
Mrs. White
Mrs. Margarethe von Wild
Mr. Paul H. Wilde
Mr. Wilder
Mrs. Wilder
Miss Helen Wiley
Mr. Karl Wilhelm
Mrs. Elisabeth Wilhelm
Mr. Colonel Williams
Mrs. Williams
Miss Betty Williams
Mr. Roy Withers
Mrs. Withers
Mr. Harry Witte
Mr. Walter Wittstadt
Mrs. Berta Wittstadt
Mr. William Wodall
Mrs. Maria Wolf
Mr. Alfred Wolfgruber
Mrs. Katharina Wuest
Mrs. Marie Wyder
Mrs. Julia Zelle-Jacobsn
Mr. Dr. Ira Zimmermann
Mrs. Zimmermann
To Southampton
Mr. Artur Boenjesson
Miss Margarete Cohausz
Mr. Oswald Fraser-Cox
Mrs. Else Fraser-Cox
Miss Freudenthal
Mr. Gill
Mrs. Gill
Mr. Otto Hub
Mr. Guenther Kempf
Mr. Robert Kempf
Miss Marianne Klinker
Mr. Korv.-Kapt.
Mrs. Leistikow Leistikow
Mr. Lehmann
Mr. Hermann Lerbs
Mr. Franz Leuwer
Mrs. Dr. Lore Liebenam
Miss Marianne Neumann
Miss Sigrid Paul
Mr. Leo Perstein
Mrs. Edith Perstein
Mrs. Liesbeth Tell
Miss Annemarie Virck
Mr. Kurt Wahle
Mr. Masayasu Yamamoto
To Cherbourg
Mr. Victor Conrades
Mr. Georg Rietmueller
Third Class Passengers
Mrs. Vera Ach
Mrs. Helene Adams
Mr. Gustav Adler
Miss Anna Adomaitis
Mrs. Fatine Adray
Mr. Nejib Adray
Mr. Mohamed Adray
Mr. Paul Ahrens and Family
Mrs. Rosa Alaga and Child
Miss Theresia Albert
Mrs. Betty Allisandratos and Child
Mr. Karl Altenburger
Mrs. Karl Altenburger
Mr. Herm. Ampf
Mrs. Herm. Ampf
Mrs. Karin Anderson
Mrs. Elizabeth Andrae
Mr. H. C. G. Angewine
Mr. Attenberger
Mrs. Attenberger
Mrs. Magdalene Augart
Miss Auguste Aweh
Mr. Andreas Baartus
Mrs. Henriette Bader and Family
Mrs. Bayzar Bagdasarian
Mrs. Endokia Bakun
Mrs. Christine Balazs
Mrs. Anna Balewicz
Mrs. Johanna Banac
Mr. Frank Bananes
Mr. Rudolf v. Bargen
Mrs. Rudolf v. Bargen
Mr. Charles Barrett
Mrs. Charles Barrett
Mr. Fritz Barthold
Mrs. Fritz Barthold
Mr. Gottlieb Bauer
Mrs. Corona Bauer
Mrs. Dora Bayer
Mr. Victor Beck
Mrs. Victor Beck
Miss Frieda Beck
Miss Becker
Mr. David Becker
Mr. August Beckmann
Mrs. August Beckmann
Mr. Hermann Beer
Mrs. Anneliese Bell and Children
Mr. Friedr. Belser
Miss Anna Benco
Mrs. Elsie Bender
Miss Anna Benedeck
Miss Josefine Beno
Mr. J. Bergamini
Mrs. J. Bergamini
Mr. Karl Berger
Mr. Willy Bergmann
Mrs. Willy Bergmann
Miss Ines Bertola
Mr. Gucrino Biada
Mrs. Concetta Biada
Mr. Otto Bieg
Mrs. Otto Bieg
Mr. Frank Biermann
Mrs. Frank Biermann
Mrs. Gisella Biermann
Angela Billovits
Maria Billovits
Miss Bertha Bilzer
Mr. John Birner
Mrs. Eleonore Bischof and Son
Mrs. Maria Bittner-Gillespie
Mr. Fritz Bleidiesel
Mr. Heinrich Boehm
Mrs. Anna Boehm
Mrs. Bernhardine de Boer and Son
Mrs. Hanna Boese
Miss Emmy Böres
Mrs. Maria Borsos
Mr. H. Bouwaichek
Mrs. Clara Bouyer
Miss Else Brade
Mr. Wilhelm Brandstädt
Mr. Josef Braun
Mrs. Josef Braun
Mrs. Mae Bredt
Miss Elfriede Breither
Mrs. Louise Breyer and Children
Mrs. Marie Brikwedel
Mr. John Brotschol
Mrs. Therese Brunner and Family
Mrs. Else Buchbauer and Daughter
Mr. Heinrich Buchner
Mrs. Marie Buehler and Son
Mrs. Borbala Burger
Mrs. Gertrud Burkard and Son
Mrs. Pauline Bürkle and Son
Mr. Gabriel Burszen
Mrs. Pauline Capkovic and Son
Mrs. Marie Cech and Children
Mrs. Gertrude Claessen
Mr. Fritz Classen
Mrs. Auguste Cliff and Child
Fraul., Martha Cseh
Mrs. Anna Csisnya
Mrs. Annie Cuthbert
Miss Louise Dahl
Mr. Said Dahlallah
Miss Lotte Dahnke
Mrs. Lina Daniel
Mrs. Anna Daum
Miss Kunigunde Daum
Mrs. Pauline Degler
Mr. Carl Deisig
Mr. John Deisig
Mr. John Deissig
Mrs. Julia Demovic
Mr. John Denholm
Mrs. John Denholm
Mrs. Frieda Denzel and Son
Miss Emmi Denzin
Fran Jenny Dernow
Mrs. Martha Deutscher
Mrs. Frieda Deyhle and Child
Mr. Samuel Dezsy
Mrs. Samuel Dezsy
Mr. Gerhard Dhem
Mr. Marija Dienerberg
Mr. Nicolaus Diszler
Miss Erna Ditter
Mrs. Frieda Doering
Ruth Doering
Mr. Edward Donath
Mr. William Donnelly
Mr. Frank Donogh
Miss Marie Doros
Mr. Dostal
Mr. Rudi Dosz
Mrs. Rudi Dosz
Mrs. Stefania Dovley
Mr. Francis Dow
Mr. Wilhelm Dralle
Miss Lillian Dreyer
Mr. George Duge
Mrs. Sofie Ebbing
Miss Meta Eckhoff
Mr. Hermann Ehrichs
Miss Gretchen Eichel
Mr. Heinrich Eilers
Mrs. Heinrich Eilers
Mrs. Anna Eleftheriades
Mr. Hussim El-Hajje
Mr. Josef Elia
Mrs. Kath Emler and Children
Miss Therese Endres
Miss Eret
Mr. Evanoff and Family
Mr. Dr. Everett Evans
Mrs. V. A. Evans
Mrs. Marie Evans
Mr. C. E. Everett
Mrs. C. E. Everett
Miss Lydia Faas
Thekla Faas
Miss Martha Farber
Mrs. Mary Falk
Miss Anne Falk
Mrs. Janet Falk and Children
Mr. Carl Falkner
Mr. Stephan Fargo
Mr. Frank Fehr
Mr. Peter Feinhals
Mrs. Tessie Feld
Mr. James Ferenczi and Family
Mrs. Elisabeth Fetech
Mr. Clareuce Feuerbacher
Mrs. Maria Filipovits
Mr. Wilhelm Fincke
John Fischen
Heinrich Fischer
Mrs. Hermine Fischer
Mrs. Käthe Fischer and Son
Mrs. Tilly Fischer and Son
Miss Mimi Fittchan
Miss Franziska Fleischmann
Mr. T. G. Flinn
Mr. Owen Foley
Mrs. Ida Fortmann
Miss Fotitch
Mr. John Francai
Miss Adele Freiberger
Mr. Jaroslav Frelich
Mrs. Jaroslav Frelich
Mr. Ww. Frese
Mrs. Luise Fritzsche
Mrs. Anna Frkova
Mrs. Anna Froeklich
Miss Berta Fund
Mr. Josef Furtkevics
Miss Dora Gailus
Mr. Peter Galijas
Mrs. Marie Gans
Mrs. Maria von der Gathen
Mrs. Elise Geiger and Child
Miss Amalie Geisselmann
Mr. Wilhelm Geldmacher
Mr. Karl Geldreich
Mr. Lazan Georgeff and Family
Mr. Dimitre Gorgieff
Mrs. Dimitre Gorgieff
Mrs. Anna Gerhardt
Mrs. Franziska Gläser and Son
Miss Frieda Gloeckler
Mrs. Glara Baronesse von Godin
Mr. Dr. Govaerls
Mrs. Elisab. Graf
Mrs. Annemarie Greif
Mrs. Elisab. Grenza
Mrs. Mary Grim-Chilcott
Mr. Ernest Grob
Mrs. Ernest Grob
Mr. Edward Gronotte
Mr. Walter Gronwald
Mr. Heinrich Gross-Thebing
Erna Grundlach
Mrs. Martha Gruner and Son
Mrs. Marie Grusler
Mrs. Suzanna Guist
Mr. Michel Guzley
Miss Helene Haas
Mr. Charles Hadous
Miss Anna Hagen
Mr. Juraj Hahalak
Mr. Gottlob Hahn
Mrs. Gottlob Hahn
Miss Auguste Hamel
Miss Olga Hamke
Mrs. Etela Hanus
Miss Else Hasling
Mrs. Ruby Hattemer
Mr. Ocar Haugar
Mr. Paul Haun
Mrs. Anna Haupt
Mrs. Julia Hauser
Mrs. Marg. Hauss and Son
Mrs. Gerta Heckers
Mr. Hanry Hedrik
Mr. Valentine Heeg
Mrs. Valentine Heeg
Mr. Henry Heesemann
Mr. Hermann Heider
Mrs. Dora Heimann
Mr. Willi Heins
Mrs. Willi Heins
Miss Maria Heinzl
Mrs. Bertha Held
Mr. George Hamiger
Mrs. George Hamiger
Mrs. McCall-Henderson and Daughter
Miss Anna Hensohn
Mr. Wilhelm Hentrich
Mrs. Wilhelm Hentrich
Mr. F. M. Hepps
Miss Cläre Hertz
Mr. Friedr. Heruth
Mrs. Friedr. Heruth
Mrs. Auguste Hildebrandt
Mr. John Hink and Family
Mr. Conrad Hippler and Family
Mrs. Olga Hirsch and Daughter
Mrs. Elise Hochderle
Karl Hochderle
Mrs. Frieda Hoepfner
Miss Liesel Hofacker
Mr. Emil Hofbauer
Mr. Otto Hoffmann
Mrs. Anna Hofmann
Mr. Hugo Holzrichter
Mrs. Ross Horch and Son
Miss Herthe Hottendorf
Mrs. Susanne Hradil
Mr. Louis Huber
Mr. Josef Huber
Mr. Paul Hudson
Mrs. Paul Hudson
Mr. Anton Huelster
Mrs. Anton Huelster
Miss Beatrice Hunsicker
Mrs. Else Hunyssen
Mrs. Wilhelmine Husemann
Mr. Charlis Hydes
Mr. Robert Ickert and Family
Mr. Heinz Ickert
Mrs. Maria Illy
Mr. Georg Iloncai
Mr. Theopil Imsand
Mrs. Theopil Imsand
Mr. Josef Inrasits
Mr. Carl Jacob
Mrs. Carl Jacob
Mr. Georg Jakisch
Mrs. Georg Jakisch
Miss Agnes Jarvis
Mrs. Theresia Jautz and Children
Mr. Noah Jefferis
Miss Erzsebet Jencski
Mrs. Anna Jensen
Mrs. Frieda Jensen
Mr. August Jentter
Mrs. Caroline Jerry
Mr. Lajos Jesensky
Miss Maria Jezusko
Mr. Richard Jironschek
Mrs. Sofie Joseph and Children
Mrs. Emilie Jost
Mrs. Sisie Juhasz
Mrs. Martha Junker
Mr. Mich. Juska
Mr. Christian Kaefer
Mr. Karl Kaempf
Mrs. Karl Kaempf
Mrs. Lina Kahn
Miss Lina Kahn
Mr. Fritz Kallenbrunnen
Mrs. Josefine Kallfass and Child
Mr. William Kalthoff
Mr. Hans Kämpfer
Mr. Alois Kappel
Mrs. Karcher
Miss Auguste Karg
Mrs. Saima Karp
Miss Karsen
Mr. Georg Kassing
Mr. Heinrich Kastern
Mrs. Emilie Kaufmann
Mrs. Maria Kayser
Mr. Max Keibar
Mr. John Keller
Mrs. John Keller
Mrs. Therese Keller and Children
Miss Rosa Keller
Mrs. Sofie Kellizly and Children
Mrs. Maria Kellinger
Michael Kellinger
Mrs. Maria Kelpe
Miss Margit Kereezmann
Mrs. Mary Kern
Mary Kiener
Therese Kiener
Mr. Josef Kinetz
Mr. J. E. Kinnel
Mrs. J. E. Kinnel
Mrs. Charlotte Kirchner
Miss Elise Klein
Mrs. Ida Kleschies and Children
Mr. Willy Kley
Miss Kunigunde Klippel
Mr. Fred Kluth
Mr. Josef Knaus
Miss Mary Knaus
Mr. Fred Koch
Mrs. Maria Kochanski
Miss Dorothy Kochvara
Mr. John Kocoara
Mrs. John Kocoara
Mrs. Irmgard Kohl and Son
Mr. Dr. Josef Koidl
Miss Julia Kondlova
Mrs. Karlonine Kopp and Child
Mr. Adolf Kornmüller
Mr. Auton Korovessis
Mrs. Matilda Korponya
Mrs. Katharina Kosempel
Miss Berta Köster
Mr. Steve Kovach
Miss Mary Kovacs
Miss Marie Kovar
Mr. Grzugorz Kowerdowicz
Mr. Michael Kozel
Mr. Fritz Kraenke and Family
Miss Anna Krämer
Miss Anna Krans
Miss Gertrude Krause
Mr. Martin Kreb
Mrs. Martin Kreb
Mrs. Julia Kreeskay
Mr. Henry Kreft
Mr. Henry Kreft [sic]
Mrs. Elisa Kreischar
Mrs. Rosa Kretschmann and Son
Frau. Luise Krüger
Miss Elisab. Krumm
Mrs. Anna Krutsch and Son
Mrs. Josepha Krzikalla
Mrs. Anna Kuck
Mrs. Marie Kugler
Mr. Heinrich Kuhlenkamp
Mr. Hans Kuhn
Mr. Frank Kuhn
Mr. Hermann Kührner
Mrs. Kumm
Miss Karoline Kungl
Mr. Erich Kunze
Mr. John Kunzelmann
Mr. Albert Kustes
Mr. Joan Lahos
Mr. Christos Lalikos
Mrs. Irene Lancos and Daughter
Mrs. Frieda Landes
Mr. Prof. Dr. Karl Lang
Mr. Ernst Lange
Mr. Frederick Lange
Mrs. Frederick Lange
Mr. Kurt Lange
Mrs. Angelika Langmaier
Mr. Karl Lefkes and Family
Mrs. Helene Leibrock
Mr. Herbert Leinen
Mrs. Bertha Leisterer
Mr. Dr. Lenbuscher
Mr. Josef Leroy
Miss Sofie Liebhart
Mr. Frederik Lindemann
Mrs. Frederik Lindemann
Mr. Johann Link
Mrs. Johann Link
Mr. Nicolas Lins
Mr. E. W. Lippmann
Miss Adele Lork
Miss Margar Lork
Mr. William Luckemeyer
Mr. Hermann Luckscheiter
Mrs. Hermann Luckscheiter
Miss Marie Lukacova
Mrs. Rosalie Lusser
Mr. Julius Lutocka
Mrs. Emma Madlener
Mr. Josef Maidl
Miss Lina Maino
Mr. Martin Major
Mrs. Martin Major
Mr. Pavel Malek
Mrs. Eva Maly
Mrs. Maria Maneakova and Children
Miss Dorothea Mangels
Miss Frieda Mantel
Mr. Dr. Martens
Mrs. W. H. Marshall
Mrs. Helene Martin
Miss Hella Martin
Mr. Johann Marx
Mrs. Johann Marx
Mrs. Ida Mattheisen
Mrs. Lucie Mauch
Mrs. Ludmila Mayernik and Daughter
Miss McCall-Mendelson
Mr. Georgi Meeske and Family
Mr. Hans Georg Meier
Mrs. Josefa Meier and Son
Mrs. Anna Meier
Mr. Meldgaard
Mr. Deaniel Melicki
Mrs. Marian Merci
Mrs. Irene Mesnard
Mr. Adam Metz
Miss Alice Metzger
Mrs. Helene Mex and Child
Mrs. Lina Meyer
Mrs. Anna Michalis
Miss Agnes Michels
Mr. John Mihal
Mr. Josef MIller
Miss Mana Miller
Mrs. Bertha Miller
Mrs. Charlotte Miller
Mrs. Anna Minarikora
Mr. John Minda
Mrs. Lina Moeller and Son
Mr. William Möller
Mr. Frank Momot
Mrs. Frank Momot
Miss Noel Morgan
Mr. John Mosnicka
Mrs. John Mosnicka
Mr. F. J. Mott
Mrs. F. J. Mott
Mr. Erich Mrozek
Mrs. Muckleston
Mr. Bruno Mühlenhort
Mrs. Charlotte Müller
Miss Anna Müller
Miss Frieda Müssig
Mrs. Elly Muth
Miss Kath Nad
Mr. Moussa Nadaf
Mrs. Johanna Nagel
Mrs. Vieno Nahkala and Son
Mr. Joussef Najem
Mrs. A. Nehren
S. A. Nelson
Miss Elisab. Nepf
Fraul., Sabine Nether
Mrs. Marie Nettebrock
Mr. George Neubrand
Mrs. Elli Neuenhausen
Mrs. Julianne Neumann
Mr. Roland Nevell
Mrs. Roland Nevell
Mr. Fred Nolte
Mrs. Mania Nubert
Mr. Peter Nugent
Mrs. Peter Nugent
Miss Mary Nugent
Miss Minna Nuhrenberg
Mrs. Mary Nüsslein
Mr. Robert Obermark
Mrs. Robert Obermark
Mr. Franz Olbrich
Miss Christine Oppelt
Mrs. Cecilie Orf
Mrs. Maria Ortkrajeir and Children
Mr. Edward Painton
Mrs. Edward Painton
Miss Zuzanna Pakan
Miss Milena Palova
Mr. George Pape and Family
Mr. R. C. Parker
Mr. Mihaly Pehokker
Mrs. Käthe Peters
Mr. Arthur Pfeiffer
Miss Dorothy Pfeiffer
Miss Lina Pfeiffer
Mrs. Maria Pflueger
Mr. Carlo Picco and Family
Mr. John Placko
Miss Frieda Plagge
Mrs. Martha Pohlandt
Mrs. Agnes Poillon
Mr. Hermann Polenz
Rudolf Polenz
Mr. Paul Poltin and Family
Mrs. Rosa Popihn
Mrs. Margarete Popp
Mr. John Porten
Mrs. John Porten
Mr. Josef Pöschl
Mrs. Josef Pöschl
Miss Maria Poruba-Cmorova
Mr. Josef Pöschl
Mrs. Josef Pöschl
Mr. H. Potter
Miss Anna Previdsa
Mr. Walter Punke and Family
Mrs. Kate Quandt
Miss Meta Quell
Miss Mary Rada
Miss Judita Ragan
Mr. Rajkovic
Mrs. Rajkovic
Mrs. Maria Ramesberger
Mr. Siegfried Rank
Mr. Emil Rankel
Mr. Hermann Rathjen
Mrs. Clara Raum
Mrs. Mary Reich and Son
Christel Reiche
Hasso Reichert
Mr. Sam. Reid
Mrs. Sam. Reid
Miss Eugenie Reinhard
Miss CLara Reinhard
Carl Rentof
Mr. George Rentschler
Mrs. George Rentschler
Mr. Alli Restum
Miss Julia Restum
Miss Dorothy Reynolds
Miss Alice Reynolds
Mrs. Marion Richards
Mrs. Kath. Rickinger and Family
Mr. Ernst Riecke
Mr. Rudolf Ritter
Miss Frieda Ritter
Mrs. Anna Roegelein
Mr. Karl Roth
Miss Dorothy Roth
Miss Elsa Roth
Mrs. Gretchen Rübcke
Mrs. Marg. Rubel
Miss Emma Rummel
Mrs. Martha Ruopp
Mrs. Frank Russell
Mr. Hubert Rüther
Mrs. Ester Rutherford
Miss Jakobine Rutherford
Mrs. Wilhelmine Sander and Daughter
Miss Anna Sause
Miss Elsa Sauter
Mr. Max Seidel
Mrs. Max Seidel
Miss Dora Seitenbecher
Mr. Charles Shepard
Mrs. Julia Siegl
Mr. John Simitz
Mr. Istvan Simko
Mrs. Istvan Simko
Miss Julianna Simon
Miss Anna Sirocky
Mrs. Anna Sohn
Mrs. Franciska Solecki
Miss Wanda Solecki
Mr. Saymen Song
Mr. Christo Souporkofski
Miss Hermine Sperl
Mr. Sperlik
Mrs. Sperlik
Mr. Silvas Spinozzi
Mr. Peter Sporrer
Mrs. Amalie Südkamp
Mrs. Maria Sulakova
Mrs. Maria Sulakova
Mrs. Nina Suter
Mr. Ernst Suthoff
Mr. Georgi Sweiri and Family
Mrs. Caroline Szadowski
Mr. Johann Szadvary
Mr. Henry Schäfer and Family
Mr. Hermann Schäfer
Mrs. Hermann Schäfer
Mr. Wilhelm Schas
Mr. Arno Schenkel
Miss Eleonora Schenkelberger
Mr. George Scheper
Mrs. George Scheper
Mr. Gotthilf Schiesswohl
Mrs. Gotthilf Schiesswohl
Miss Emma Schiller
Mrs. Ida Schmidt
Mrs. Hildegard Schmidt and Son
Mrs. Helene Schmidt
Mrs. Betty Schmitz
Miss Helene Schnabel
Mr. Richard Schneider
Mrs. Richard Schneider
Mrs. Johanna Schneider
Mrs. Anna Schöfer and Son
Mr. Mac Scholz
Mrs. Mac Scholz
Mr. Josef Schretzenmaier
Mrs. Josef Schretzenmaier
Mr. Dietrich Schriever
Mr. Friedr. Schuh and Family
Mrs. Elisab. Schultheiss
Mrs. Anna Schulz and Son
Mrs. Anna Schulz
Mr. Oscar Schulze
Mrs. Christine Schumann
Miss Katharine Schur
Mr. Johann Schuster and Family
Miss Schuster
Miss Elsa Schwalb
Miss Bertha Schwarz
Mr. Wilhelm Schwarzkopf
Mr. Martin Schwarzmeier
Mrs. Martin Schwarzmeier
Mrs. Hermine Schwede and Son
Mrs. Emma Schwegler
Mr. Ignac Schweighoffer
Mr. Arnold Schwerdtmann
Mrs. Arnold Schwerdtmann
Miss Maria Stadler
Mr. Fred Stahl
Mrs. Maria Stamp
Miss Bety Stark
Mr. Stefan Stustny
Mrs. Stefan Stustny
Mrs. Marie Steffensen
Mrs. Anna Steii
Mrs. Anna Steinbeck
Mr. Walter Steiner
Mrs. Walter Steiner
Mrs. Julia Steiner and Son
Miss Julie Steiner
Miss Anna Steinmacher
Mr. Wendelin Steitz
Mr. Henry Stelling
Mrs. Maria Stibbi and Daughter
Mr. Frank Stolz
Mrs. Frank Stolz
Miss Maria Stopf
Miss Anne Stoppel
Mrs. Elfriede Strobel and Child
Mr. Jacob Strodel and Family
Mrs. Anna Stubbe
Ellinore Stubbe
Miss Sofie Stumpp
Miss Mina Stumpp
Mr. Johann Sturm and Family
Mrs. Anna Sturm
Mrs. Anna Tafel
Mr. Emanuel Tamé and Family
Mrs. Clara Tank
Mr. Sam Taranda
Miss Sylvia Tenhunen
Mr. Siegfried Ternow
Mr. Artin Terzian
Mrs. G. Thacker
Miss Mary Thacker
Mrs. Marg. Theis
Mr. Henry Thiem
Mrs. Henry Thiem
Mr. Friedr. Thomas
Mrs. Kathr. Thumm
Miss Hilda Thumm
Miss Hilda Thumm
Mr. Marius Thysen
Mrs. Marius Thysen
Mrs. Julia Toth
Miss Ilona Tothava
Mrs. Marie Trager
Mrs. Maria Trautmann
Mr. Gaspar Trazer
Mr. Hinrich Trüdinger and Family
Mr. Philipp Trüdinger
Mr. Werner Thueler
Mrs. Werner Thueler
Mr. Otto Turpe
Mrs. Johanna Türschmann
Miss Anna Uhreck
Miss Eva Ullrich
Mr. Hermann Umbach
Mrs. Hermann Umbach
Mr. Alexander Valuzis
Mrs. Paula Varga
Mr. Ernst Varga
Mr. John Vartas and Family
Mr. Karl Veit
Mr. Harold Victor
Mrs. Harold Victor
Mr. Kurt Vielgut
Mr. Erminia Visintin
Mrs. Erminia Visintin
Mr. Peter Vogler
Mrs. Kathie Volk and Son
Mr. Andreff Vontchoff
Mrs. Andreff Vontchoff
Mrs. Agnesa Vrsansky and Child
Mr. C. A. Wachtsheim
Miss Lucy van Wagenen
Mr. Karl Wagner
Mr. Louis Wagner
Mrs. Anna Wagner
Mr. Anton Wagner
Mrs. Magdalena Walter and Son
Mr. Carl Walters
Mrs. Carl Walters
Mrs. Rose Wambach
Miss Julia Wazam
Mr. Daniel Weber
Mrs. Daniel Weber
Mrs. Anna Weber
Mrs. Maria Wech
Mr. Sally Weile
Mrs. Sally Weile
Mrs. Anna Weiser
Mr. Nicolaus Weiss
Mrs. Wally Weiss
Mrs. Luise Weiss
Mrs. Dorothea Wendlandt
Mr. Wenstrand
Mrs. Wenstrand
Mr. Christian Wenthe
Miss Emma Wesch
Mrs. Mar. Westfal
Miss Ethel Westergom
Mr. Bernard Wetzel and Family
Miss Anna Louise Whitney
Mr. Richard Wichle
Mr. Josef Windl and Family
Mrs. Rosa Winter
Mr. Robert Winterberg
Mr. Martin Wittmeier
Miss Julianna Wittner
Mrs. Olga Witwicka
Mr. Frank Wojcik
Mrs. Frank Wojcik
Mr. RIchard Wolf
Mrs. Emma Wolf
Mrs. Elvira Worlitzer and Child
Mrs. Hedvika Wozarik and Children
Mr. Hermann Wulff
Mrs. Marie Wurster
Mr. Franz Würzinger
Mrs. Franz Würzinger
Mrs. Ethel Yates
Mr. Oswald Zehe
Mrs. Oswald Zehe
Mr. Ludwig Zehe
Mrs. Else Ziegast and Daughter
Mr. Friedr. Ziegler and Family
Miss Elizab. Zimmermann
Mr. Johann Zitzlsperger and Family
Mrs. Josefine Zopf
Mr. Werner Zornig
Mrs. Werner Zornig
Mrs. Barbara Zullig
Mrs. Emma Zullig
Miss Emma Zvars
To Southampton
Mrs. Bad
Mr. Charles Loonis
Mrs. Charles Loonis
Information for Passengers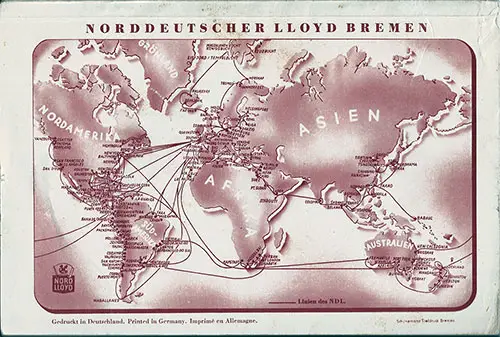 Route Map on the Back Cover of a Tourist and Third Class Passenger List from the SS Bremen of the North German Lloyd, Departing Tuesday, 19 October 1937 from Bremen to New York via Southampton and Cherbourg. GGA Image ID # 17da2583c2
Important Notice !
Payments on board our steamers
According to the German Regulations Governing the Control of Foreign Currency, all shops, stalls, and members of the ship's personnel, are strictly forbidden to accept Reichsmark Notes of all denominations and German Coins of the value of RM. 1.—٠ RM. 2.— and RM. 5.— from German or foreign passengers. This decree does not apply to coins under RM. 1— in value.
Therefore, we request our passengers to refrain from paying the shops, stalls, or members of the ship's personnel in Reichsmark Notes or German Coins to the value of KM. 1—, RM. 2.— and RM. 5.—.
Passengers who wish to use such German coins, as mentioned in the preceding paragraph, are requested to apply to the Purser, who alone is entitled to accept such currencies to the extent permissible by the "Reichsdevisenstelle. "
Norddeutscher Lloyd will issue ship's Money Orders to passengers to the value of the coins handed in. We will accept these money orders in payment on board. Under no circumstances will ship's money orders be exchanged for Reichsmark Notes.
Special Travel Service
A Special Service Secretary on board will advise and assist passengers making their first visit to a foreign country. This service is also available for travelers with whatever special purpose in view, such as business, social, educational etc. This office is prepared to give any information gratis and, if possible, to assist in bringing the passenger in touch with the desired persons or firms.