SS Kaiser Wilhelm der Grosse Passenger List - 13 August 1901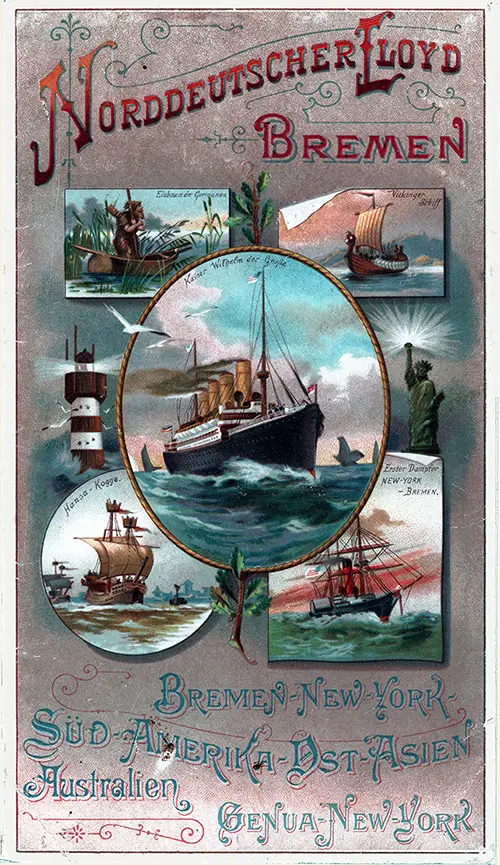 Front Cover, First and Second Cabin Passenger List for the SS Kaiser Wilhelm der Grosse of the North German Lloyd, Departing Tuesday, 13 August 1901 from Bremen to New York, Commanded by Captain D. Högemann. GGA Image ID # 13fb2a7536
Senior Officers and Staff
Captain: D. Högemann
First Officer: G. Bolte
Third Officer: K. Warmbold
Second Officer: A. Winter
Fourth Officer: F. Dietenberger
Second Officer: F. Mahlmann
Fourth Officer: J. Krause
Chief Engineer: C. Baum
First Engineer: L. Schriever
Third Engineer: M. Winkler
Second Engineer: C. Asch. 1
Third Engineer: H. Kruger
Second Engineer: G. Gerdes
Fourth Engineer: F. Heyden
Third Engineer: E. Urban
Fourth Engineer: P. Schmidt
Third Engineer: G. Gräb
Fourth Engineer: J. Rodenberg
Third Engineer: Th. Grosskopf
Fourth Engineer: L. Hirschel
Third Engineer: J. Schaal
Fourth Engineer: H. Wulff
Third Engineer: H. Schwabe
Physician: Dr. med. O. Wittigschlager
Physician: Dr. med. G. Roth
Provisions Master and Purser: A. Tielbaar
Purser: A. Steffens
Provisions and Assistant Purser: Ch. Pieper
Chief Steward: J. Vollers
Second Steward: C. Rusche
Second Steward: O. Lange
Third Steward: A. Monch
Third Steward: W. Muller
Chief Cook: E. Nielsen
Second Cook: E. Tröster
Second Cook: J. Maier
Second Cook: A. Loots
Second Cook: C. Rau
Second Cook: J. Sonnabend
Second Cook: F. Schimpf
Second Cook: R. Fiedler
Second Cook: H. Ostendorf
Luggage Master: J. Wagner
First Cabin Passengers
Dr. Edw. B. Angell
Mr. Manuel Arias
Mr. Ramon Arias
Mr. Chas. Ahlwede
Mrs. Chas. Ahlwede
Mr. Ch. Emil Allgayer
Mr. J. B. Arrambide
Mr. M. Archenhold
Mrs. M. Archenhold
Mr. Fransisco M. de Arredondo
Mr. David Anken
Mrs. David Anken
Mr. Oscar Arndt
Mr. Joseph Anfenger
Mrs. Joseph Anfenger
Miss Fanny Anfenger
Miss Flora Anfenger
Mr. Jacob P. Adler
Mrs. Jacob P. Adler
Minna Adler
Mr. G. M. Bloch
F. W. Buerck Jr.
Mr. John F. Brennan
Dr. Arnold Backe
Miss Bergner
Mr. S. R. Bush
Mrs. S. R. Bush
Mr. Andreas Rune
Mr. Frank Bush
Mr. Max Bleimann
Mrs. Max Bleimann
Mrs. F. T. Baxter
Mr. Josiah Bunting
Mrs. Josiah Bunting
Mr. Anbrey Bunting
Mr. E. Bachmeyer
Mr. L. Becker
Mrs. L. Becker
Miss Hortense Becker
Mr. David W. Bishop
Mr. J. S. Bearns
Mrs. J. S. Beams
Mrs. Gertrude Bloch
Miss Beatrice Bloch
Mr. Georg H. Bender
Mr. Jul. A, Baer
Mr. Bradbury
Mr. Richard Bartholdt M. C
Mr. D. K. Bayne
Mr. W. S. Burkhart
Mrs. W. S. Burkhart
Mrs. O. B. Boise
Miss M. Boise
Mr. Albert H. Balcon
Miss Ethel M. Bigsby
Mrs. Buntin
Mr. Chas. Buntin
Mr. Allison Buntin
Mr. S. M. Banner
Mr. Wm S. Bryan Jr.
Mr. Channing Craig
Mr. J. F. Carroll
Mr. S. A. Cooke
Mrs. S. A. Cooke
Mr. Carl Bozenta v. Chlapowski
Mrs. Carl Bozenta v. Chlapowski
Mr. Director Heinr. Conried
Mrs. Director Heinr. Conried
Mr. L. H. Charbonnier
Mr. Conried Jr.
Mr. Cohn
Mr. G. W. Crary
Mr. J. F. Carton
Mr. Leo Carton
Miss Helen H. B. Carton
Wm. J. Carton
Mr. Wm. Colton
Mr. Robert E. Dowling
Mr. Hammond J. Dugan
Mrs. Hammond J. Dugan
Mrs. Cath. Dudley and Servants
Mrs. Douglas
Miss Douglas
Mr. L. N. Dean
Mrs. R. J. Davis
Mr. Chas. Deitsch
Mrs. Chas. Deitsch
Frank J. Deitsch
Adele J. Deitsch and Servants
Miss Caroline Delano
Miss Susan A. Delano
Mr. Eugene Delano
Mr. Eugene Delano Jr.
Miss D. Davis
Miss R. Frances Duff
Mrs. Eugenie Dard
Mr. Corbin Edgell
Mr. Julius Eschwege
Mrs. George S. Edgell
Mr. Joseph Edelstein
Mrs. Joseph Edelstein
Alex Edelstein
Mr. L. Engel
Mr. Berthold Fallert
Mrs. Berthold Fallert
Mr. Ladislaus Fürst
Mr. Fred. Freese
Mrs. Fred. Freese
Miss Emma Freese
Mr. Walter Freese
Mrs. S. Fox
Mr. S. Frankel
Mrs. S. Frankel
Charlotte Frankel and Servants
Mr. Simon Fleischmann
Mr. Hugo Friedheim
Mr. Mortimer Fleischhacker
Mr. George Gerdes
Miss L. Gerbracht
Mr. Franklin L. Guenther
Mr. J. Golland
Mr. Jos. Götz
Mrs. Jos. Götz
Mr. M. A. Gunst
Mrs. M. A. Gunst
Miss J. Greer
Mr. R. F. Gates
Miss Mary M. Grinshaw
Mr. D. L. Gluck
Mr. Robert L. Gerry and Servants
Mrs. Gerson
Mr. D. K. Bayne
Mr. R. Greenewald
Miss Anna Held and Servants
Mrs. Holmes
Mr. C. C. Hardwick
Mrs. C. C. Hardwick
Mr. Theodor Harris
Mrs. Theodor Harris
Mr. Fred. W. Holls
Mrs. Fred. W. Holls
Mrs. Theodora v. Hardtmuth
Mr. Friedrich v. Hardtmuth
Mrs. G. B. Herbert and Servants
Mr. S. A. Hesslein
Mrs. S. A. Hesslein
Arthur Hesslein
Mr. Ludwig v. Hardtmühl
Dr. Hasenclever
Mr. Jos. C. Hacker
Mr. F. L. Hollender
Mrs. Louis T. Hoyt
Mr. Win. S. Ingraham
Fran Wm. S. Ingraham
Miss Faith Ingraham
Mr. J. E. Johnson
Mrs. J. E. Johnson
Mr. E. W. Jewitt
Mr. E. Jacobs
Mrs. E. Jacobs
Hermann Jocobs
Mr. Thomas Kreuzer
Mrs. Thomas Kreuzer
Mrs. Caspar Köhler
Fran O. Krausnick
C. Krausnick
Mr. W. C. King
Mr. Karaghensian
Mrs. Karaghensian
Mrs. Alexander Kont a
Mr. Jeoffrey Konta Jr.
Dr. T. Kinachi
Miss Louise F. Kollmorgen
Mr. Herm. A. Kasten
Mr. Walter Klinkhardt
Mr. J. W. Kelgart
Mr. Phil. Lewisohn
Mrs. Phil. Lewisohn and Servants
Mr. Leonard Lewisohn
Mr. Max Löwenbein
Mr. P. Löwengart
Mr. Sanfort Löwengart
Mrs. Livingston and Servants
Mr. Captain A. H. Lee
M. P. Mrs. A. H. Lee and Servants
Mr. L. M. Lebermann
Mr. Jos. A. Lebermann
Miss Lindo
Mr. E. C. Linn
Mrs. E. C. Linn
Mr. Robert H. Linn
Mr. Leopold Loeb
Mr. Baron R. de Luze
Mrs. Baroness R. de Luze
Mr. Louis Loewy
Mr. William Lushbaugh
Mrs. C. E. Low
Miss M. A. Low
Miss N. F. Low
Mr. J. O. Low
Mrs. Rosa Louis
Rev. Dr. J. Leonard Levy
Mrs. Dr. J. Leonora Levy
Miss E. S. Levy
Miss R. J. Levy
Mr. Max Loewy
Mrs. Max Loewy
Mr. Max Levi
Mrs. Max Levi
Charles Levy
Mr. R. Lindheim
Mrs. R. Lindheim
Mr. Lothaire Löwenbach
Mr. Theodor Laurenberg
Miss Lee
Mrs. M. Lyon
Mr. Henry Lehmann
Mrs. Rosa Louis
Mrs. Ogden Mills and Servants
Mr. Ogden Mills
Mr. Mills
Mr. J. R. Morron
Mrs. J. R. Morron
Mr. Sonell Morron
Mr. Max Meyer
Mrs. Max Meyer
Catharine F. Meyer and Servants
Mr. B. G. Meyer
Mr. A. J. Mendelsohn
Mr. Felix Mohr
Mrs. W. W. McAlpin
Miss A. G. McNamee
Mr. Wm. Muench
Mrs. Wm. Muench
Miss Kathryn Muench
Mr. D. de Sola Mendes
Mr. J. F. McGowan
Mrs. J. F. McGowan
H. C. McGowan and Servants
Miss B. Mills
Miss O. Mills nebst Gouvernante and Servants
Mr. Hugh Minturn
Mr. Manning
Mrs. Manning
Mr. Manning
Mr. Manning
Mr. G. Merklen
Miss S. Megher
Mr. Baron Pierre de Morognes
Miss R. Maier
Mr. Felix Mohr
Mr. S. A. Nightingale
Mr. M. Newborg
Mr. I. Newborg
Mrs. L. Nora
Mr. Benno Neuberger
Mr. L. Noot
Mrs. L. Noot
Mr. L. D. Nathan
Mrs. L. D. Nathan
Mr. D. L. Nathan Jr.
Mr. C. H. Oberge
Mr. A. D. Oppenheim
Mrs. A. D. Oppenheim
Miss Carrie Oppenheim
Mr. Felix Oppenheimer and Servants
Miss Osgood
Mr. C. Prichard
Miss Suzan Pederson
Mr. Frank W. Porter
Mrs. A. Pellens
Mr. Geo B. Post
Mrs. Geo B. Post
Miss Alice Post
Mr. Siegfrled Peierls
Mrs. Siegfried Peierls
Mr. M. H. Pulaski
Mr. E. S. Pratt
Mr. J. W. Perry
Mrs. J. W. Perry
Mrs. Rich
Mr. Chas. H. Ropes
Mrs. Chas. H. Ropes
Mr. J. Rotschild
Mr. Sigmund Rheinström
Mrs. Sigmund Rheinström
Dr. Vincenz Rabenlechner
Mr. Jacob Rothschild
Mrs. Helen Rothschild and Servants
Mr. Robert Rossman
Mr. Chalfant Robinson
Mrs. Chalfant Robinson
Mr. J. H. Roth
Mr. Louis Strassburger
Miss C. M. Stover
Mr. Paul C. Schnitzler
Mr. J. H. Skinner
Mrs. J. H. Skinner
Miss Skinner
W. W. Skinner
Mr. Irving Schmelzel
Mr. G. Stoving:
Mr. Frank Smith
Mr. H. L. Strauss
Mrs. H. L. Strauss
Mr. Bernard Strauss
Lee Strauss
Richard Strauss and Servants
Mr. O. P. Schaffer
Mrs. O. P. Schaffer
Miss Helen G. Stevens
Mrs. V. H. Spalding
Mr. Edgar B. Stevens
Mrs. Edgar B. Stevens
Mr. Edgar A. Stevens
Mr. A. T. Sardi
Mr. A. Saxe
Mrs. A. Saxe
Mr. Frank Leo Short
Mr. W. F. Seeba
Mrs. W. F. Seeba
Mr. J. Strauss
Mrs. J. Strauss
Mr. John W. Sanders
Mr. M. E. Schüssel
Mr. Strauss
Mr. Chas. Shoninger
Mr. M. Siegel
Mrs. M. Siegel. and Children
Miss Snellenburg
Mr. Paul Schaarschmidt
Miss L. L. Sernald
Mr. Bernard P. Straus
Mr. Lee Straus
R. M. Strauss
Mrs. Bertha Stein
Herbert Stein
Helene Stein
Mr. Henry Schüssler
Mrs. Auguste Severin
Mr. T. C. Tatum
Mr. Fred. S. Tinthoff
Mr. J. B. Thierry
Mr. W. J. Travis
Mr. C. L. Tappin
Mr. Edward Taylor
Mrs. Edward Taylor
Mr. B. Thomaszewski
Mrs. B. Thomaszewski
Harry Thomaszewski
Melton Thomaszewski and Servants
Mr. J. H. Taylor
Mrs. J. H. Taylor
Mr. Wm. Thorner
Mrs. Annie Urban
Mr. Edouardo Viola
Mrs. Edouardo Viola
Mr. Theo. G. Volger
Mr. Baron Vietinghoff
Mr. D. T. Watson
Mrs. D. T. Watson and Servants
Mrs. H. B. Wedgewood
Mr. B. Wassermann
Mr. S. Wassermann
Mr. Richard Wahle
Mrs. Richard Wahle
Mr. John M. Ward
Mr. W. B. Wheeler
Mr. W. B. Wheeler Jr.
Mr. G. H. Williams
Mrs. G. H. Williams
Mr. D. S. Wade
Mrs. D. S. Wade
Miss C. L. Wade
Mr. F. J. Wells
Mr. F. A. Werner
Mrs. F. A. Werner
Mr. M. Wertheimer
Mrs. M. Wertheimer
Mr. Beriah Wilkins
Mr. Robert. C. Wilkins
Mr. August Wanters
Mrs. August Wanters
Mr. S. Walter
Mrs. S. Walter
Miss Lizzie Walter
Mr. Robert Winsor
Mr. Robert Winsor Jr.
Mrs. Juliet White
Mr. J. A. Yates
Mrs. J. A. Yates
Mr. F. Ziegfeld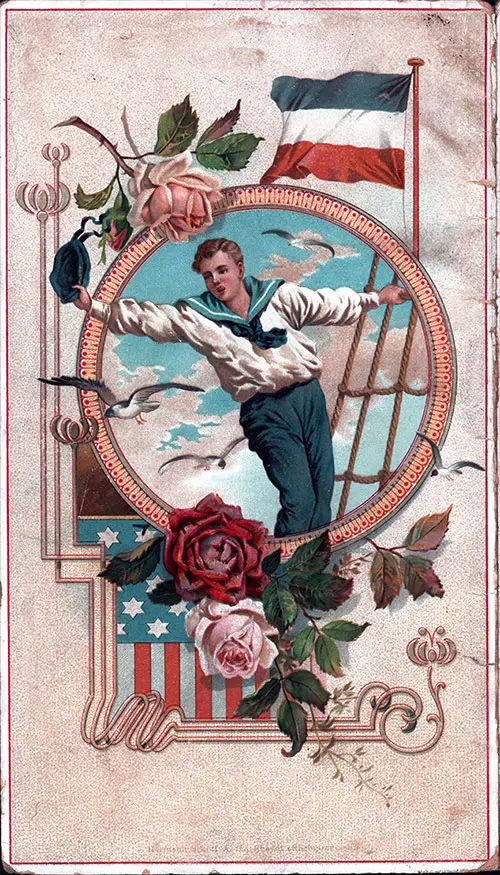 Back Cover, North German Lloyd SS Kaiser Wilhelm der Grosse Cabin Class Passenger List - 13 August 1901. GGA Image ID # 13fb9b7102
Second Cabin Passengers
Mr. Professor Otto Anschütz
Otto Anschütz
Miss Auguste Ahrbecker
Miss Ella Alschech
Miss Elisa Alschech
Miss Caecilia Alschech
Miss B. Brennecke
Mr. Richard Berger
Mr. Henry Bertuch
Mr. Henry Bernstein
Mr. H. A. Benvist
Mrs. Robert Berls
Miss Madeleine Berls
Edmund Berls
Robert Berls
Mr. A. H. Blue
Mrs. A. H. Blue
Miss Pauline Baitsch
Mr. Theodor B. Bruener
Mr. J.Boffard
Mr. Charles E. Bolser
Mr. Georg Blancke
Mrs. Wilhelmine Block
Miss Lene Bergschicker
Miss Anna Brücklmaier
Mrs. Amalie Benjamin
Mr. A. Baum
Miss Eliza Bourke
Mr. Leopold Bauer
Mrs. Leopold Bauer
Mr. Chas. Broghamer
Mrs. Chas. Broghamer
Mr. Peter Bochen
Mr. Philip. Behringer
Mr. Georg Beckmann
Mrs. Julie Coster
Miss Mali Cohn
Mr. J. K. Chamberlain
Mr. H. Cramer
Mrs. Lilly Cohn
Miss Lilly Cohn
Mr. Ricardo de Maria y Campot
Mrs. Ricardo de Maria y Campot
Mr. D. DuBose
Mr. Daniel Dieterich
Mrs. Kath. Densinger
Freddy Densinger
Henry Densinger
Mr. Fred. Dreyer
Mr. Emanuel Dalberg
Mr. Ferdinand Duderstadt
Mr. C. W. Deibel
Rev. M. W. Ehnes
Mrs. M. W. Ehnes
Miss Enedina
Mrs. Marie Ehlers
Miss Katharine Elsen
Mr. Jas. Eyermann
Mrs. Jas. Eyermann
Mr. Georg Eilers
Mr. Fritz Erlanger
Mr. Jean Fischer
Mrs. Jean Fischer
Mrs. Kathi Fischer
Mrs. Emma Fleischer
Mr. H. Folkers
Dr. Fred. Falk
Mrs. Fanny Friedland
Mr. Julius Feldmann
Mr. Jones Fuld
Mr. Otto Fischl
Mr. Herm. Freese
Mrs. Herm. Freese
Mrs. Frances Gartside
Mr. John Friedrich Goehner
Mrs. John Friedrich Goehner
Walter Goehner
Dorothea Goehner
Miss Melanie Guttmann
Mr. Gross
Mr. Jean Greiff
Mrs. Mary Gau
Mary Gau
Ida Gan
Mr. Arnold Gutfreund
Mrs. Charles Gwinner
Harry Gwinner
Mrs. Christian Gwinner
Charles Gwinner
Mrs. Carrie Goetz
Harry Goetz
Emil Goetz
Mr. Filipp Gallia
Mrs. Filipp Gallia
Mr. Engelbert Gregor
Fran Engelbert Gregor
Mr. Henry Geisenhöner
Mrs. Henry Geisenhöner
Mr. F. Glance
Mrs. F. Glance
Mr. F. J. Grofcsik
Heir Heinr. Husfeldt
Mrs. Heinr. Husfeldt
Mr. Henry Harm
Mrs. Henry Harm
Mr. Willy Harm
Mr. G. Huthsteiner
Mrs. Rosa Hall
Florence Hall
Richard Hall
Rosa Hall
Mr. Harding
Mr. Chas. Haeske
Mr. Lukas Häuser
Mr. Willy Harm
Mr. H. Hollmann
Mrs. H. Hollmann
Mrs. Kath. Holtermann
Miss Kath. Holtermann
Frieda Holtermann
Miss E. Halladay
Mrs. S. Herskowitz
Max Herskowitz
Regina Herskowitz
Mr. Gustav Haas
Mr. Leopold Haas Jr.
Miss Annie Hirsch
Mr. S. Hertzmann
Mr. Louis Hermann
Miss Libbie Heckmann
Mr. Gustav Henrici
Mrs. Gustav Henrici
Dr. H. A. Hackeling
Mr. W. Holmann
Dr. phil. Charles Kullmer
Mr. John J. Karle
Mrs. John J. Kanle
Miss Mathilde Karle
Friedrich Wilh. Karle
Mr. Ludwig Kerls
Miss Sophie Kopple
Miss Emilie Koliwer
Mrs. Margit Knapik
Miss Caroline Kemmler
Charlotte Krüger
Miss Julie Kopp
Mr. Otto Klaschewski
Mrs. Otto Klaschewski
Rev. J. B. Kappanadge
Mr. Adolf Klein
Dr. F. G. Lagerström
Mrs. Bertha Licht
Gosse Licht
Mrs. Benno Levy
Mr. Ernst Lorenz
Mrs. L. Lebenbaum
Miss Rosa Lebenbaum
Mr. John Lang
Mrs. Julia Linsz
Mr. F. G. Lagerström
Mrs. Emma Leisge
Helen Leisge
Mr. Ludwig Lauterbach
Mrs. Mc. Lead and Child
Mr. Adam Ludwig
Mrs. Le Vin
B. Le Vin
Mr. M. Levy
Mr. A. S. Livingston
Mr. Louis A. Leitheiser
Miss M. Luenenschloss
Mrs. Bina Lavitz
Fräulrin Pepi Lavitz
Miss Mina Lavitz
Miss Maggie Liese
Mr. Friedr. C. Lehmer
Mr. S. Ladenheim
Mrs. B. Levy
Mr. M. Levy
Mr. B. Mühlenkamp
Mrs. B. Mühlenkamp
Mr. John Morris
Mr. John C. Müller
Mrs. John C. Muller
Mrs. E. Mochkowitz
Mrs. B. Mainzer
Mrs. J. Hart
Miss Henriette Hart
Leo Hart
Fanny Hart
Mr. George Meyer
Mr. Morel
Mrs. Joha. McCrecten
Mr. W. F. Milligan
Mrs. McLeod and Child
Mrs. Caroline Mistele
Mrs. Betti Miller
Mr. Eduard Milch
Mr. H. H. Meyer
Mr. Henry Müller
Mr. Müller Jr.
Mr. M. Muschel
Mr. Josef Mach
Mr. Severin Magda
Mr. Joseph Morthorst
Mr. Ulric Möller
Mr. Andreas Manns
Mr. Karl Merckel
Mr. S. Newberger
Miss Amalie Nussbaum
Mrs. Marie Nothhelfer
Emma Nothhelfer
Mr. F. Nagel
Mrs. Diedrlch Nordmann
Gretchen Nordmann
Mr. F. Omersa
Miss Fanny Oster
Mr. Edwin R. Procter
Mrs. Edwin R. Procter
Mr. Willy Prause
Mr. Adolph Posern
Rev. John B. Peifer
Mr. Arthur Petereit
Mr. Leon Pulaski
Mr. Carl Pollak
Mr. Siegmund Riemer
Mrs. Siegmund Riemer
Mrs. Eva Roses
Mr. Jos. Rakemann
Mrs. Jos. Rakemann
Mrs. E. Rosenblüth
Rosa Rosenblüth
Mr. S. Rostowzew
Mr. Max Rothschild
Mrs. Max Rothschild
Mrs. Win. L. Ratz
Lizzie Ratz
Anna Ratz
Willi Ratz
Mr. Carl C. Reck
Dr. Rütsche
Mrs. Adeline Roeth
Mr. Carl Rakemann
Mrs. Fanny Relkin
Nathan Relkin
Harry Relkin
Miss R. Redlich
Mr. Leon Rygel
Mr. Albert H. Roeth
Mr. Morris F. Rosenbusch
Mr. E. A. Rothschild
Mr. Louis Ritterbusch
William Ritterbusch
Miss Maryanna Ruschinska
Mr. Rueben
Mrs. Rueben
Mr. L. A. Sievers
Mrs. L A. Sievers
Mrs. J. Schauwin
Mr. David Slusky
Mrs. David Slusky
M. Slusky
Mr. Anton Schetl and Child
Miss Lovisa Stenberg
Miss Margaret Stumpp
Mr. Fred. Schmidt
Mrs. Fred. Schmidt
Mr. Otto Stumpp
Mr. Joseph Silbermann
Mr. Louis Silbermann
Mr. H. Stumpenhorst
Mrs. H. Stumpenhorst
Mr. Rufus Southworth
Miss Sophie Silberberg
Mr. H. Solomon
Mr. Wilh. Storz
Mrs. Wilh. Storz
Miss Liva Seibel
Miss Mina Scheuermann
Miss Lina Scheuermann
Mr. A. Silberberg
Mr. August Schneider
Mr. Herm. Solomon
Miss Emma Schoner
Fran J. Springer
Mr. M. Stepmer
Mr. Simon Spatz
Mr. Jos. Spatz
Mr. Fritz Seuss
Rev. Seraphin Schlang
Mr. Max Schwartz
Mr. Strodell
Mrs. Strodell
Mr. Lehrer Carl Schumacher
Mr. N. Taub. Mrs. N. Taub
Dr. Tongo Takebé
Mr. Henry Thameling
Mr. Thomas Trippe
Mr. Georg Utz
Mr. Jacob Utzinger
Mrs. S. Weiner
Mr. F. Weiler
Mr. Henry Weiler
Mr. B. Weiland
Mrs. B. Weiland
Mr. Arthur Weiss
Mrs. Arthur Weiss:
Mrs. Lina Weiss
Mr. Arnold Wltzek
Mrs. Arnold Wltzek
Mr. D. Witz
Mrs. E. Wheeler
Henry Wheeler
Mrs. Louise Weil
Mr. Oswald Wunsch
Mrs. Oswald Wunsch
Arthur Wunsch
Walter Wunsch
Hermann Wunsch
Meta Wunsch
Kurt Wunsch
Mrs. Caroline White
Miss Evelyn White
Mrs. Mina Weitz
Mr. Heinrich Wagener
Mrs. Heinrich Wagener
Mr. Josef Wauca
Mrs. Josef Wauca
Wilma Wacker
Mrs. Mary Vleck
Miss Malvine Vilagfy
Mrs. Vogt
Miss Vogt
Mr. L. Zuckermann
Mr. William Zuckermann
Mr. Johann Zettl
To Southampton :
Miss Eliza Bourke
Mr. H. R. Burt
Mr. Max Bull
Mr. Hugo Brandt
Mrs. Paul R. Isenberg
Miss Alice Lewisohn and Servants
Mr. Georg Oetler
Miss Emma Schonen
Mr. Walter Seidel
Mr. Willibald Seidel
Mr. Gustav Seidel
Mr. Carl Stabenow
Mr. Georg Southworth
Mr. Hermann Uhde
Mr. Augustus Webster
Mrs. Augustus Webster
To Cherbourg:
Mr. Lebrecht Hoffmann
Mr. Emil Plate
Mr. C. Matthaei
General-Agenten des Norddeutschen Lloyd:
In New York: Oelrichs & Co., 5 Broadway
In Baltimore: A. Schumacher & Co., 5 South-Gay Street
In Chieago, Ills.: H. Claussenius & Co., 90 & 92 Dearborn Street
In Galveston, Tex.: W. W. Wilson
In San Francisco, Cal.: Robert Capelle, 140 Montgomery Street
An Bord befindet sich ein Deutsch-Amerikanisches See-Postamt.
Carl Scbünemann, Bremen.
S. 3291 (12.08. 01. 3000)