SS Sierra Ventana Passenger List 29 August 1931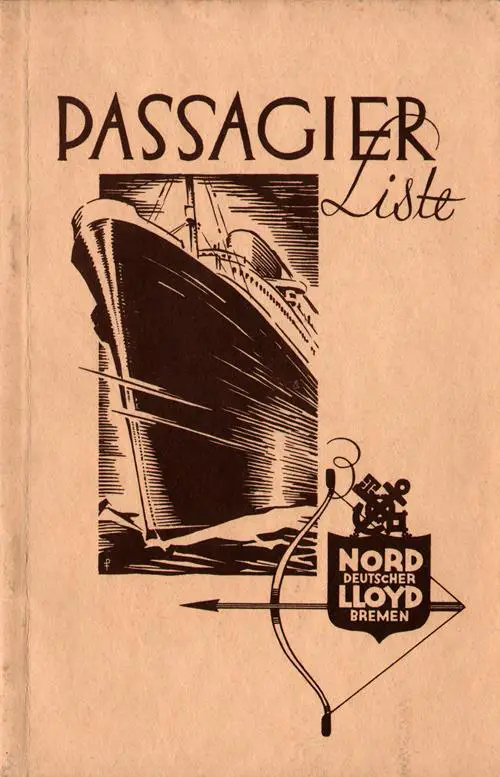 Cabin Passenger List for the SS Sierra Ventana of the North German Lloyd, Departing Saturday, 29 August 1931 from Bremen to New York, Commanded by Captain D. Ballehr.
Senior Officers and Staff
Captain D. Ballehr
First Officer K. Harder
Second Officer A. Eyben
Second Officer E. Biet
Third Officer H. Bischoff
Fourth Officer K. Hinsch
Fourth Officer u. F.-T. G. Hempen
Physician Dr. H. Probandt
First Chief Engineer D Osmer
Second Chief Engineer L. Thiele
Third Chief Engineer E. Haas
Fourth Chief Engineer W. Dannich
Purser E. Tielbaar
Assistant Purser E. Boy
Chief Steward K. Stiehl
Chief Steward Tourist Class G. Hager
Assistant Chief Steward J. Lukscha
Chief Cook P. Fiebach
Baggagge Master W. Decker
First Radio Officer H. Kuhlmann
Second Radio Officer H. Mell
Intrepreter O. Krcil
Cabin Passengers
Miss Ellen Acton
Mrs. Elfriede Andrae
Miss Ursula Andrae
Robert Andrae
Dorothea Andrae
Mrs. Bertha
Barron-Berthald
Miss Julliet Benjamin
Mrs. Emma Bennewitz
Mr. Herbert G. Bigelow
Mrs. Else Burg
Mr. Elmer H. Carlton
Mr. Herz Cohen
Miss Susan Comes
Miss Alice Comes
Miss Gertrude Comes
Mr. A. Ernst Comes
Mrs. Mac A. Comes
Miss Marguerite
M. Cran
Rev. Odoric Derenthal
Mrs. Pauline Eder
Mrs. Anna Eitel
Miss Edith H. Farnham
Mrs. Malia Filiurin
Mr. Eduard Filiurin
Mr. Hartwig Franzen
Mr. Gustav J. Freudenberg
Mr. Marvin Wm. Freudenberg
Mr. Gustav Fried Freudenberg
Miss Alice M. Furman
Mr. H. F. Gable
Mrs. Margarete Gastmeyer
Miss Liselotte Gastmeyer
Hannelore Gastmeyer
Dr. George Geffers
Mrs. George Geffers
Miss Irene Geffers
Mr. Josef Giffel
Mr. Oskar Giese
Mrs. Berta Giese.Seiter
Mrs. Johanna Goehmann
Miss EmmaGoehmann
Mrs. Frieda Gunther
Miss Sophie F. Halbwachs
Miss Louise Halbwachs
Mrs. L. Halperin
Miss Halperin
Miss Josephine Hann
Miss Pauline Hann
Rev. Ferdinand Heckman
Mr. Theo Hengstenberg
Mrs. Elizabeth Hengstenberg
Mr. Stanley Hess
Mrs. Anita Helen Hess
Miss Dora Husemann
Mrs. Rose G, Jacobs
Joshua Jacobs
Mrs. Barbara Junemann
Miss Lisel Kambeitz
Mr. George Keller
Mr. Alvin Kranich
Mrs. Elizabeth Laise
Clamans Laise
Mrs. Bernhardine Lanz
Dr. Wassily Leontief
Mr. Sylvan Levin
Mr. Edgar Newton Lupfer
Mrs. Minnie B. Lupfer
Mr. Alex Mendelson
Mrs. Anna R. Mendelson
Miss Dorothy Mendelson
Dr. Oskar Michel
Mr. Ernest A. Muhly
Mrs. Johanna Neustadt
Miss Rosalie O'Dea
Miss Elizabeth O'Dea
Dr. Daniel Ortiz--Berumen
Dr. Carl Ottersbach
Mr. Professor Philip M. Palmer
Mrs. Anne Marie Palmer
Mr. Professor Harry W. Pfund
Mrs. Marie Pfund
Mr. William J. Pfund
Mrs. Anna M. Pfund
Mrs. Lois Puttlitz-Levin
Miss Wilhelmine Radder
Miss Elsie Rayens
Mr. Hugo W. Raymann
Mrs. Anna Raymann
Miss Elizabeth Raymann
Miss Beatrice Raymann
Mrs. Sophie Raymann
Miss Claire Rebenklau
Miss Rebecca Rose
Mrs. Pauline Rose
Mr. Charles E. Shull
Mrs. Elizabeth Shull
Miss Francis B. Shull
Miss Helen Simon
Mr. Otto R. Spies
Miss Carolina Schaeben
Mrs. Dora F. Schilling
Mr. Robert Schmidt
Mrs. Louise Schmidt
Miss Virginia Schmidt
Miss Alice Schoof
Sister M. Maria
Sister M. Stefanie
Sister M. Thomasina
Sister M. Ursula
Mrs. Louise Stark
Arthur Stark
Miss Luise Stenglein
Mrs. Dora Stern
Hannelore Stern
Mr. Stefan Talaber
Mrs. Lillie Thurston
Dr. Harold
Frank Tidwell
Mrs. H. F. Tidwell
Miss Virginia Tidwell
Miss Shirley Tidwell
Mr. Albert Waegerle
Mrs. Anna Waegerle
John Waegerle
Mr. Albert Werner
Hildegard Werner
Erika Werner
Mr. Charles Wester
Mr. Paul Windisch
Mrs. Barbara Windisch
Paul Windisch
Frank Windisch
William Windisch
Miss Marga Winterhalter
Mr. Erwin Wunsche
Mr. John H. Zuercher
Mrs. Marguerite Zuerdier

BR E M E N
The City of Bremen receives its Overseas Guests at the Columbus Quay, in Bremerhaven, in the European "Station on the Sea-front". In PA hours by train or 50 minutes by motorcar one reaches the 70 Kilometers distant City on the Weser, the old Hanseatic City of Bremen; the city which, as a cultivated patrician city with its magnificent sites, offers the traveling public beautiful historical buildings and select Hotels and Restaurants, and at the same time, possessing most modern docks, is the busy centre of an extensive overseas-trade.
In contrast to the everyday appearance of many of the Hanseatic towns Bremen presents an architectural picture which makes everyone feel at home. Century-old tradition has made its impression. The Market Square is the focus of all that is characteristic of this city.
The grouping of such venerable buildings as the magnificent City Hall, the valiant Roland, the Cathedral Spires reaching heavenwards, the golden "Schiitting" (Chamber of Commerce) was created from that proud, independent spirit of citizenship which has made Bremen. It was the same energy of tenacious citizenship that sailed the first steamship on the Weser, inaugurated the first regular transatlantic Mail Line between Bremen and New York, created the first commercial submarine and rendered possible the first East-to-West Airflight over the ocean.
But all this has not disturbed the dignified tranquillity of the City. The centre of the city is too distant from the docks, shipyards and factories to be affected by their noises. The old moats are still in a good state of preservation and, like a green garland, entwine the actual City with its numerous reminiscences of the German medieval period.
Although modern Offices and Administration buildings have sprung up in the City and the Rhythm of Life has become more pronounced, the melody has remained the same. Even Romance survives and has found an expression as equally intrepid as it is strong, in the BiittcherstraBe which branches-off from the Market Square.
No wonder then, that many a globe-trotter was captivated with Bremen and meditatively sat in the "Ratskeller" brooding over the question as to how it was that this City offered a feeling of security and at the same time disclosed so much energy; how it was that this City supplied the whole of Europe with Cotton, has old Buildings, and is the home of the Norddeutscher Lloyd who can claim as their own, the fastest ships in the world, "Bremen" and "Europa", and who open up connections to all parts of the globe.
Letters for Passengers
will be brought on board at the port of
destination before the Passengers land. In their
own interest, therefore, Passengers should personally ascertain whether there is any mail for them before they leave the ship.
D oppelschrauben=Postdampfer
"SIERRA VE NTANA"
11 392 Brutto -Reg.-Tons, 149,51 m Lange, 18,84 m Breite