SS Müchen Archival Collection
München (1889) North German Lloyd
Built by Fairfield Shipbuilding & Engineering Co., Glasgow, Scotland. Tonnage: 4,801. Dimensions: 390' x 46'. Singlescrew, 13 knots. Triple expansion engines. Two masts and one funnel. Steel hull. Passengers: 38 first, 20 second, 1,700 third. Services: Various trade routes. Made a number of New York voyages. Renamed: Gregory Morch (about 1903). Sister ship: Dresden.
München (1922) North German Lloyd
Built by "Vulkan" Werke, Stettin, Germany. Tonnage: 13,483. Dimensions: 526' x 65' (551' o.l.). Propulsion: Twin-screw, 16 knots. Triple expansion engines. Masts and Funnels: Two masts and two funnels. Note: Name also has been spelled as Muenchen. Maiden voyage: Bremen-New York, September 14, 1923. Incidents: Badly gutted by fire at her New York pier in 1930. Modifications: Rebuilt in Germany in 1931. Her outward appearance was greatly changed by the reconstruction. Renamed : (a) General von Steuben (1931), (b) Steuben (1938). Fate: Sunk by Russian submarine in Baltic, February 1945. Only 1,000 of the 4,000 refugees on board survived. Sister ship: Stuttgart.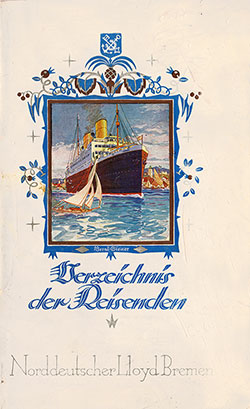 1928-08-30 SS München Passenger List
Steamship Line: North German Lloyd (Norddeutscher Lloyd)
Class of Passengers: Cabin Class
Date of Departure: 30 August 1928
Route: Bremen to New York via Cherbourg and Queenstown (Cobh)
Commander: Captain H. Gößling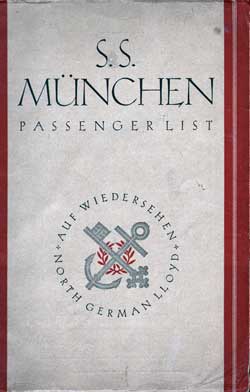 1929-03-14 SS München Passenger List
Steamship Line: North German Lloyd (Norddeutscher Lloyd)
Class of Passengers: Tourist Third Cabin and Third Class
Date of Departure: 14 March 1929
Route: New York to Bremen via Queenstown (Cobh) and Cherbourg
Commander: Captain H. Gössling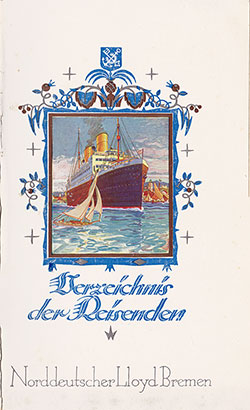 1929-10-17 SS München Passenger List
Steamship Line: North German Lloyd (Norddeutscher Lloyd)
Class of Passengers: Cabin Class
Date of Departure: 17 October 1929
Route: Bremen to New York via Boulogne-sur-Mer and Queenstown (Cobh)
Commander: Captain H. Gößling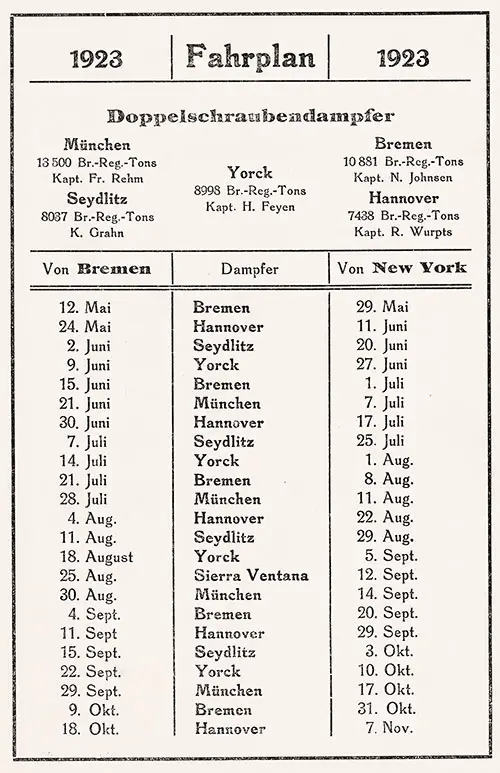 Sailing Schedule, Bremen-New York, from 12 May 1923 to 7 November 1923. Ships Included the Bremen, Hannover, München, Seydlitz, Sierra Ventana, and Yorck. SS Bremen Passenger List, 12 May 1923. GGA Image ID # 1f85fbe54d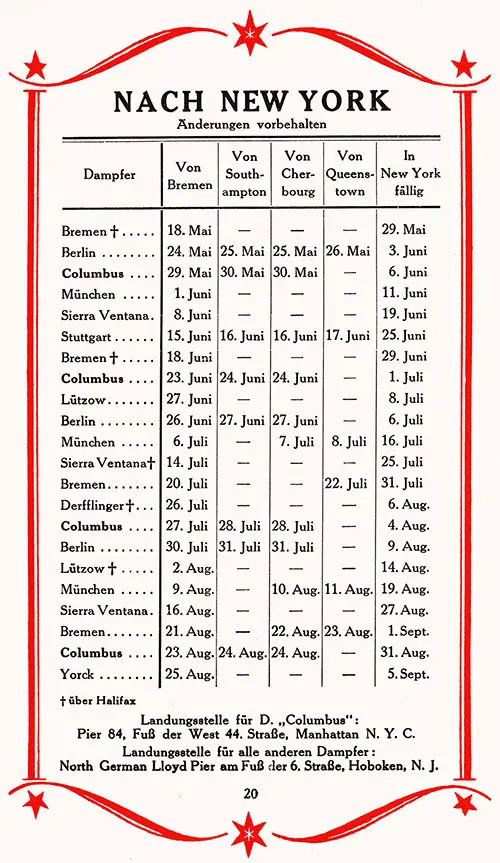 Sailing Schedule, Bremen-Southampton-Cherbourg-Queenstown (Cobh)-New York, from 18 May 1927 to 5 September 1927. Ships Included the Berlin, Bremen, Columbus, Columbus, Derfflinger, Lützow, München, Sierra Ventana, Stuttgart, and Yorck. SS Bremen Passenger List, 18 May 1927. GGA Image ID # 1f867d4df3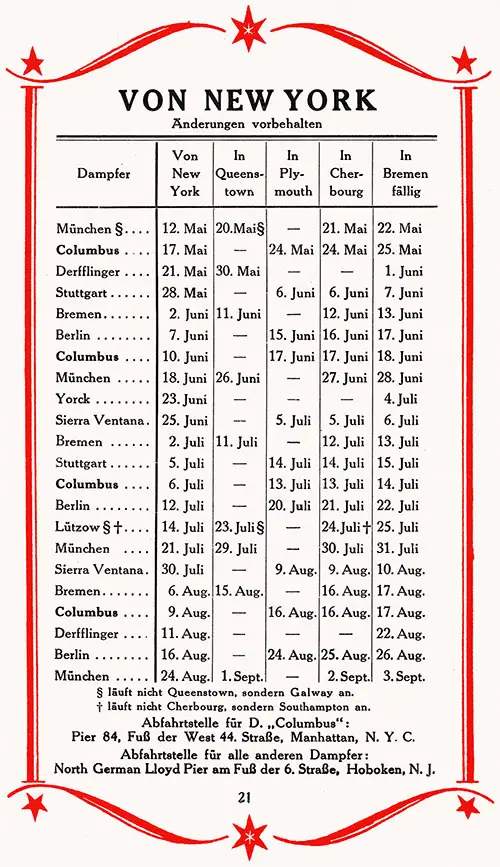 Sailing Schedule, New York-Queenstown (Cobh)-Plymouth-Cherbourg-Bremen, from 12 May 1927 to 3 September 1927. Ships Included the Berlin, Bremen, Columbus, Columbus, Derfflinger, Lützow, München, Sierra Ventana, Stuttgart, and Yorck. SS Bremen Passenger List, 18 May 1927. GGA Image ID # 1f8691611e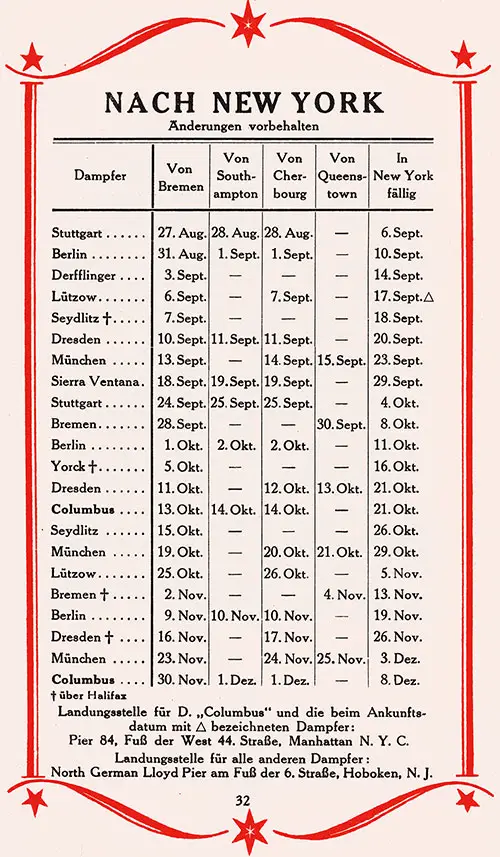 Westbound Sailing Schedule, Bremen-Southampton-Cherbourg-Queenstown-New York, from 27 August 1927 to 8 December 1927. Ships Included the Berlin, Bremen, Columbus, Derfflinger, Dresden, Lützow, München, Seydiltz, Sierra Ventana, Stuttgart, and Yorck. SS Stuttgart Passenger List, 27 August 1927. GGA Image ID # 1f00317ac4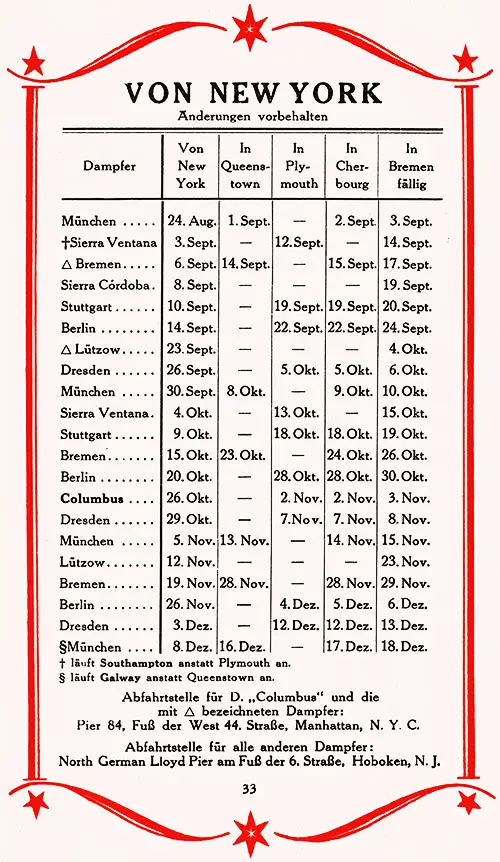 Eastbound Sailing Schedule, New York-Queenstown-Plymouth-Cherbourg-Bremen, from 24 August 1927 to 18 December 1927. Ships Included the Berlin, Bremen, Columbus, Dresden, Lützow, München, Sierra Córdoba, Sierra Ventana, and Stuttgart. SS Stuttgart Passenger List, 27 August 1927. GGA Image ID # 1f00779288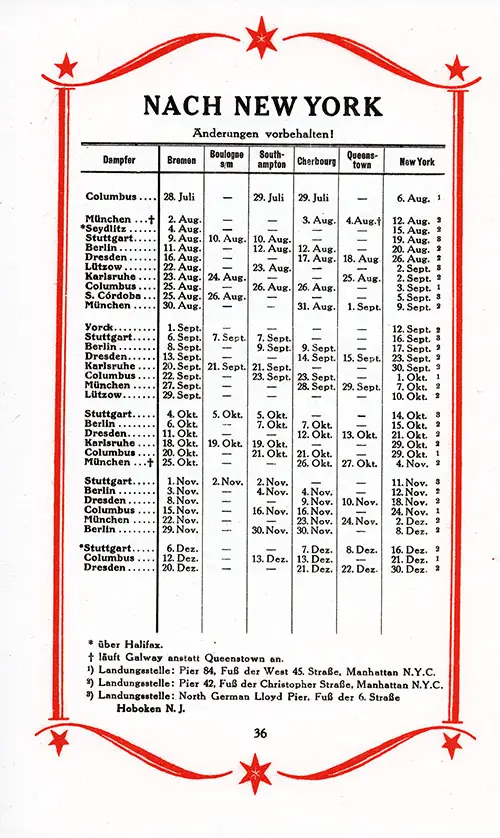 Sailing Schedule, Bremen-New York via Boulogne-sur-Mer, Southampton, Cherbourg, and Queenstown (Cobh), from 28 July 1928 to 30 December 1928. Ships Included the Berlin, Columbus, Dresden, Karlsruhe, Lützow, München, Seyditz, Sierra Cordoba, Stuttgart, and Yorck. SS Columbus Passenger List, 28 July 1928. GGA Image ID # 1e609f3c10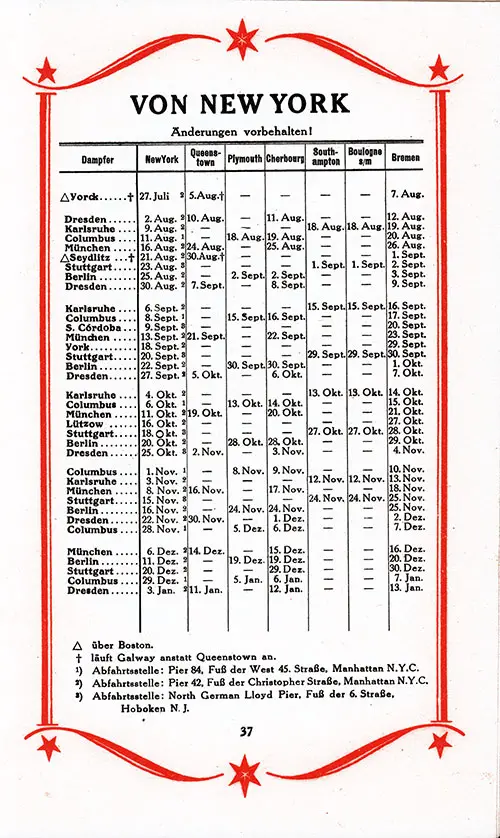 Sailing Schedule, New York to Bremen via Queenstown (Cobh), Plymouth, Cherbourg, Southampton, and Bologne-sur-Mer, from 27 July 1928 to 13 January 1929. Ships Included the Berlin, Columbus, Dresden, Karlsruhe, Lützow, München, Seyditz, Sierra Cordoba, Stuttgart, and Yorck. SS Columbus Passenger List, 28 July 1928. GGA Image ID # 1e60c12f58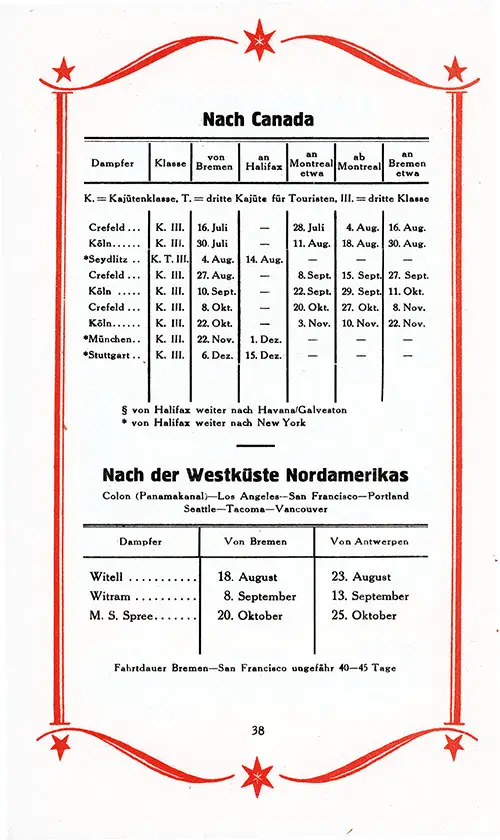 Sailing Schedule, Norddeutscher Lloyd Canadian Service, from 16 July 1928 to 15 December 1928. Ships Included the Crefeld, Köln, München, Seydlitz, and Stuttgart. Service to the West Coast of North America, from 18 August 1928 to 25 October 1928. Ships Included the Spree, Witell, and Witram. SS Columbus Passenger List, 28 July 1928. GGA Image ID # 1e60c1ad2b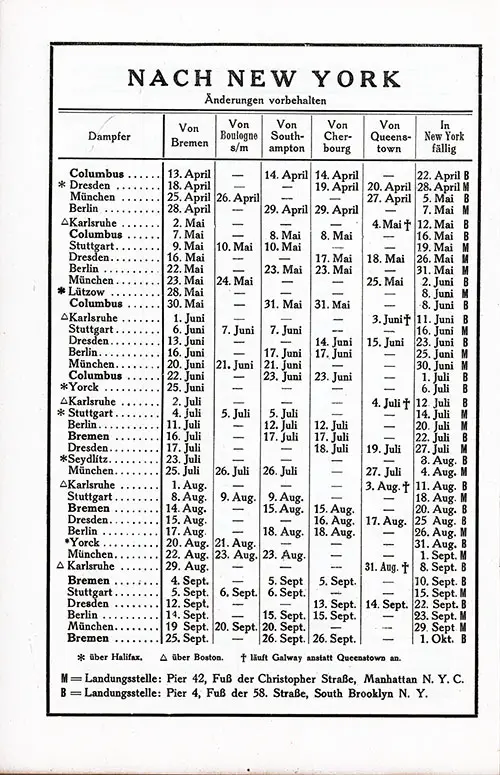 Sailing Schedule, Bremen to New York, from 13 April 1929 to 26 September 1929. Ships Included the Berlin, Bremen, Columbus, Dresden, Karlsruhe, München, Seydlitz, Stuttgart, and Yorck. SS Columbus Passenger List, 13 April 1929. GGA Image ID # 1e63b9221a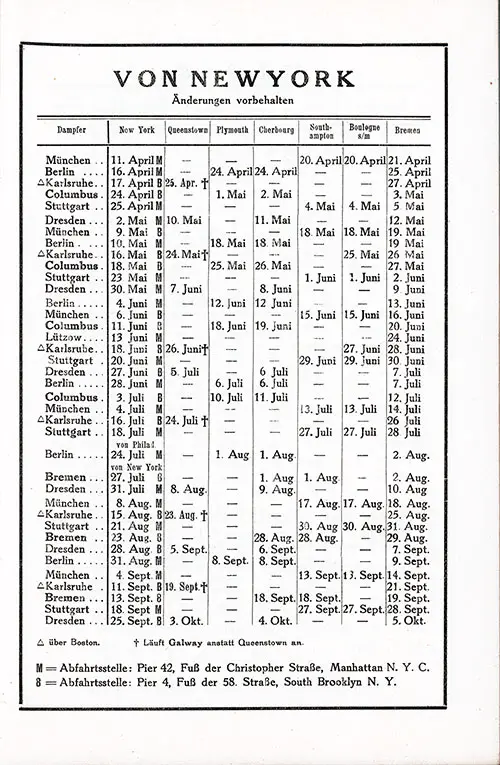 Sailing Schedule, Bremen to New York, from 11 April 1929 to 5 October 1929. Ships Included the Berlin, Bremen, Columbus, Dresden, Karlsruhe, München, Seydlitz, Stuttgart, and Yorck. SS Columbus Passenger List, 13 April 1929. GGA Image ID # 1e640b97ed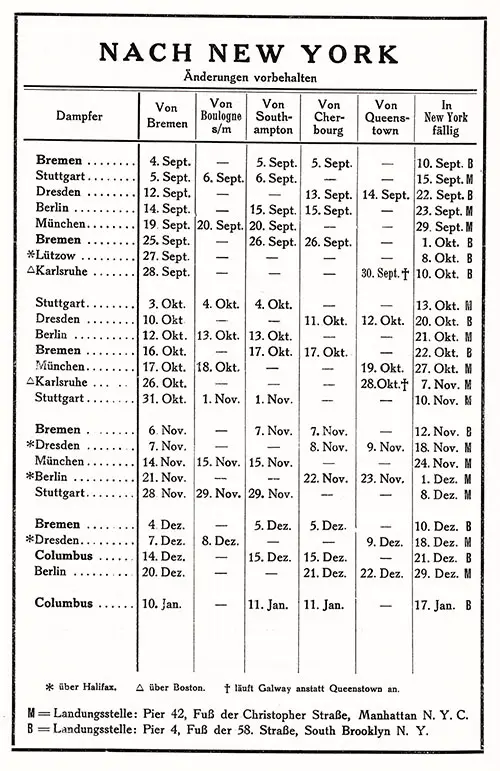 Sailing Schedule, Bremen-Boulogne-Southampton-Cherbourg-Queenstown (Cobh)-New York, from 4 September 1929 to 17 January 1930. Ships Included the Berlin, Bremen, Columbus, Dresden, Karlsruhe, Lützow, München, and Stuttgart. SS Bremen Passenger List, 4 September 1929. GGA Image ID # 1f875bc19a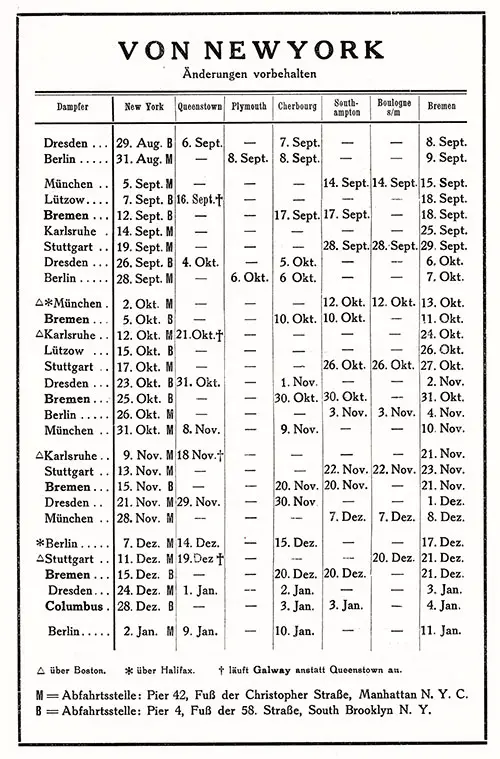 Sailing Schedule, New York-Queenstown (Cobh)-Plymouth-Cherbourg-Southampton-Boulogne-Bremen, from 29 August 1929 to 11 January 1930. Ships Included the Berlin, Bremen, Columbus, Dresden, Karlsruhe, Lützow, München, and Stuttgart. SS Bremen Passenger List, 4 September 1929. GGA Image ID #