SS Marine Phoenix Archival Collection
Ephemera for the SS Marine Phoenix available may include Passenger Lists, Menus, Brochures, Sailing Schedules, Route Maps, Photographs, and more.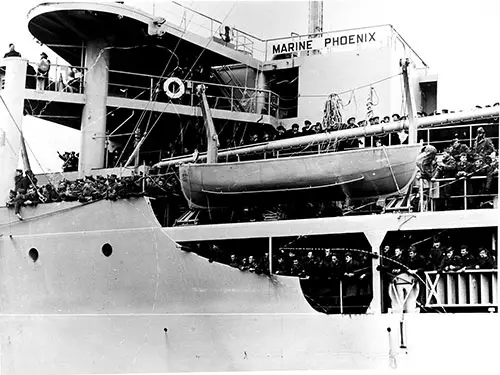 Official US Navy Photograph of the USNS Marine Phoenix (T-AP-195), a Troop Transport Ship Operating in the Pacific. Photo 80-G-438390 USN Dated 18 Janauary 1952.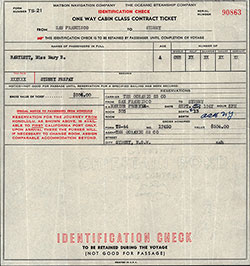 About the Marine Phoenix
(T-AP-195: dp. 10,210; l. 523'; b. 72'; dr. 26'; s. 17 k.; trp. 3,674; a. none; cl. Marine Adder; T.C4-S-A3) A merchant name retained.
Marine Phoenix (T-AP-195) was laid down under Maritime Commission contract by Kaiser Co., Inc., Vancouver, Wash., 16 December 1944; launched 9 August 1945; sponsored by Mrs. Thomas M. Robins; and delivered to her operator, Moore‑McCormack Lines, Inc., 9 November 1945.
In early December Marine Phoenix steamed to Seattle where she embarked occupation troops and sailed for Japan 12 December. She carried her passengers to Nagoya, embarked. homeward-bound veterans of the Pacific campaigns, and returned to Seattle 4 to 16 January 1946.
During the next five months she continued trooplift runs out of Seattle to Japan, Korea, China, the Marianas, and the Hawaiian Islands. In 1947 she entered the Maritime Commission Reserve Fleet at Suisun Bay, Calif., where she remained for 3 years.
During those thee years, she was leased by the Oceanic Steamship Company and Operated by Matson Navigation Company for this and other voyages during 1947-1949.
Partial Extract, Naval History and Heritage DCommand, "Marine Phoenix: Ship History" Published 5 August 2015. https://www.history.navy.mil/research/histories/ship-histories/danfs/m/marine-phoenix.html Last Viewed October 2019.
Oceanic applied to charter a Government vessel, and in December 1946, secured the Marine Phoenix, which was then put into passenger service on Route 27 between United States Pacific coast ports and ports in Australia and New Zealand.
The Marine Phoenix carried a very limited amount of cargo and had space for approximately 550 passengers in rooms for 6-12 occupants and in large dormitory areas holding as many as 80 passengers. The accommodations were austere and in no way comparable to the accommodations offered on the Mariposa and Monterey prior to the war.
Up to her last return voyage in August 1948, she carried her full passenger capacity, but in her operation without subsidy, Oceanic lost on six round voyages in 1947 a total of approximately $168,000 and on five round voyage in 1948, a total of approximately $128,000.
"The Oceanic Steamship Company--Application for Operating--Differential Subsidy for "Marine Phonix," Trade Route 27,m No., S-41,". Submitted 1 June 1953. Decided 16 June 1953. Decision of the Federal Maritime Board and Maritime Administration, Department of Commerce, Vol. 4, April 1952 to March 1956, Washington DC: US Governement Printing Office, p. 288-292.