SS Manchuria Archival Collection
Manchuria (1904) American Line
Built by New York Shipbuilding Corp., Camden, N. J. Tonnage: 13,639. Service: In New York-Hamburg service, 1919- 1923. Running mate: Mongolia.
Manchuria (1904) Pacific Mail Steamship Co.
Built by New York Shipbuilding Co., Camden, N. J. Tonnage: 13,638. Dimensions: 600'x 65'. (616' o.l.). Twin- screw, 16 knots. Quadruple expansion engines. Four masts and one funnel. Steel hull. Service: In San Francisco-Hong Kong- Manila service, 1904-1915. Ownership: Owned by E. H. Harriman and chartered by Pacific Mail during the 1904-1911 period. Purchased by Pacific Mail in 1911. Sold to Atlantic Transport Co. in 1915. Later in trans-Atlantic service for a time. Renamed: (a) President Johnson (1929), (b) Santa Cruz (1947). Fate: Broken up in Italy in 1952. Sister ship: Mongolia.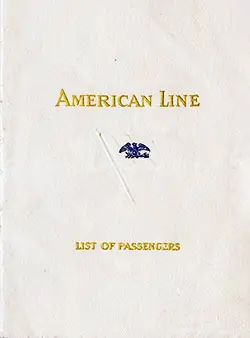 1923-06-28 SS Manchuria Passenger List
Steamship Line: American Line
Class of Passengers: Cabin
Date of Departure: 28 June 1923
Route: New York to Hamburg via Plymouth and Cherbourg
Commander: Captain Adrian Zeeder
Sailing Schedules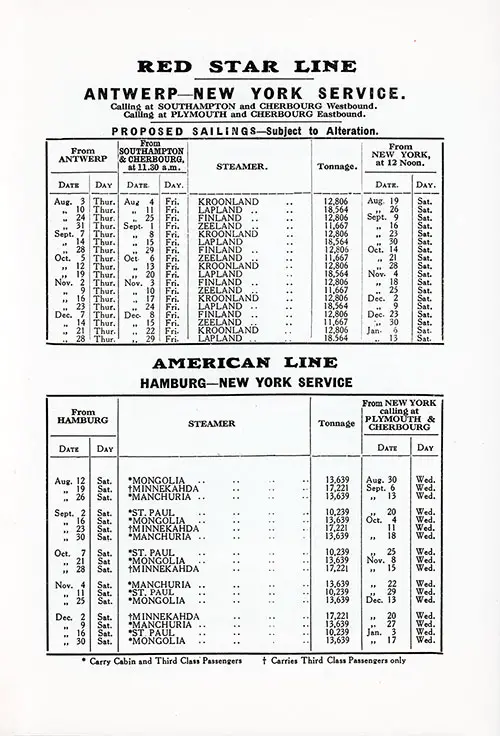 Proposed Sailings. Red Star Line: Antwerp-New York Service from 3 August 1922 to 13 January 1923. American Line: Hamburg-New York Service from 12 August 1922 to 17 January 1923. Ships Included the Red Star Line Finland, Kroonland, Lapland, and Zeeland. Ships for the American Line Manchuria, Minnekahda, Mongolia, and St. Paul. RMS Majestic Passenger List, 6 September 1922. GGA Image ID # 1dd525c9ba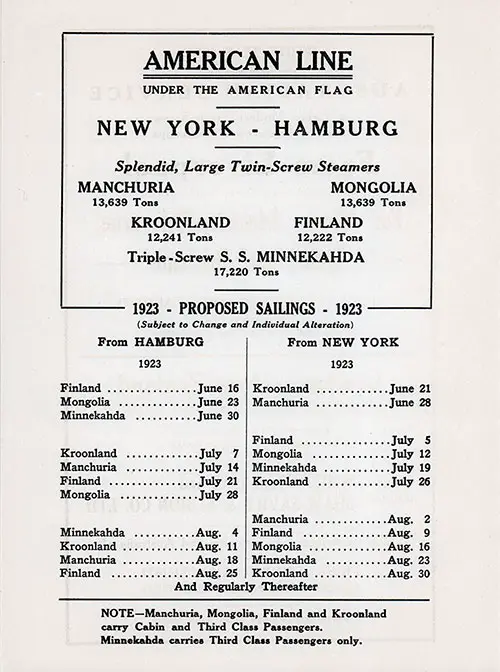 1923 Proposed Sailings from 16 June 1923 to 30 August 1923 for the American Line. Ships Listed Included the Finland, Kroonland, Manchuria, Minnekahda, and Mongolia. Note: Manchuria, Mongolia, Finland and Kroonland Carry Cabin and Third Class Passengers. Minnekahda Carries Third Class Passengers Only. SS Kroonland Passenger List, 21 June 1923. GGA Image ID # 163142707e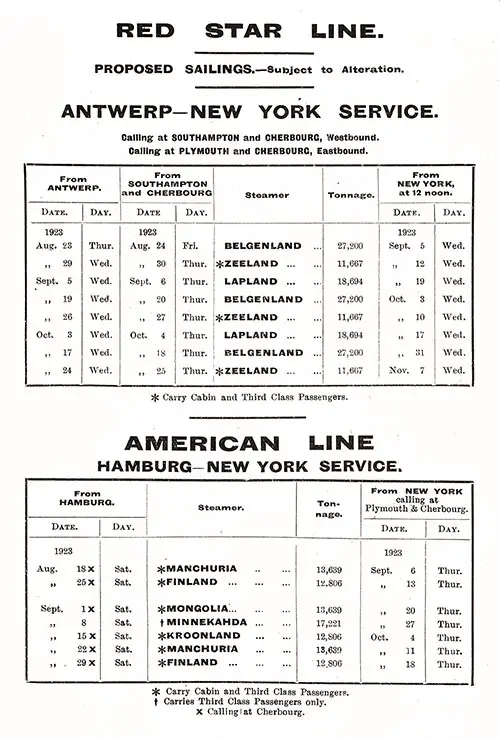 Sailing Schedule, Antwerp-Southampton-Cherbourg-New York and Hamburg-Plymouth-Cherbourg-New York, from 18 August 1923 to 7 November 1923. Ships Included the Belgenland, Finland, Lapland, Manchuria, Minnekahda, and Zeeland. RMS Homeric Passenger List, 5 September 1923. GGA Image ID # 1f0b8ea4c9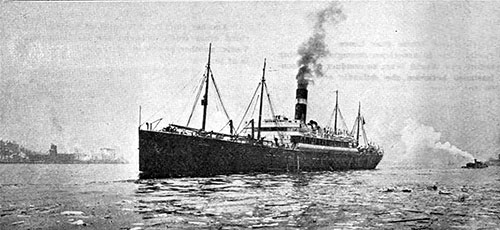 The Start of an Historic Voyage. The Manchuria of the American Line Leaving New York on 20 December 1919 to Reopen Direct Trade and Travel to Germany After an Interruption of More than Five Years Caused by World War I. GGA Image ID # 141e0b8c47