SS Merion Archival Collection
Merion (1902) American Line
Built by John Brown & Co., Clydebank, Glasgow, Scotland. Tonnage: 11,612. Dimensions: 531'x 59' (547' o.l.). Twin- screw, 12 knots. Triple expansion engines. Four masts and one funnel. Maiden voyage: Liverpool-Boston, March 8, 1902, as a Dominion liner. Ownership Transfer: Served in Dominion Line for only a brief time, then transferred to American Line. War Service: Converted to dummy battleship in World War I. Fate: Torpedoed and sunk in Aegean Sea, May 30, 1915. Sister ship: Haverford.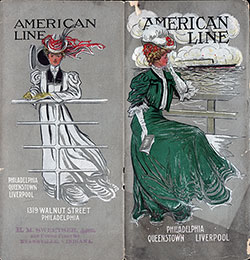 American Line Philadelphia - Queenstown - Liverpool Service - 1907
American Line has specially arranged to accommodate those passengers who want good food and service, moderate speed and to have the best accommodation the steamers afford at a reasonable cost. Ships Covered: Friesland, Haverford, Merion, Noordland, and Westernland.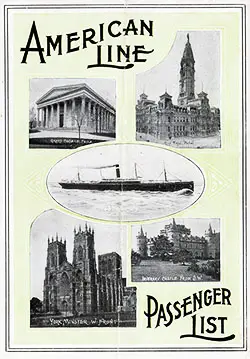 1910-07-02 SS Merion Passenger List
Steamship Line: American Line
Class of Passengers: Second Cabin
Date of Departure: 2 July 1910
Route: Philadelphia to Queenstown and Liverpool
Commander: Captain J. B. Hill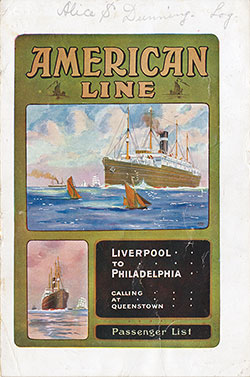 1913-08-27 SS Merion Passenger List
Steamship Line: American Line
Class of Passengers: Cabin
Date of Departure: 27 August 1913
Route: Liverpool to Philadelphia
Commander: Captain J. Beattle Hill