SS Merion Passenger List - 27 August 1913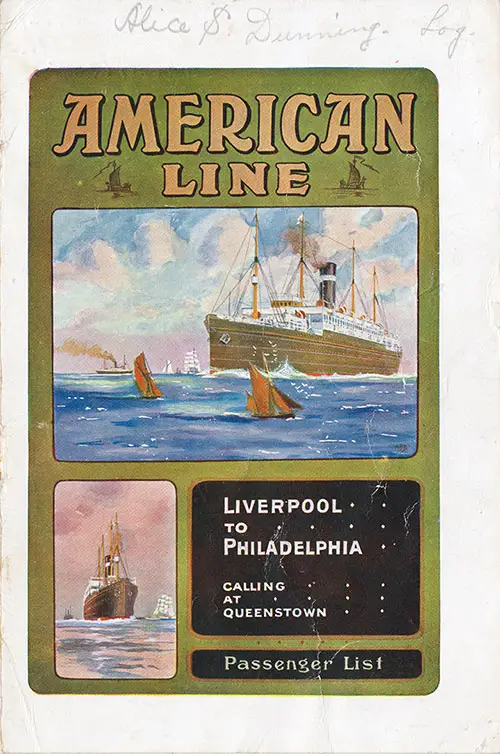 Front Cover of a Cabin Passenger List for the SS Merion of the American Line, Departing Wednesday, 27 August 1913 from Liverpool to Philadelphia, Commanded by Captain J. Beattle Hill. From the Estate of Alice S. Dunning. GGA Image ID # 1fc71899a3
Senior Officers and Staff
Captain: J. Beattie Hill
Surgeon: J. M. Wood, M,B.C.M. (Edinburgh)
Chief Steward: R. F. Connor
List of Passengers
Mr. Rowland Allen
Miss M. Allman
Mr. George Anderman
Mrs. Anderman
Mr. R. M. Anderson
Mrs. Anderson
Mrs. J. M. Ash
Miss Margaret Ash
Mr. P. A. Barba
Mrs. C. Barrow
Miss Iris Barrow
Mr. J. C. Bechtel
Mrs. Bechtel
Miss Annie Beers
Miss C. Beneke
Mr. John Bennett
Mr. M A. Bennett
Miss D. Bennett
Miss G. Benson
Miss F. Bibby
Mr. George F. Bishop
Mrs. George F. Bishop
Miss O. A. Bishop
Miss Mary K. Blaikie
Mr. C. T. Bagby
Mr. J. H. Botwright
Mrs. Botwright
Mrs. Jane Breffitt
MissWinifred M. Breffitt
Miss E. L. Brown
Mr. Benjamin Browne
Miss D. Browning
Miss L. O. Burronghs
Mr. Edward Callison
Mrs. Callison
Mr. Robert Callison
Master Joseph Callison
Master Steward A. Callison
Master Edward S. Callison
Mr. William Cannall
Mr. E. W. Cook
Miss S. J. Cook
Miss Mary L. Cook
Miss M. Cook
Mrs. Elizabeth Cooke
Miss Flora Cooke
Miss Dorothy Cooke
Miss Carrie A. Cooke
Miss Eliz. Coulter
Miss A. L. T. Crawford
Miss E. L. Crawford
Miss S. Davis
Dr. J. K. Dozier
Mrs. Dozier
Mr. John Desmond
Miss Sarah A. Donnelly
Mr. P. C. Donohue
Mr. John B. Downs
Mr. Watson Downs
Mr. H. W. Draper
Miss Anna Dunegan
Miss Grace C. Dunn
Miss Alice S. Dunning
Rev. E. H. Eckels
Mr. E. H. Eckels, Jr.
Mrs. Edward H. Eckels
Miss Elizabeth Eckels
Miss Jane Edmunds
Miss C. Eilenburgh
Miss Susie A. Farr
Miss M. G. Fischer
Miss Dorothy M. Flinn
Miss Lillian M. Flinn
Mrs. A. S. Flowers
Miss Caroline Fogel
Miss J. D. Fout
Mr. H. D. Fruit
Mr. Wesley Gadd
Miss Mary E. Gaston
Mrs. Clara F. Ged and Infant
Miss S. Gerdine
Miss Mary Gerdine
Miss Marion Gerdine
Mr. Harry Goldstone
Mrs. Anna B. Goodman
Mr. A. Green
Mrs. F. Green
Miss A. L. Harkness
Miss Margaret A. Harrison
Miss Sue P. Hartridge
Miss E. Henderson
Mr. J. M. Henry
Miss A. M. Herbert
Miss Alice A. Herr
Mrs. J. Herron
Mrs. Nellie Hickey
Miss Julia A. Hickey
Miss A. Hillman
Miss A. A. Hinkel
Miss M. W. Hoover
Mr. W. D. Horne
Miss Grace Howard
Miss Kate Howson
Miss Harriet Hulley
Miss Louise Hulley
Miss Sarah S. Huston
Mrs. R. C. Hutchison
Miss A. Hyde
Miss C. Jackson
Miss M. F. Jennings
Mrs. A. L. Johnson
Miss M. C. Johnson
Mrs. L. Jordan
Miss S. Jordan
Miss F. JOst
Miss Nettie S. Kaighn
Mr. George F. Kearney
Mrs. J. M. Keeney
Miss A. I. Kern
Mr. W. P. Killen
Mrs. Killen
Miss Sara J. Killen
Miss Maud Knight
Miss F. Larzelere
Miss Bessie Le Gierse
Dr. Frederick Lutz
Mr. Joseph Lutz
Mrs. Amelia Lutz
Miss E. Lutz
Miss Elsie Lutz
Mrs. F. W. Martin
Miss Ellen W. Martien
Mrs. Ella Marson
Miss R. Marson
Dr. M. F. Matthews
Mrs. Matthews
Miss M. Matthews
Mrs. D. M. Matthews
Rev. J. P. McCabe
Mrs. Kate C. McGinnis
Miss B. McMillan
Prof. W. PcPherson
Mrs. McPherson
Master Heston McPherson
Miss Agnes Miller
Dr. Robert C. Moon
Mr. J. P. Mullally
Mrs. J. P. Mullally
Miss Mary S. Musselman
Mrs. L. B. Newman
Mrs. I. Newton
Miss M. Newton
Miss H. G. Nichols
Mr. W. Nicholson
Miss M. Offutt
Mr. John C. Orr
Miss K. S. Outwater
Mrs. A. Pannill
Mr. Robert S. Parker
Mr. Douglas N. Parker
Mr. W. J. Parrish, Jr.
Mrs. S. D. Payne
Miss Ella Lee Pippin
Mr. C. C. Plitt
Dr. E. W. Powell
Mrs. Powell
Miss E. Powell
Dr. Mary Preston
Mrs. S. Price
Miss M. Price
Mr. Harry Reid
Dr. W. Q. Resselle
Mrs. Resselle
Miss M. Resselle
Mr. John Rothwell
Miss Irene B. Sayre
Mr. W. M. Scott
Mr. W. Sensenig
Mr. P. F. Sheppard
Miss Nellie Sheppard
Miss Emma L. Shorey
Miss E. S. Siewright
Miss M. S. Sipple
Miss Mildred D. Small
Miss M. Snyder
Miss Annnie R. Storts
Mr. Oliver Strunk
Mr. William Strunk, Jr.
Mrs. Strunk
Miss Catherine Strunk
Master John Strunk
Mrs. R. Stuart
Miss S. Stuart
Miss M. Switzer
Miss E. Swoope
Miss L. Tate
Mr. S. A. Taylor
Miss M. A. Taylor
Mr. J. J. Vanston
Mrs. Vanston
Master Muller Vanston
Master Rourke Vanston
Miss A. E. Walker
Mr. J. J. Wicker, Jr.
Mr. Sam. Wiener
Mrs. Helen R. Westlake
Miss M. White
Miss M. E. White
Miss Celia C. Whitney
Mrs. Mary Willan
Miss E. Wilson
Dr. Matthew Woods
Dr. W. A. Wray
Miss M. G. Wright
Information for Passengers
Notice.
Landing Arrangements at Philadelphia.
Should The Steamer Arrive at The Philadelphia Wharf After 8:00 pm. Passengers Have The Option of REMMNIRG on Board Overnight and Landing After Breakfast On The Following Morning.
Breakfast at 8:00 am
Lunch at 12:30 pm
Dinner at 6:00 pm and 7:15 pm
Supper at 9 p.m
The Bar closes at it pm Lights are extinguished in the Saloon at 11:00 pm and the Smoking Room at 11:30 pm
Please apply to the Second Steward for Seats at Table .
Inquiries regarding Baggage will be attended to by the Second Steward, to whom all Baggage which Passengers wish to leave in the Company's care should be handed, properly labelled, and with full instructions as to disposal.
Deck Chairs and Steamer Rugs can be obtained for use on the voyage at a charge of 4.s. each. upon application to the Second Steward.
Valuables: The Company will not be responsible for Money, jewellery, and other valuables of Passengers. Passengers are warned not to keep such articles in their staterooms but arerecoMmended to hand same sealed, and marked with the owner's name, to the purser for deposit in his safe, but as no charge is made for carriage, the Company can accept :no responsibility for loss or Vantage however arising.
The Surgeon is authorized to make customary charges, subject, in each case, to the approval of the Commander, for treating any Passengers at their request for any illness not originating on board the:ship. In the case of sickness developed on board, no charge will be made and medicine will be provided free in all circumstances.
The Purser is prepared for the convenience of Passengers to exchange a limited amount of English and American money, and he will allow at the rate of $4.80 to the Li when giving American money lot English currency, Or .41 to $4.95 when giving English for American money.
Persons hoisting Return Certificates should give as eariy notice as possible of the date. upon which they desire to sail from Philadelphia, to the American Line, 3t9, Walnut Street, Philadelphia.
Letters may be addressed to the care of any of the Offices named below. and they will be retained until called for, or forwarded according to instructions. All such letters should bear the address to which they should be sent if not called for.
Travellers Cheques, payable in all parts of Europe, can be purchased at all the principal offices of the American Line.