SS Westernland Passenger List - 11 May 1901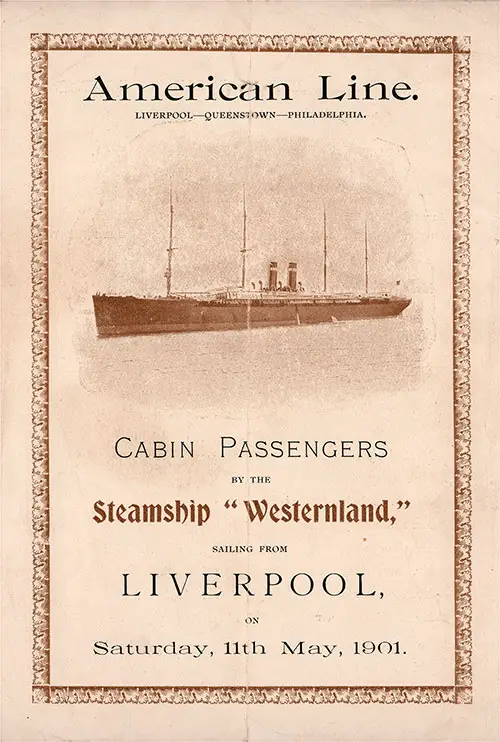 Front Cover of a Cabin Passenger List for the SS Westernland of the American Line, Departing Saturday, 11 May 1901 from Liverpool to Philadelphia via Queenstown (Cobh), Commanded by Captain C. R. Ehoff. GGA Image ID # 158e4e968e. Alamy
Senior Officers and Staff
Captain: C. R. Ehoff
Surgeon: W. S Irwin. M.D
Purser: J Pengelly
Stewardess: Mrs. M. A. Pierce
Stewardess: Mrs. E. Sweeny
Cabin Passengers
Mr. Denis Ahern
Mr. James P. Armitage
Mr. Josiah W. Axford
Miss Carrie Burgum
Mrs. Ann Birkin
Mr. Frederick Beck
Mrs. Beck
Mr. Sidney Berry
Mrs. Berry
Miss Wilhelmina Brumond
Mr. Francis Byrne
Mr. George Bolland
Mr. James Bullock
Mr. F. E. Bradley
Mr. William Barker
Rev. J. Calvert
Mr. Charles Cox
Mr. A. Crompton
Miss Agnes Demont
Miss Nellie Denman
Mr. Dan Daly
Mr. D. Edge
Madamoiselle Emmy
Mr. Daniel Flynn
Miss Maggie Gillis
Mr. Edward Gill
Mrs. Gill and Infant
Master Harold Gill
Miss Mabel Gill
Mr. A. M. Githens
Miss Bridget Harkin
Mrs. Elizabeth Hall
Miss Holly Hall
Miss Edith Haley
Mr. Albert H. Highton
Mr. J. W. Henderson
Mr. John Jacques
Mr. John Johnston
Mr. Vincent O. C. Jiminiez
Mr. G. Jones
Mr. Mordche Knitter
Mrs. Basche Knitter and Infant
Master Jossel Knitter
Miss Violet Long
Miss B. A. Lee
Mrs. Chane Liscrinsky
Master Calel Liscrinsky
Master Jidel Liscrinsky
Master Berl Liscrinsky
Master Abram L. Liscrinsky
Mr. E. I. Lewis
Miss M. H. Martin
Miss S. McMeekan
Mrs. A. W Mallinson and Infant
Master Ernest Mallinson
Mr. George D. Muirhead
Mrs. Muirhead
Miss Mary A. Meath
Mr. Jacob Miller
Mr. Thomas McGough
Mr. Frank L. Mueller
Mr. Isaac N. Newton
Mr. M. Rooney
Mr. Gilbert Ryde
Miss Emily Smith
Miss Sara Somerville
Mr. John Henry Thornton
Mrs. Thornton
Mr. J. Alfred Van Wart
Mrs. Van Wart
Master Donald Van Wart
Mr. Joseph Wood
Mrs. Wood
Master Ernest R. Wood
Miss Laura V. Wood
Miss Mary Walsh
Mr. John Williamson
Mr. Rene Wohlfarth
Mr. Albert Zibelin
Information for Passengers
Breakfast at 8:00 am
Lunch at 12:30 pm
Dinner at 6 p.m
Supper at 9 p.m
The Bar closes at 11:00 pm
Lights are extinguished in the Saloon at 11:00 pm, and in the Smoking Room at 11:30 pm
Please apply to the Second Steward for Seats at Table.
Inquiries regarding Baggage will be attended to by the Second Steward, to whom all Baggage which Passengers wish to leave in the Company's care should be handed, properly labelled, and with full instructions as to disposal.
Steamer Chairs can be obtained for the on the voyage, at a charge of 4s. each, upon application to the Second Steward.
The Company will not be responsible for valuables or money unless given in charge of the Purser, and a receipt for same obtained from him.
Persons holding Return Certificates should give as early notice as possible of the date upon which they desire to sail from Philadelphia, to the International Navigation Company, 305, Walnut Street, Philadelphia.
Letters may be addressed to the care of any of the Offices named below, and the) will be retained until called for, or forwarded according to instructions.