SS New York Passenger List - 2 September 1911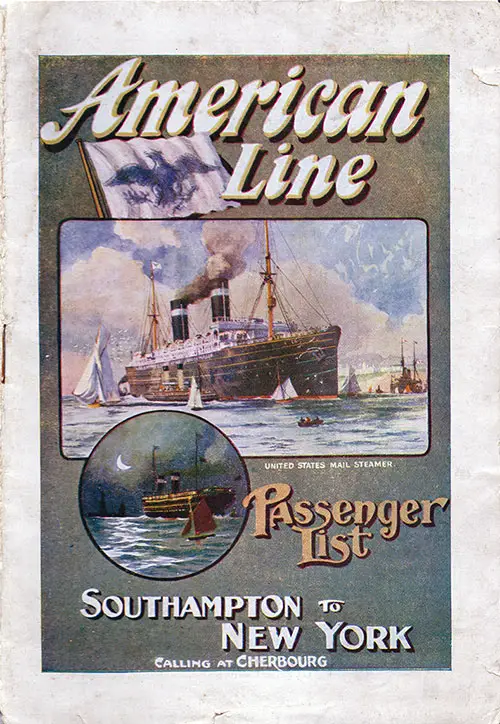 Front Cover of a First Class Passenger List for the SS New York of the American Line, Departing Saturday, 2 September 1911, from Southampton to New York via Cherbourg, Commanded by Captain W. J. Roberts.
Senior Officers and Staff
Captain: W. J. Roberts
Surgeon: William Stump
Purser: G. B. Wild
Chief Steward: J. R. Farrell
First Class Passengers
Mr. B. Adams
Mr. Lee A. Agnew
Miss Ella L. Anthony
Mr. Russel Armstrong
Miss Isabel Arnold
Mr. W. E. Arnott
Mr. H. Arnott
Miss Aylward
Mr. Charles D. Wilier
Mr Barnes
Mr. Willard Bartlett
Mr. J. A. Beall
Mrs. J. A. Beall
Mr. Ragnar Berg
Mr. George Blackburn
Mrs. George Blackburn
Mr. J. A. Bownocker
Mrs. J. A. Bownocker
Mrs. Bray
Mr. George J. Brcwer
Mr. D. D. Brokaw
Mrs. D. D. Brokaw
Mr. D. P. Brokaw
Mr. J. Campbell Brown
Miss M. Bruce
Miss Hilda Bull
Miss Elizabeth Caldwell
Mr. Thomas A. Cantrell
Miss Ella J. Cass
Mr. Arthur H. Cawston
Miss Cora Chapman
Miss C. Chamberlain
Mr. Henry Nye Chart
Miss Florella Clarke
Mrs. James Cool
Mr. E. E. Cooley
Mrs. E. E. Cooley
Mr. E. J. Conrad
Mr Cordier
Miss A. W. Craighead
Miss Mabel Crawley
Miss J. Cumming
Mr. F. L. Curtis
Miss Elsic Earle
Capt. W. H. Ellis
Mrs. Elliott
Miss Elliott
Mr. W. C. Emmet
Mr. McClurc Fahnestock
Miss S. Farr
Mrs. Henry A. Ferguson
Miss Lydia Ferguson
Mr. Joseph Ferigo
Mrs. Joseph Ferigo
Mr. James H. Forsyth
Mrs. Jessie F. Fox
Mr. G. Funk
Mr. Louis D'Angulo
Mrs. Louis D'Angulo
Miss D'Angulo
Mr. H. Maurice Darling
Mr. A..Graeme Darling
Mr-Oscar A. Daube
Mrs. Oscar A. Daube
Miss Bella Daube
Mrs. James H. Davet
Miss F. G. Donaldson
Mr. J. H. Doyle
Mr. Clayton Du Bosque
Mr. Steele Du Bosque
Miss May L. Dyer
Mr. P. M. Gaffeny
Mr. J. M. Gidding
Mr. J. B. Gilbcrt
Mr. William Gleeson
Mr. John Glendinning
Mrs. John Glendinning
Miss M. M. Goodrich
Miss Gertrude Payson Graham
Mr. W. J. H. Gray
Prof. Frederick Green
Mr. Byron Grocc
Mr. F. Guggenheimcr
Miss Elsa Harland
Mr. M. J. Hart
Miss Mary C. Harwood
Mr. A. G. Hawkins
Major Heron
Mr. Paul Heroult
Mr. Harry K. Hickey
Mrs. Edmund P. Hickey
Miss Augusto Hill
Mr. Charles R. Howard
Miss Margaret Hughcs
Miss E. K. Hunt
Mr. Arthur M. Hurlin
Miss H. C. Keyes
Mr. A. M. Kerr
Mrs. E. H. Kicne
Miss Esther Kingston
Mdlle Helen Kingston
Dr. Edward Kirk
Mrs. Edward Kirk and Maid
Miss Marcella C. Kirk
Miss Barbara Kirk
Miss Dorothy Kirk
Miss Carrie M. Kirk
Mr. Hyland Kunns
Miss Emma Idell
Mr. C. T. Isaacs
Mrs. C. T. Isaacs
Mr. Paul Isaacs
Mr. B. Isaacs
Mr. Roy Childs Jones
Miss Adeline Jones
Miss Mabel C. Johnson
Miss E. E. Keating
Mr. Robert N. Keeley
Mastcr B. C. Keeley
Mr Lascaris
Mrs. Lascaris
Mr. Arthur W. Lawrence
Miss Leeming
Mr. Albert Lehman
Mrs. M. B. Lcnlein
Miss T. J. Lc'iy
Mr. Charlton M. Lewis
Mrs. Charlton M. Lewis
Master C. M: Lewis
Miss Grace It Lewis
Miss Penelope Lewis
Mr. H. Loog
Mrs. H. Long
Miss M. Long
Master. Robert Long
Master Harry Long and Governess
Mrs. A. R. Lowth
Miss J. Moriaty
Mr. L. F. Mott
Mrs. L. F. Mott
Mrs. Harry A. Mottier
Miss. Elsie Murray
Mr. Arthur O. McBirney
Mrs. Arthur O. McBirney
Mr. R. M. McDougall
Mr. Walter McDougall
Mrs. Walter McDougall
Mr. James McKisack
Mrs. A. McNally
Mr. P. A. Macdonald
Mrs. Macks
Mr. William H. Mardock
Mr. I. C. Marti
Mrs. I. C. Marti
Mr. W. R. Martin
Mr. John Mason
Mrs. John Mason
Mrs. M. Mengis
Mr. B. Meras
Mrs. B. Meras
Mr. Rodney A. Mercur
Mr. Rodney A. Mercur, Jr.
Mr. Horace B. Menvin
Mr. James Miller
Mr Miller
Mr. G. Nathan
Mis G Nathan
Miss Nathan
Mrs. Susan M. Nill
Miss Marion C. Nill
Mrs. Skeffington Norton
Miss Ester Norton
Miss. Rose Norton
Miss Esthel Norton
Mr. N. Old
Mrs. N. Old
Miss Ellis Oldham
Miss A. M. Olds
Mr. J. F. Page
Mrs. J. F. Page
Miss Edith Page
Master R. Lloyd Page
Miss Breta A. Page
Mrs. Elizabeth Parker
Miss Florence Peard
Mr. Ornando Pedrini
Miss J. E. Perrene
Mr. Milton J. Platt
Mrs. Milton J. Platt
Mr. H Wheeler Powell
Mrs. H. Wheeler Powell
Miss Henrietta Prentiss
Miss Teresa C. Puig
Dr. George E. Savage
Mr. George Schaefer
Mr. Hugo Schaefer
Miss Genevieve Schmitz
Mrs. M. C. Scudder
Mrs. W. S. Sears
Mr. Faira Shidehara
Mr. J. T. Slattery
Mr. Franklin H. Smith
Mrs. Franklin H. Smith
Mrs. De los Smith
Mr. E. Snowden
Mrs. Clar Spooner
Miss C. A. Spooner
Mr. Gustavus Stachlin
Mr. Charles P. Stewart
Mrs. Alice B. Stewart
Mr. Glenn Stuart
Mr. S. Sulgado
Miss Ethel Reynolds
Mrs. Bradbury M. Richardson
Mr. W. Robinson
Mrs. Kate Rolla
Mr. H. A. Salen
Mrs. H. A. Salen and Child
Miss Jessie M. Sandifer
Miss C. A. Sandifer
Miss Helen Taylor
Master Davis Thorns
Mr. A. J. Thomas, Jr.
Mrs. A. J. Thomas, Jr.
Mr. Thomas A. Thompson
Mr. Donald C. Townsend
Mr. Hubert Brereton Tripp
Mr. C. E. Tufts
Miss Josephine C. Vincent
Mr. Charles St Clare Wade
Mr. H. Walther
Mr. James P. Ware
Mrs. James P. Ware
Mr. Laurencc Ware
Miss Helen Ware
Miss M. B. Watts
Mr. Laurence Whitcomb
Mrs. Laurence Whitcomb
Miss L. L. Whitlock
Miss Mabel Wiggins
Dr. Sylvester Wiley
Mrs. Sylvcster Wiley
Miss Belle Willis
Miss Suse Willis
Miss Elsie Winch
Mr. W. A. Winn
Mr. S. C. Wolcott
Mrs. S. C. Wolcott
Mrs. E. L. Woodward
Mr. G. A. Worrall
General Information for First-Class Passengers.
Breakfast from 8:00 until 10:00 am Luncheon, 1:00 pm Dinner, 7:00 pm
The Bar closes at 11:30 pm
Lights are extinguished in the saloon at 11:00 pm, and In the Smoking Room at 12 (midnight).
Please apply to the Second Steward for Seats at Table.
Meals for Children are served separately.
Letters and Telegrams should be handed to the Saloon Steward within an hour atter leaving Southampton, and those for despatch upon reaching port should be handed to him an hour before arrival.
Writing Paper, Envelopes, and Telegraph Forms will be found In the Library.
For Railway and, Steamship Time Tables of the various Companies, apply to the Saloon Steward.
Inquiries regarding Baggage will be attended to by the Baggage Steward, to whom all Baggage which Passengers wish to leave in the Company's care should be handed, properly labelled, and with full instructions as to disposal.
Large Deck Chairs can be obtained for use on the voyage, at a charge of 4/- each, upon application to the Deck Steward. Rugs can also be hired on Board at a charge of 4/-.
The Marconi Wireless Telegraph Service.
Messages are accepted on board for transmission to any part of the world or for dellvery on board passing shlps. The following are the wlreless rates, to which must be added the land llne or cable tolls to points of destination :-
Great Britain and Ireland. Vla Crookhaven, Llzard, Niton, North Foreland, and Caister, 20 cents per word without a mlnimum, address and slgnature counted. Land charges of one cent. per word (minimum 12 cents) additional.
From Ship To Ship. Sixteen cents per word without a minimum, address and slgnature counted.
The names of shore stations and of ships, with which communication is expected durlng the day, are posted every morning in dlfferent parts of the ship.
United States and Canada. For ten words or less, address and signature not counted, Via Sea Gate. N.Y., $2.00; Sagaponack, N.Y., $2.25; Siasconsett, Mass., $3.00; Cape Race, New. foundland, $3.00; Sable Island, N.S. (via Camperdown), $4.00; Cape Sable, N.S. (via Camperdown), $4.0J; South Wellstleet, Mass., $5.00. Each additlonal word, 12c., 13c., 18c., 24c., and 50c., respect. ively. Land charges extra.
The American Line is not responsible for the transmission of messages.
Further information may be obtained by applying to the Purser.
Letters and telegrams may be addressed to the care of any of the Company's Offices, where they will be held untll balled for, or forwarded, according to Instructions. The latest edltions of the leading American and Engllsh papers are kept on file at the Company's new West End Offices, No. 1, Cockspur Street, London, where Passengers' baggage wlll also be recelved and stored lf requlred.
For the convenience of Passengers the Purser is prepared to exchange a limited amount of Engllsh and Amerlcan money, at the rate of $4.80 to the pound when glving Amerlcan money for Engllsh currency, or per $4.95 when glving Engllsh money for American currency.
The following rates of exchange have also been adopted for American and French money :Eastbound, $ 1=5 francs; Westbound, notes and gold=19 cents per franc, silver=18 cents per franc.
The Surgeon ls authorized to make customary charges, subject in each case to the approval of the Commander, for treating Passengers at their request for any illness not originating on board the Ship . In the case of sickness developed on board no charge wlll be made, and medlcine wlll be prove ed free in all circumstances.
Should the Steamer arrive at the New York Wharf after 8:00 pm, Passengers may land lf they wish to do so, and have their baggage passed by the Customs authorlties immediately onarrival, but those who prefer to remain on board may do so, and have the whole of theirs baggage passed the followlng morning not earlier than 7 o'clock.
Breakfast will be served to those who remain on board over night.
Valuables. The Amerlcan Line has provided a Safe in the office of the Purser in which Passengers may deposit Money, Jewels, or Ornaments for safe keeping. The Company wlll not be liable to Passengers for the loss of money, jewels, or ornaments, by theft or otherwise, not so deposited.
Insurance of Baggage, Etc. Arrangements have been made whereby Passengers can have their baggage insured against loss by sea or land, including risk of fire, breakage. theft or pilferage, from the time the baggage is received by the American Line until delivery at destination. Other risks can also be insured against.
The Company strongly recommend Passengers to insure their packages whenever practlcable, as in the event of loss or damage to baggage the American Line cannot under any circumstances accept any liability beyond the amount specified on their steamer contract ticket.
Travellers' Cheques, payable in all parts of Europe, can be purchased at all the principal offices of the Amerlcan Line., These Cheques are accepted on board American Line Steamers in payment of accounts. but the Pursers do not carry funds to enable them to cash same.
For Additions and Alterations see back.
Public Telephones With Booths and Operator On Our New York Piers.