SS Haverford Passenger List - 11 November 1908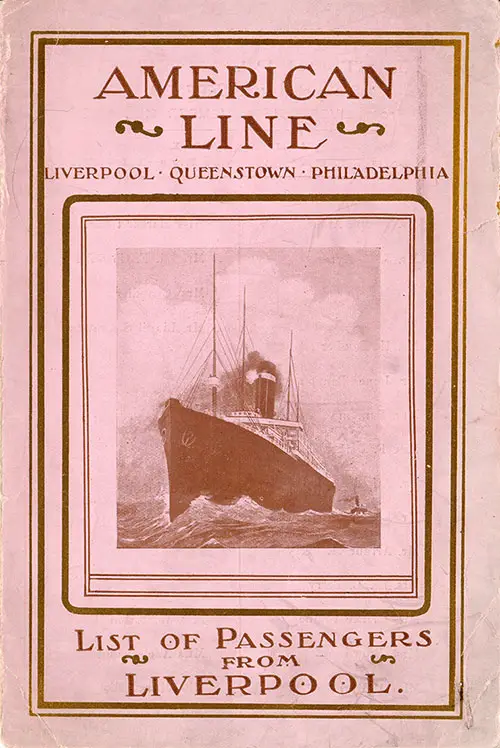 Front Cover of a Cabin Passenger List for the SS Haverford of the American Line, Departing 11 November 1908 from Liverpool to New York via Queenstown (Cobh), Commanded by Captain Enoch Maddox. The Ship Arrived in New York on 25 November 1908 (Morton Allan Directory).
Senior Officers and Staff
Captain: Enoch Maddox
Surgeon: G. H. Gill
Chief Steward: B. J. Priest
List of Passengers
Mr. Joseph Arch
Mr. J. G. Ayres
Mr. H. Bamber
Mr. James Bannon
Mrs. Bannon
Mrs. F. Barker
Mr. Alfred Bayley
Mr. E Berborn
Mr. Arthur H. Berry
Mrs. W. L. Berry
Miss C. Lee Braine
Mrs. Brown
Miss A. Byrne
Miss Margaret Carr
Mr. Ed. E. Chandler
Mrs. Chandler
Mr. Lionel S. Craven
Mr. Richard Davies
Mrs. Davies and Infant
Miss Florence B. Davies
Mrs. W. B. Elliot
Miss Adele Elliot
Miss Myra Elliot
Mr. George F. Ephgrave
Miss Rebecca D. Ernst
Miss Caroline Field
Miss Hilda M. Flueck
Mr. Wm. H. Fryatt
Mrs. F. A. Garrett
Mrs. H. Gill
Mr. Henry N. Gillespie
Miss Florence Godfrey
Miss A. W. Graham
Miss Irvine Gruff
Mr. John C. Gunn
Mr. Chas. D. Habliston
Mrs. Habliston
Mrs. C. H. Hill
Miss Gladys Hill
Mrs. J. M. Hillyar
Mr. H. H. Hitt
Mr. Tracey W. Holland
Mrs. Holland
Mr. Henry E. Jenkins
Mrs. G. Kearney
Miss Isabel Kearney
Miss Gertrude Kearney
Miss Janet Kearney
Miss Marie K Kennedy
Mr. Wm. Kimber
Mrs. Kimber
Master Kimber
Miss Ethel Kimber
Miss Harriet R. Krause
Mr. Benjamin Lees
Mr. Donald Lightbourne
Mr. Ellis Lund
Mr. R. P. Lundbek
Miss Isabel D. Macdonald
Miss Manley
Mrs. J. H. McAllister
Mr. Julian McCarthy
Mrs. Chas. McCue
Mrs. M. McGlade
Mr. George McNulty
Mr. Frank Mealin
Mrs. Mealin
Miss Minnie Mealin
Mrs. Metcalf
Miss Metcalf
Mr. Henry U. Michie
Mr. Telford H. Moss
Miss J. Parke
Mr. Houston H. Parsons
Mrs. M. J. Penhollow
Mrs. M. Percelle
Mrs. S. J. Price
Mrs. E. H. Randle
Master Wm, D. Reagan
Miss N. M. Rennyson
Miss Mary E. Rice
Mrs. Ida Ridgely
Miss Alice L. Seal
Mr. R. L. Sealby
Miss Ada M. Thompson
Miss Frances Thornton
Mrs. Tyson
Miss Louise Virtue
Mr. Edward M. Wakefield
Mrs. Wakefield
Miss Cora Wheeland
Mrs. Willard
Miss Cath. L. Willard
Mrs. G. E. Winslow
Mrs. S. Winterbottom
Miss Ada Winterbottom
Mr. T. Howard Worth
Miss E. Daisy Worth
Notice: Landing Arrangements at Philadelphia
Should the steamer arrive at the Philadelphia wharf after 8:00 pm, Passengers have the option of remaining on board overnight and landing after breakfast on the following morning.
Reporting in Philadelphia.
The life of a newspaperman, like that of the policeman, is not always a happy one, as was shown a day or two ago when the American Line, steamship Haverford docked off Washington Avenue wharf. The vessel docked at 8 o'clock in the evening to permit the cabin Passengers to land. A certain reporter was assigned to get the news of the ship's voyage.
Following the aggressiveness of his profession, the reporter went aboard the vessel. While he was seeking interviews, the ship was taken out to mid-stream in order that the customs and immigration officers could have their inspections in daylight and that nome of the steerage Passengers could get ashore.
When the reporter was through with his work, he found himself a long way from the dock. He went in search of the Captain, but that officer refused to put him ashore, saying he did not believe the story and suggested to put the newsgatherer in Irons as a stowaway. He was kept on board until the next morning when the United States Inspector recognized him, and he was released. He is now wondering if the Captain did not play a joke on him in this detention.
Philadelphia Times