SS Noordland - History, Accommodations, & Ephemera Collection
All Digitized Ephemera for the SS Noordland available at the GG Archives. Common items of ephemera in our maritime collection include passenger lists, brochures, event and entertainment programs, and other memorabilia produced for a voyage or ship.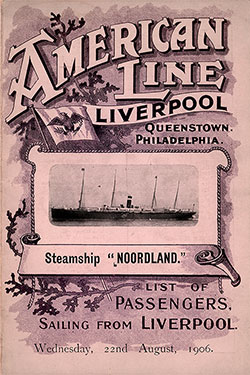 1906-08-22 SS Noordland Passenger List
Steamship Line: American Line
Class of Passengers: Not Stated
Date of Departure: 22 August 1906
Route: Liverpool to Philadelphia
Commander: Captain Thomas Deans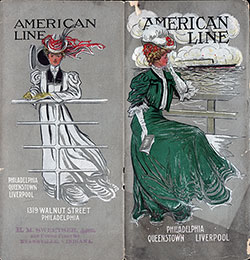 American Line Philadelphia - Queenstown - Liverpool Service - 1907
American Line has specially arranged to accommodate those passengers who want good food and service, moderate speed and to have the best accommodation the steamers afford at a reasonable cost. Ships Covered: Friesland, Haverford, Merion, Noordland, and Westernland.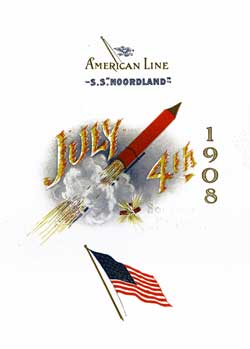 1908-07-04 SS Noordland Independence Day Dinner Menu
This rare fourth of July Bill of Fare from the SS Noordland of the American Line featured Broiled Chicken. Maryland Style and Petits Fillets Mignonne's. The complete lyrics of the Star Spangled Banner were printed on the bask side of the menu.
Ephemera contained in the GG Archives collection represent the souvenirs provided to the passengers of each voyage. Many of these souvenir ephemeral items have disappeared over the years.
Our selection varies considerably by ship, and likely contains only a sampling of what was originally produced and printed by the steamship lines.
Bookmark pages you're researching and check back periodically for additions as we continue to digitize our extensive ephemera materials.