SS Noordland Archival Collection
Noordland (1884) Red Star Line
Built by Laird Bros., Ltd., Birkenhead, England. Tonnage: 5,129. Dimensions: 400'x 47'. Single-screw, 13 1/2 knots. 2,500 I.H.P. Compound engines. Four masts and one funnel. Service: Antwerp-New York. Transferred to American Line's Liverpool-Philadelphia service in 1901. Fate: Scrapped in 1908.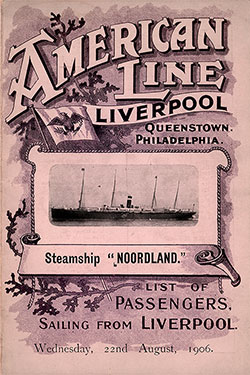 1906-08-22 SS Noordland Passenger List
Steamship Line: American Line
Class of Passengers: Not Stated
Date of Departure: 22 August 1906
Route: Liverpool to Philadelphia
Commander: Captain Thomas Deans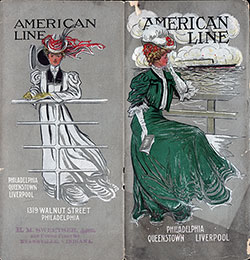 American Line Philadelphia - Queenstown - Liverpool Service - 1907
American Line has specially arranged to accommodate those passengers who want good food and service, moderate speed and to have the best accommodation the steamers afford at a reasonable cost. Ships Covered: Friesland, Haverford, Merion, Noordland, and Westernland.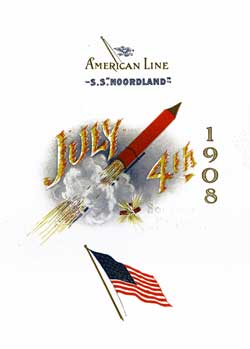 1908-07-04 SS Noordland Independence Day Dinner Menu
This rare fourth of July Bill of Fare from the SS Noordland of the American Line featured Broiled Chicken. Maryland Style and Petits Fillets Mignonne's. The complete lyrics of the Star Spangled Banner were printed on the bask side of the menu.