MS Northern Prince Collection
Ephemera for the MS Northern Prince are available at the GG Archives, including Passenger Lists, Menus, Brochures, Event Programs, and more.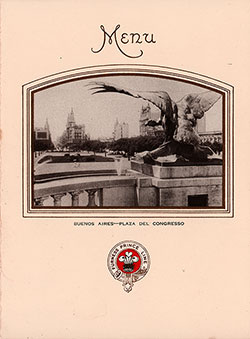 1939-09-05 MS Northern Prince Children's Party Menu
Vintage Children's Party Menu from 5 September 1939 on board the MS Northern Prince of the Furness Prince Line featured Little Chicken Sandwiches, Strawberry Blanc Mange, and Assorted Pastries for Dessert.
Four new motorships, the "Northern Prince," "Eastern Prince," "Southern Prince," and "Western Prince," inaugurate a new era in South American travel! Regular passenger service now in effect from New York to Rio de Janeiro, Santos, Montevideo, and Buenos Aires. The last word in speed, travel luxury, and safety. -- Furness Prince Line - Prince Line Service has been continuous between New York and South America for 35 years. - July 1929 Advertisement.