SS Haverford Passenger List - 7 October 1903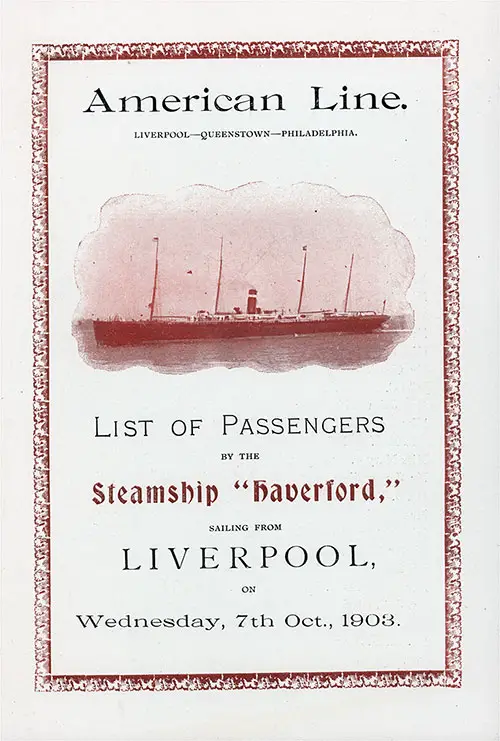 Front Cover of a Cabin Class Passenger List from the SS Haverford of the American Line, Departing 7 October 1903 from Liverpool to Philadelphia via Queenstown (Cobh), Commanded by Captain H. O. Neilsen. GGA Image ID # 1631d236d0
Senior Officers and Staff
Commander: Captain H. O. Neilsen
Surgeon: Herbert Child  
Purser: R. Gronan
Stewardess: Mrs. Sweenie
Stewardess: Mrs. McIlhargy
Stewardess: Mrs. Nolan
Cabin Class Passengers
Miss Emma Allsop
Mrs. E. B. Adams
Miss E. B. Adams
Miss E. P. Aertsen
Miss A. F. Aertsen
Miss Alice Baker
Mrs. A. S. Brown
Miss Lillonet Brown
Mr. Charles Booth
Miss C. Bramwell
Mrs. John Bridge
Miss Mamie Bridge
Mrs. E. J. Bell
Miss Mary J. Buffington
Mr. James Birney
Mr. J. B. Booth
Mrs. Booth
Miss Marguerite Booth
Master William Booth
Master Thomas Booth
Mrs. Margaret L. Birch
Mr. J. S. Clark
Miss Elizabeth Cottam
Mr. David S. Craven
Mrs. Craven
Miss J. R Cohalan
Miss Margaret Campbell
Mrs. Mary Cullingford
Miss M. L. Culver
Mr. W. J. Collins
Mr. W. J. Collins, Jr.
Miss Margaret Clarke
Miss Dale
Miss Elizabeth Eddy
Mrs. Martha Eastwood
Miss Louie Eastwood
Mrs. Kate E. Ellis
Miss Sadie Fawcett
Miss Delia Flannery
Miss Mary Faldon
Miss Katharine Ferris
Mr. Kennedy T. Friend
Miss Fanny Francis
Miss Margaret Fleming
Mr. J. Greenfield
Mrs. Greenfield
Mrs. W. W. Gwathney
Miss Agnes Galt
Mrs. William Grocott
Mrs. A. E. P. Herendeen
Miss Isabell Howe
Mrs. Annie Horsfield
Mrs. Iva Hiestan
Dr. J. Henry Hinchcliffe
Mr. George H. Horsfield
Miss Sara Hillman
Miss Martha Irving
Mrs. Annie Johnson
Miss Isabel Johnson
Miss Elsie May Johnson
Miss Edna M. Johnson
Miss Lizzie Jarvis
Mr. James Johnson
Dr. Charles D. Isenberg
Mrs. Isenberg
Mrs. Kinney
Miss A. C. Kelton
Miss A. C. Koerper
Mrs. Knowles
Mr. R. J. Lamb
Mrs. Lamb
Mr. C. W. Lettice
Mrs. Lettice
Mrs. G. W. Loomer
Miss Annie Lancaster
Mr. Thomas F. Manderfield
Mr. Charles Manderfield
Mrs. Margaret Manderfield
Miss Emily V. Manderfield
Miss K. L. Marston
Miss A. Mollett
Miss Mary Mayne
Miss Annie Marlor
Kev. John T. Matthews
Miss Kate Mulreany
Mrs, Georgiana Maily
Master Emory Maily
Miss Lizzie Magee
Miss Miller
Miss Sarah J. Nelson
Miss Anne Nelson
Miss O'Hea
Miss L. Ogden
Miss Elizabeth Owen
Miss Letitia Pick
Mrs. Beatrice Quinlan
Master Thomas Quinlan
Mr. Otto Quast
Mr. Charles Ricardo
Miss Annie Rothwell
Miss Fanny Robinson
Miss Evie Randolph
Mr. Charles Rousse
Mrs. Charles Rousse
Miss Harriet Rodgers
Miss Bell Rodgers
Miss Mary Rigby
Miss Ada Raclcliffe
Miss A. Rocke
Dr. J. Schneck
Mrs. Schneck
Mrs. Murray Shipley
Master Frank Seymour
Mrs. Smallwood
Miss May Simmons
Mr. William Schofield
Mrs. Mary Seymour and Infant
Mrs. P. F. Slaymaker
Miss K. C. Taylor
Miss Mary L. Taylor
Miss Laura Thompson
Miss Edith Wooldridge
 Miss Mary A. Walsh
Miss Florence Warburton
Dr. Clarence Wright
Miss Margaret A. Wood
Mr. Albert M. Warren
Mrs. Warren
Miss Katherine D. White
Information for Passengers
BREAKFAST at 8 a.m.
LUNCH at 12-30 p.m.
DINNER at 6 p.m.       
SUPPER at 9 p.m.
The Bar closes at 11 p.m.
LIGHTS are extinguished in the Saloon at II p.m., and in the Smoking Room at 11-30 p.m.
Please apply to the Second Steward for Seats at Table.
Inquiries regarding Baggage will be attended to by the Second Steward, to whom all Baggage which Passengers wish to leave in the Company's care should be handed, properly labelled, and with full instructions as to disposal.
Steamer Chairs can be obtained for use on the voyage, at a charge of 4s. each, upon application to the Second Steward.
The Company will not be responsible for valuables or money unless given in charge of the Purser, and a receipt for same obtained from him.
Persons holding Return Certificates should give as early notice as possible of the date upon which they desire to sail from Philadelphia, to the International Mercantile Marine Company, 305 & 307, Walnut Street, Philadelphia.
Letters may be addressed to the care of any of the Offices named below, and they will be retained until called for, or forwarded according to instructions. All such letters should bear the address to which they should be sent if not called for.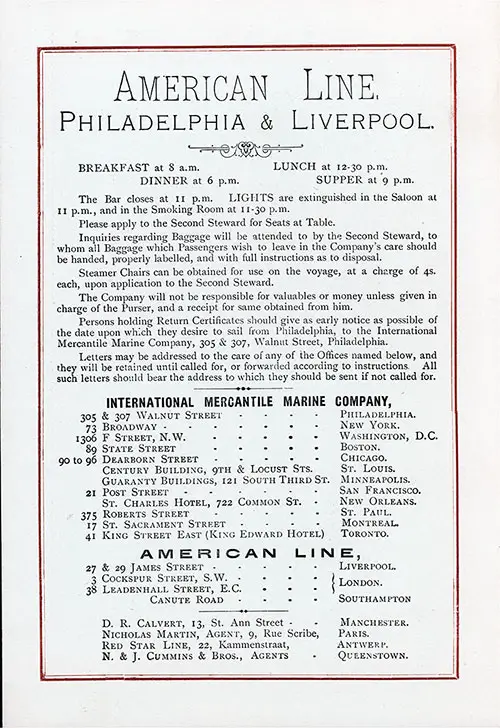 Back Cover, American Line SS Haverford Cabin Class Passenger List - 7 October 1903. GGA Image ID # 16324c115f