SS Philadelphia Passenger List - 10 August 1907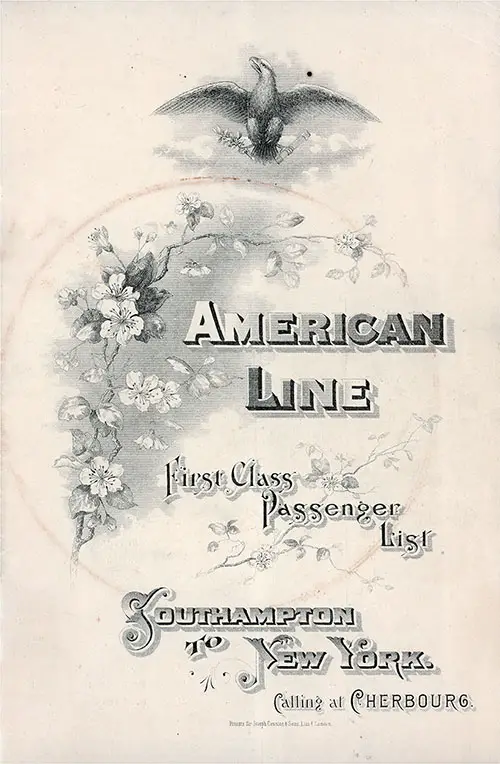 Front Cover of a First Class Passenger List from the SS Philadelphia of the American Line, Departing Saturday, 10 August 1907 from Southampton to New York via Cherbourg, Commanded by Captain A. R. Mills. GGA Image ID # 15909ab173
Senior Officers and Staff
Captain: A. R. Mills
Purser: H. E. Hinsley
Surgeon: W. R. Henderson
Chief Steward: George Bell
First Class Passengers
Mrs. R. de Acosta
Miss Ada de Acosta
Miss Maria de Acosta and maid
Mr Henry de Acosta
Mr L. D. Armstrong
Mr Chas. E. Barnes
Mrs. Chas. E. Barnes
Miss Kate Bevier
Mrs. P. Boyle
Miss Margaret Boyle
Mr Joseph Hill Brinton
Mrs. Joseph Hill Brinton
Mr Joseph Brooks
Mrs. Joseph Brooks
Miss Louisa D. Brown
Miss Clara Brown
Mr Rowland Buckstone
Mrs. A. N. Burke
Hon. W. M. Calder
Mrs. W. M. Calder
Miss Eidith Campbell
Mr Carlos Carbo-Viteri
Mrs. Carbo-Viteri, infant and maid
Miss Marie Carbo
Master Carlos Carbo
Master Francisco Carbo
Mr Harry Ludlow Cooke
Mrs. A. H. Dammann
Mr R. C. Davenport
Miss Isabel Davis
Mr Robert Vernon Davis
Mr Foster Debevoise
Mrs. Foster Debevoise
Miss Emma De Bow
Mr James Benjamin Devine
Mrs. James Benjamin Devine
Miss Mabel Dickerson
Rev. John B. Dinan
Miss Emily Dinan
Miss L. E. Dudley
Miss Elsie Duncan
Dr H. Manning Fish
Mr Theo. Fishel
Mr P. A. S. Franklin
Mrs. P. A. S. Franklin
Mr James George
Mrs. James George
Mr Ralph W. George
Mr E. C. Carew Gibson
Mrs. E. C. Carew Gibson, infant and maid
Mr Wm. Gould
Mrs. A. Hamilton
Miss J. C. Hebert
Miss D. P. Hebert
Mr S. C. Hetherington
Miss Florence Hickman
Mr J. F. Hillary
Mr G. Hockmeyer
Mrs. G. Hockmeyer
Miss Emily Holden
Mrs. P. A. Holmes
Miss Edna Wallace Hooper and maid
Mr Robt. S. Hughes
Mr Chester Ide
Mrs. Chester Ide
Mr F. A. Jeanne
Mr Chas. Josslyn
Mrs. Chas. Josslyn and maid
Miss Marjorie Josslyn
Miss Gertrude Josslyn
Miss Myra Josslyn
Miss Alary Josslyn
Mr E. L. Judkins
Mrs. E. L. Judkins
Miss Phoebe Judkins
Mr Vernon L. Kellogg
Mr Wynn Kerl
Mr Otto Klives
Mrs. Otto Klives
Mr Wm. Koehler
Mrs. Wm. Koehler
Miss Henrietta Kollock
Mr Edwin Landis
Mr M. B. Leavitt
Mr M. Lissberger
Mr J. Hairy Lyons
Mrs. J. Harry Lyons
Miss Florence Mable
Mr Wm. J. Mataon
Miss I. B. McCullough
Mrs. R. D. MacDuffie
Master F. M. MacDuffie
Master John MacDuffie and governess
Mr R. R. Meigs
Mr Henry Miller, Sr.
Mr Henry Miller, Jr.
Mr Hugh Minturn
Rev F. E. Mortimer
Mrs. Mary Muldoon
Rev Bishop Neely
Mrs. Elizabeth Neely
Miss Ingeborg Nordby
Hon Morgan J. O'Brien
Mrs. Morgan J. O'Brien
Miss Rosalie O'Brien
Miss Madeleine O'Brien
Mr B. V. O'Reilly
Mr B. J. O'Reilly
Capt. S. Bartley Pearce
Miss L. C. Pettingell
Mr F. R. A. Pingree
Mrs. F. R. A. Pingree
Mr Nelson W. Place
Mrs. Nelson W. Place
Master Norris Place
Mr H. J. Plum
Mrs. H. J. Plum
Mr C. M. Porter
Mr Rockhill B. Potts
Mrs. Rockhill B. Potts
Miss C. Ray
Mr Albert Ruppuhn
Mrs. E. F. Sage
Mr Norbert Salter
Mr G. H. Schuler
Miss Eliza R. Scidmore
Mr M. S. Sears
Mr E. L. Seery
Mr Chas. Hy. C. Sergei
Mr Charles J. Shoemaker
Mr Julien Shoemaker
Mr Chas. St. George Sinkler
Mrs. Chas. St. George Sinkler
Miss Emily Wharton Sinkler
Miss Caroline Sidney Sinkler
Mrs. Edward Smith
Mr Webster W. Stetson
Mr George A. Stitt
Miss V. Suvatt
Mrs. Taylor
Mr Harry Taylor
Mrs. Helen Tenbrœck
Mr C. II. Wagener
Miss E. A. Wallace
Mr C. Weiss
Mrs. C.Weiss
Mr R. E. Wigham
Mr L. S. Willard
Miss M. Williams
Mr J. L. Wilson, Jr.
Mr Charles C. Wright
Information for Passengers
BREAKFAST from 8- until 10:00 am
LUNCHEON, 1:00 pm
DINNER, 7:00 pm
The Bar closes at 11:00 pm LIGHTS are extinguished in the Saloon at 11:00 pm. and in the Smoking Room at 12 (midnight).
Please apply to the Second Steward for Seats at Table.
Meals for children are served separately.
Letters and Telegrams should be handed to the Saloon Steward within an hour after leaving Southampton, and those for despatch upon reaching port should be handed to him an hour before arrival.
Writing Paper, Envelopes, and Telegraph Forms will be found in the Library.
For Railway and Steamship Time Tables of the various Companies, apply to the Saloon Steward.
Inquiries regarding Baggage will be attended to by the Baggage Steward, to whom all Baggage which Passengers wish to leave in the Company's care should be handed, properly labelled, and with full instructions as to disposal.
Large Deck Chairs can be obtained for use on the voyage, at a charge of 4/- each, upon application to the Deck Steward.
These steamers are fitted with the Marconi Wireless Telegraph Apparatus.
The rates that are charged are —from Ship to Marconi Stations, sixpence per word; from Ship to passing steamers and thence to either Station, and vice versa, sixpence per word.
The minimum charge for messages to or from any Telegraph Office in the United Kingdom is 6/6.
Letters and telegrams may be addressed to the care of any of the Company's Offices, where they will be held until called for, or forwarded, according to instructions. The latest edition of the leading American and english papers are kept on file at the Company's new West end Offices, No. I, Cockspur street, London, where Passengers' baggage will also be received and stored if required.
For the convenience of Passengers the Purser is prepared to exchange a limited amount of English and American money, at the rate of $4.80 to the pound when giving American money for English currency, or £1 per $4.95 when giving English money for American currency.
No charge is made for medical attendance in case of sickness on board, medicines also being provided free of charge; but the usual fees, subject to the Commander's approval, are expected by the ships physicians from travelers who submit themselves for treatment for maladies not contracted during the voyage.
In case of the Steamers arrival alongside the Pier at New York after 8:00 pm, any passengers who so desires can remain on board until the following morning, but passengers desiring to do so are requested to give notice of their intention.
VALUABLES. The Company will not be responsible for money, jewelry, end other valuables of passengers. Passengers are advised not to leave valuables in their stateroom, but are recommended to hand same sealed, and marked with the owner's name, to the Purser for deposit In his safe, but as no charge is made for carriage, the Company can accept no responsibility for loss or damage, however arising, but passengers can protect themselves by Insurance, which can be effected by the Purser.
INSURANCE OF BAGGAGE, &c. Arrangements have been made whereby passengeis can have their baggage insured against loss by sea or land, including risk of fire, breakage, theft or pilferage, from the time the baggage is received by the American Line until delivery at destination. Other risks, can also be insured against.
The Company strongly recommend passengers to insure their packages whenever practicable, as in the event of loss or damage to baggage the American Line cannot under any circumstances accept any liability beyond the amount specified on their steamer contract ticket.