SS St. Paul Passenger List - 9 November 1907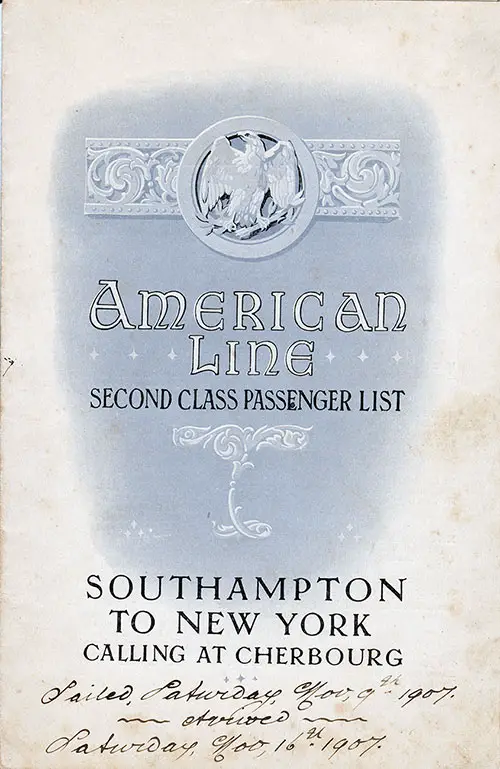 Front Cover of a Second Class Passenger List for the SS St. Paul of the American Line, Departing Saturday, 9 November 1907 from Southampton to New York via Cherbourg, Commanded by Captain F. M. Passow.
Senior Officers and Staff
Captain: F. M. Passow
Purser: Thomas Kinsey
Surgeon: H. G. Geissinger
Chief Steward: William Reen
Second Class Passengers
(For Additions and Alterations see back. )
Mr. Robert Anderegg
Miss A. J. Aboarot
Mr. F. E. Balladur (Not On Board - See Errata)
Mr. Arthur John Bride
Mr. Thos. F. Bell
Miss Naeomi Bjorklund
Mr. Angelo Calvetti
Miss Edith A. Convery
Mr. William Copping
Mrs. Francis Mary Dawe and Infant (Frances Dawe)
Mr. John Doroska
Mr. Max. Epstein
Mrs. Elizabeth Emberson
Mrs. F. Godwin (Annie Elisabeth Godwin)
Master John Frederick Godwin
Mrs. Alice Gill
Master Richard Gill
Mr. Harry Grant
Mr. William James Heather
Mr. Chas. C. Kloth
Mrs. L. Kain
Miss Adelle Kain
Mr. Kuie Luks
Miss H. Lanham (Not On Board - See Errata)
Mr. G. G. Megrin
Mr. M. P. Nucossovich (Not On Board - See Errata)
Mr. H. P. Narrick (Not On Board - See Errata)
Mrs. Mary Numayer
Master John Numayer
Mr. George Nicholson
Mr. J. Conradd Ott
Mrs. Sarah Pennells
Mr. Edmund Privat
Mr. John Sydney Pryor
Mr. Frank Rogers
Mr. William Rogers
Mr. Jacob Schultz
Mr. William Steele
Miss Emma Senhauser
Mr. William Smith
Mr. Isaac Suvalksky
Master Nathan Stirman
Mr. John Henry Smith
Mr. Ercole Tomasi (Not On Board - See Errata)
Mr. Gustaf Wiggins
Mrs. Gustaf Wiggins
Miss Elsie Wiggins
Mr. Robert Hendersen Warne
Mrs. Emily Wilkinson
Miss Mary Wilkinson
Mrs. Louisa Wells
Second Class—Additional.
Captain J. Johannesen
Mr. Johs Gjimre
Master Girh Clausen
Mr. Jacob Rivlin
Mr. Oswald Smith
Mr. Mchae Riste
Mrs. Fany Riste
Mr. P. Lagges
Mr. S. Moutsatsos
Mr. G. Rouman
Mr. T. Poulos
Mr. Antonio Murer
Mrs. Marie Murer
Mr. Angelo Murer
Mr. Emilo Murer
Miss J Jordon
Miss T Pavelic
Mr. S Lagges
Mr. J Colter
Mr. David Maroni
Mr. Franz Anton Rusch
Mr. Jakob Sanderegger
Mr. Duncan Stewart
Mr. Alors Berchtold
Mr. Alfred Enz
Mrs. A Dalfabbes
Miss C Dalfabbes
Mrs. E Chemin
Mdlle M Azpiazu
Mr. Ronco Luigi
Mr. J Maldocke
Mr. W Razzook
Mrs. Razzook
Master Razzook
Mr. J Zitter
Not on Board.
Mr. F E Ballandur
Mr. M P Nucossovich
Mr. H. P. Narrick
Miss H Lanham
Mr. Ercole Tomasi