SS Westernland Collection
Ephemera for the SS Westernland are available at the GG Archives, including Passenger Lists, Menus, Brochures, Event Programs, and more.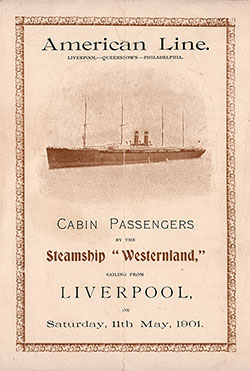 1901-05-11 SS Westernland Passenger List
Steamship Line: American Line
Class of Passengers: Cabin
Date of Departure: 11 May 1901
Route: Liverpool to Philadelphia via Queenstown (Cobh)
Commander: Captain C. R. Ehoff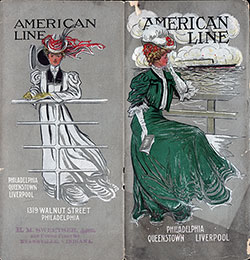 American Line Philadelphia - Queenstown - Liverpool Service - 1907
American Line has specially arranged to accommodate those passengers who want good food and service, moderate speed and to have the best accommodation the steamers afford at a reasonable cost. Ships Covered: Friesland, Haverford, Merion, Noordland, and Westernland.