SS Walmer Castle Archival Collection
Ephemera for the SS Walmer Castle available may include Passenger Lists, Menus, Brochures, Sailing Schedules, Route Maps, Photographs, and more.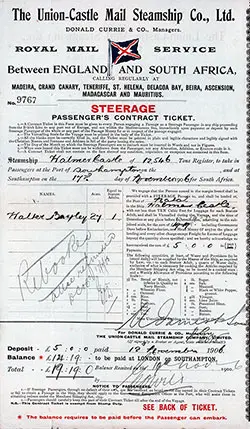 SS Halmer Castle Passage Contract - 17 November 1906
Extraordinary original Steerage Passenger's Contract Ticket for a 27 year old man from Southampton, England for passage on the RMS Walmer Castle to Natal, South Africa in 1906. It provides rich details of the requirements of the steamship company in terms of food, water and other items supplied during the journey.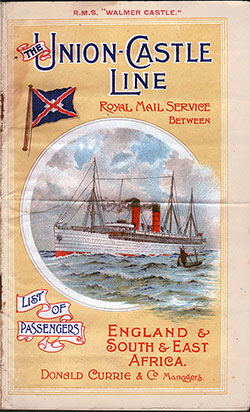 1911-07-15 RMS Walmer Castle Passenger List
Steamship Line: Union-Castle Line
Class of Passengers: First and Second Class
Date of Departure: 4 November 1927
Route: Southampton for Capetown via Madeira, Algoa Bay, East London, and Natal
Commander: Captain F. Whitehead, R.N.R.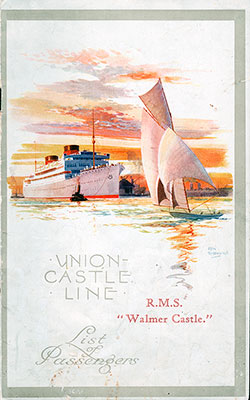 1929-11-29 RMS Walmer Castle Passenger List
Steamship Line: Union-Castle Line
Class of Passengers: Cabin
Date of Departure: 29 November 1929
Route: Capetown to Southampton via Madeira
Commander: Captain W. Morton Betts