SS Yorkshire Archival Collection
Ephemera for the SS Yorkshire available may include Passenger Lists, Menus, Brochures, Sailing Schedules, Route Maps, Photographs, and more.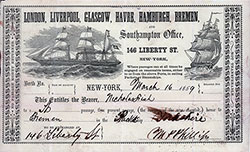 SS Yorkshire Passage Contract - 16 March 1859
Nicholas Fish used this well-preserved 1859 Ticket for Passage on the Black Ball Line Packet Ship Yorkshire. he was a famous American (1846-1902) from a distinguished American family.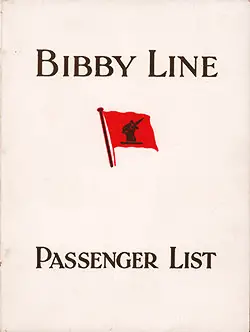 1936-01-31 SS Yorkshire Passenger List
Steamship Line: Bibby Line
Class of Passengers: Cabin Class
Date of Departure: 31 January 1936
Route: Liverpool to Rangoon via Gibraltar, Marseilles, Port Said, Port Sudan, and Colombo
Commander: Captain F. W. L. Midgley
Yorkshire, New Bibby Liner Built by Harland & Wolff
The large, twin-screw passenger steamer Yorkshire, built for the Bibby line by Harland & Wolff, Ltd., Belfast, Ireland, has sailed after running successful trials in Belfast Lough. Her principal dimensions arc : Length, 504 feet ; breadth, 58 feet, and depth, 35 feet, with a gross tonnage of 10,500.
The Yorkshire has a double bottom extending fore and aft with eight watertight bulkheads to the awning deck, dividing the ship into nine watertight compartments. She will carry over 300 first class passengers. Staterooms are arranged on the tandem principle giving daylight and fresh air to all rooms.
The new steamer is equipped with a complete electrical installation. The main generators are situated in the engine room and consist of enclosed forced lubrication engines driving dynamos of the multipolar type. Each dynamo has an output of 55 kilowatts. An additional dynamo driven by an oil engine is installed aft well above the water line, from which the lighting, wireless telegraphy, signal lanterns, pumping appliances, steering gear and watertight doors can be operated if necessary.
Harland & Wolff's latest type of electrically operated watertight doors arc installed and can be closed from the captain's bridge, indicators being provided to enable the captain to see at any time the exact position of the doors.
The Yorkshire is propelled by twin screws driven by two sets of geared turbines, each set having a high and low pressure turbine, the power being transmitted to the propeller shafting through double helical teeth gearing. The condensers are of the latest design, having independent air and circulating pumps. Steam is supplied by four cylindrical boilers which can be fired with coal or oil fuel as may be desired.
-- The Marine Review, November 1920, p. 595.
Brief History of the Packet Ship Yorkshire
Built in New York by William H. Webb in 1843, it was listed at 996 tons, 167 feet in length 36 1/2 feet wide. She was lost at sea in February 1862 - less than three years after this voyage. It took almost a month to make the voyage from New York to Bremen at that time.
Her cabins were seven feet in the clear, light and airy, finished with highly polished mahogany panels, with white polished rectangular columns slightly gilt. There were stained glass windows, rosewood and crimson sofas, Turkey carpets, etc.
The staterooms have interior communications with one another, well lighted from the deck, and each has a window on the side that may be opened to admit air. Berth boards were polished mahogany, and all the necessary accompaniments of the sleeping room including a toilet.
From the ladies saloon, there was a private staircase to the promenade deck. There were also two entrances to the gentlemen's cabin (smoking room) from the after part of the same deck. The ship is furnished with the newly invented patent steering apparatus (Note 1), and the men at the wheel were perfectly sheltered from the weather.
The crew were amply provided for under a quarter deck forecastle, with ingress and egress free from the inconvenience of a perpendicular ladder. Her between decks present a most sightly area for steerage passengers, being seven feet in the clear, fore and aft.
The Yorkshire of the Black Ball Line had the record for continuous short passages, for she was so built and rigged that her master, Captain David G. Bailey, could keep her closer hauled than any of her competitors.