SS Westphalia Archival Collection
Westphalia (1868) Hamburg-American Line
Built by Caird & Co., Greenock, Scotland. Tonnage: 3,185. Dimensions: 339' x 40'. Single-screw, 12 knots. Inverted engines. Two masts and one funnel. Iron hull. Maiden voyage: Hamburg-Southampton-New York, September 15, 1868. Modifications: In 1878 was re-engined with compounds, which increased speed to 13 knots, also converted to two funnels. Renamed: (a) Atlántica (1887), (b) Provincia di Sao Paolo (1888) Italian, (c) Mentana (1889), (d) Sud America (1890). Fate: Scrapped in 1901. Sister ships: Holsatia and Silesia.
Westphalia (1923) Hamburg-American line
Built by Howaldswerke, Kiel, Germany. Tonnage: 11,343. Dimensions: 473' x 60'. Single-screw, 13 knots. Two steam turbines. Two masts and one funnel. Passengers: 150 cabin and 680 third. Service: Hamburg-New York. Shifted to the South American route in 1930 and renamed General Artigas. Transferred to Hamburg-South American Line ownership in 1936. Fate: Destroyed by British aircraft during attack on Hamburg in 1943. Sister ship: Thuringia.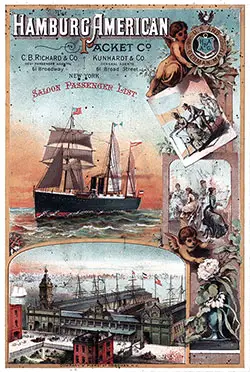 1885-05-31 SS Westphalia Passenger List
Steamship Line: Hamburg-American Line (Hamburg-Amerika Linie)
Class of Passengers: Saloon
Date of Departure: 31 May 1885
Route: Hamburg to Prague
Commander: Captain H. H. Barends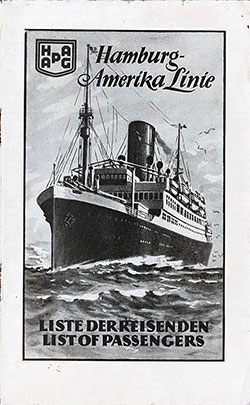 1926-08-18 SS Westphalia Passenger List
Steamship Line: Hamburg Amerika Linie / Hamburg American Line (HAPAG)
Class of Passengers: Third Class
Date of Departure: 18 August 1926
Route: Hamburg to New York and Boston via Cobh (Queenstown)
Commander: Captain Niss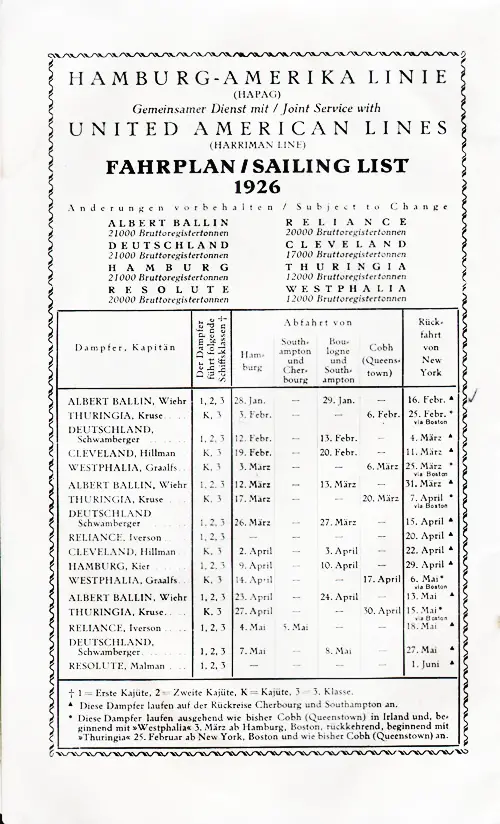 Scheduled Sailings, Hamburg-Amerika Linie (HAPAG), and United American Lines (Harriman Line) from 28 January 1926 to 1 June 1926. Ships Included the Albert Ballin, Cleveland, Deutschland, Hamburg, Reliance, Resolute, Thuringia, and Westphalia. The listing includes the Name of the Ship's Commander. SS Albert Ballin Passenger List, 28 January 1926. GGA Image ID # 1e482ac29d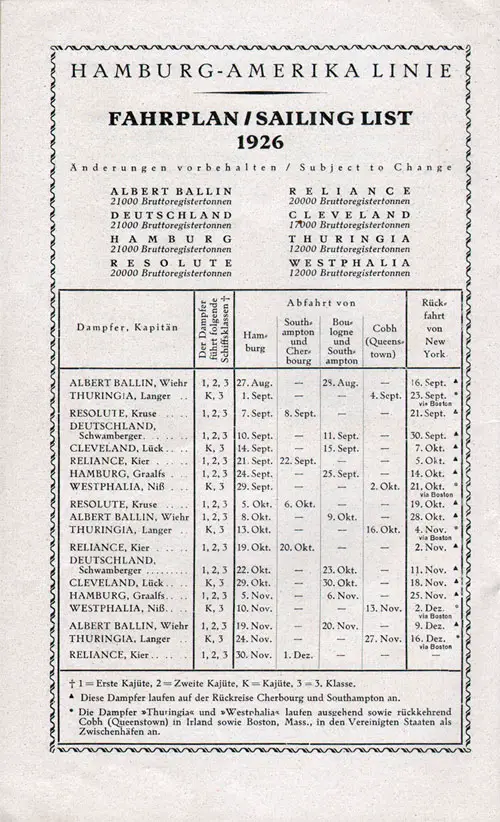 Scheduled Sailings, Hamburg-Amerika Linie (HAPAG), and United American Lines (Harriman Line) from 27 August 1926 to 1 December 1926. Ships Included the Albert Ballin, Cleveland, Deutschland, Hamburg, Reliance, Resolute, Thuringia, and Westphalia. The listing includes the Name of the Ship's Commander. SS Albert Ballin Passenger List, 28 January 1926. GGA Image ID # 1e496a80d7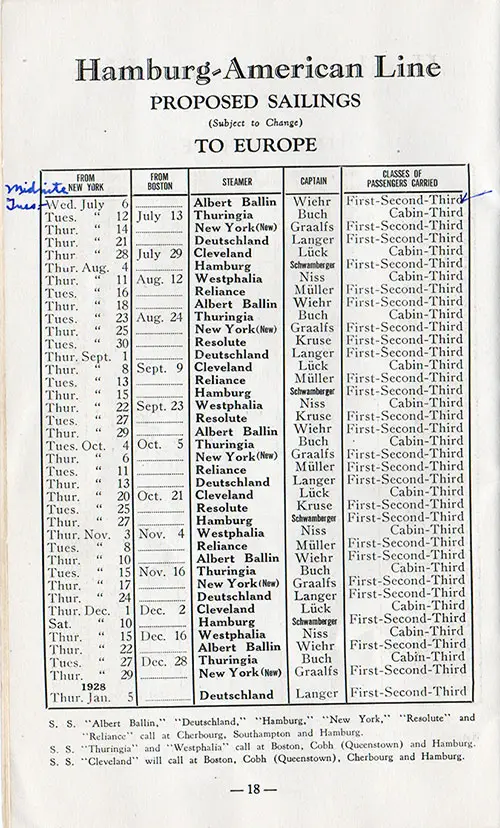 Hamburg-American Line Proposed Sailings to Europe, From 6 July 1927 to 5 January 1928. Ships Included the Albert Ballin, Cleveland, Deutschland, Hamburg, New York, Reliance, Resolute, Thuringia, and Westphalia. Listing States Classes of Passengers Carried and the Ship's Commander. SS Albert Ballin Passenger List, 6 July 1927. GGA Image ID # 1e49d8e1bf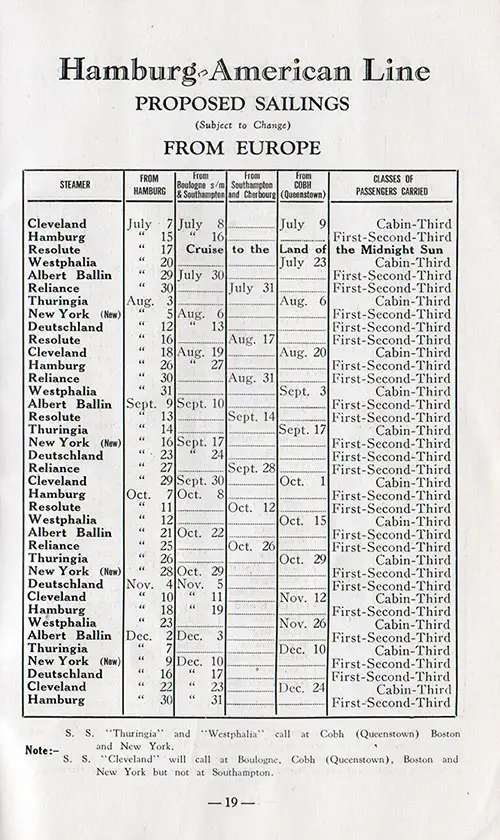 Hamburg-American Line Proposed Sailings from Europe, From 7 July 1927 to 31 December 1927. Ships Included the Albert Ballin, Cleveland, Deutschland, Hamburg, New York, Reliance, Resolute, Thuringia, and Westphalia. Listing States Classes of Passengers Carried. SS Albert Ballin Passenger List, 6 July 1927. GGA Image ID # 1e4a28ba52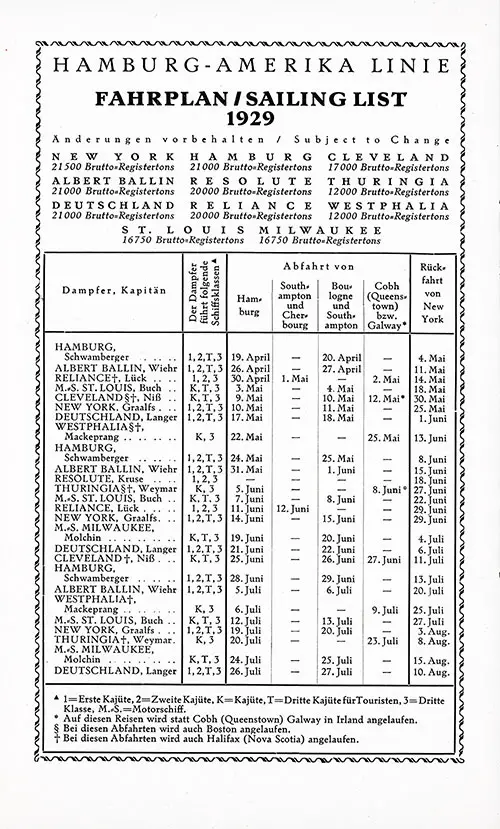 Proposed Sailing List, Hamburg-Boulogne sur Mer-Southampton-New York, from 19 April 1929 to 15 August 1929. Ships Included the Albert Ballin, Cleveland, Deutschland, Hamburg, Milwaukee, Reliance, Resolute, St. Louis, Thuringia, and Westphalia. SS Hamburg Passenger List, 19 April 1929. GGA Image ID # 1e0152e801