SS
Zaandam

Collection
MS Zaandam (1939) of the Holland-America Line. GGA Image ID # 1dfe991fdf
Zaandam (1939) Holland-America Line
Built by Wilton-Feyenoord, Rotterdam, Netherlands. Tonnage: 10,909. Dimensions: 480' x 64' (501' o.l.). Twin- screw, 18 knots. Motorship. Two masts and one funnel. Maiden voyage: Rotterdam-New York, January 7, 1939. Fate: The following is a classic example of being set adrift on a raft in an isolated area of a large ocean. The Zaandam was torpedoed without warning several hundred miles from Recife, Brazil, November 2, 1942, while bound from Cape Town to the United States. She sank in less than ten minutes. On board the liner had been a total of 299, of which 169 were passengers. Ultimately only 169 were to survive the ordeal. The most outstanding experience to occur among them was the account about five men who climbed onto a raft just after the doomed Zaandam went to the bottom of the ocean. For 83 days three of the five occupants of the raft survived the terrible strain of drifting in the open sea in all kinds of weather, for a distance of over 2,000 mies. Their meager supply of food and water was exhausted on the 16th day. During the remaining days on the raft they obtained only rain water and a few small fish and birds on which to subsist. It was the longest period of time that any human beings were known to survive the open sea. On the raft at the outset were, George Beasley, an American sailor who had been a passenger on the ill-fated vessel and he died 66 days later; also, Ensign James Maddox of the United States Navy who remained alive for 77 days. The remaining three were Basil Izzi of South Barre, Massachusetts, member of the American gun crew, on the Zaandain, an oiler named Cornells van der Slot, of Rotterdam, and Nicko Hoogendam, a young lad from Vlaardingen. The three living skeletons were picked up by a United States Navy patrol ship on January 24, 1943. It is needless to say that rescue came none too soon for the nearly gone survivors. This somewhat lengthy recital in what is supposed to be a mere reference book is meant as a tribute to all who have either died or survived the terrific hardships of having been exposed to the fury of the elements on the open sea. The master, 55 crew members, ten armed guards and 69 passengers were lost. Sister ship: Noordam.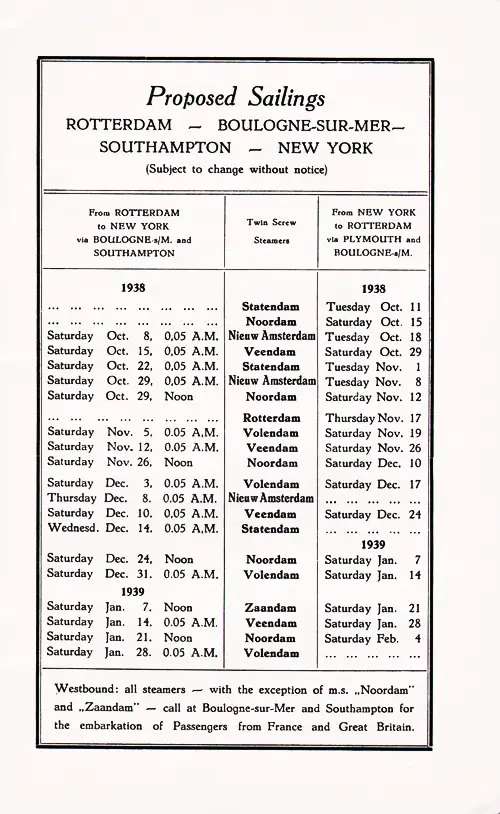 Proposed Sailings, Rotterdam-Boulogne sur Mer-Southampton-New York, from 8 October 1938 to 4 February 1939. Ships Included the Nieuw Amsterdam, Noordam, Rotterdam, Veendam, Volendam, and Zaandam. SS Statendam Passenger List, 1 October 1938. GGA Image ID # 1dfe8996e7
Announcing Two New Additions - 1938
M.S. "Noordam" and M.S. "Zaandam"
Two modern one class motorships will soon enter service under the Holland-America Line flag and maintain regular fortnightly sailings throughout the winter and spring season.
Both ships will measure approximately 10,700 tons gross register — be strictly one class, Passengers having the run of the entire ship (at tourist class rates) — carry a maximum of 125 Passengers.
Every cabin will have a washbasin with hot and cold running water, its own private bathroom with tub or shower and a private toilet.
The public rooms such as the Dining Saloon, Club Lounge, Bar, Smoking Room, and Library are of similar design and execution as those of the Nieuw Amsterdam.
Ample deck space, flush hatches and a portable outdoor swimming pool contribute to the pleasure of a trip on these modern combination passenger-freightships.
Return to Content Links